Where Budgeting Intersects with Strategic Planning by The Washington, D.C. CFO Leadership Council

Tuesday, October 18, 2016 from 7:30 AM to 10:00 AM (EDT)
Event Details
Where Budgeting Intersects with Strategic Planning 
Presented by
The Washington, D.C. CFO Leadership Council
Tuesday, October 18, 2016
Breakfast and Networking - 7:30 AM - 8:00 AM
Program - 8:00 AM - 9:30 AM
The offices of KPMG LLP, 1676 International Drive, McLean, VA .

Program:
An organization's budgeting process happens in a vacuum, segregated from the strategic plan.  Budgeting in this circumstance can become an unmanageable series of spreadsheets that bring little value to the organization and are not in sync with leadership's goals and objectives.  At the same time, departmental goals and objectives are formulated without a true understanding of budgetary realities.
Leading organizations have learned to converge the budget process with strategic planning, resulting in a successful planning cycle.   This panel discussion will look into the financial, cultural, and technological options available that can make the budgeting and strategic planning process a more congruent experience.

Our panel of experts will discuss:
Where CFOs are expected to contribute in the strategic planning process to demonstrate value and leadership to the organization

How the CFO can be the "voice of reason" in the heated debate during the planning cycle

Best practices to successfully engage other areas of the business in the planning cycle

Annual Budget Vs. Forecast:  Advice on minimizing major planning pitfalls, including lack of accountability or commitment, sandbagging, etc.

The evolution of the process: How the soft forecast has actually evolved into a rolling forecast rather than a set amount of time. (ie annual)

Changing old processes with New technology

Short-term and Multi- year planning what are the benefits of each?

Learning Objectives:
Approach the budgeting and planning process with a clearer understanding of board & CEO expectations

Effectively manage both their operational and strategic roles and responsibilities including maximizing internal resources to take control of day-to-day operations

Recognize common pitfalls in the strategy process and how to avoid them 

Effectively communicate the strategic vision and business plan on an ongoing basis

Adapt the planning cycle to the evolution stage of the company, recognizing value drivers and how they impact the business model and financial plan

Leverage existing internal resources during the planning process

Maintain an equitable balance between fiscal responsibility and strategic leadership when "selling" the budget

The tools used to create, communicate, and manage budgets
Speakers: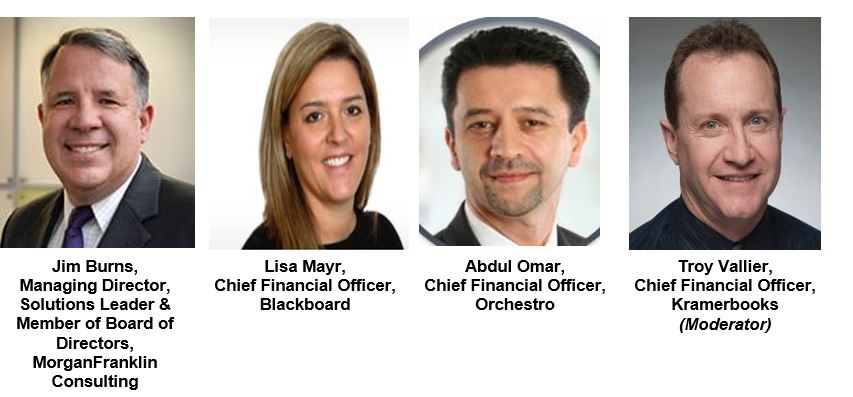 Registration:
To register for this program, simply complete the form above. All CFO Leadership Council members may attend this program for free. Non-member senior financial executives who are CFOs, Vice Presidents of Finance, Directors of Finance and Controllers (or the like) are welcome to attend this program for $60.
Please note that service providers or any executives who are not senior financial executives (CFOs, Vice Presidents of Finance, Controllers, Directors of Finance, etc.) will not be admitted attendance to this event. The CFO Leadership Council reserves the right to decline any registration.

More Information: 
For more information about this program or The CFO Leadership Council, please contact Caroline Boyce, Marketing Director, Boston Chapter at Caroline@cfolc.com.  

Cancellation Policy:

Send cancellations to Caroline@cfolc.com no later than 4pm on October 14th to receive a refund.


Requested CPE Information:
Program level: Advanced

Requested CPE: 1.5 Credits, Field of Study: Finance

Program Prerequisites: None

Advanced Preparation: None

Delivery Method: Live/Group 
 
About our Speakers:


Jim Burns,
Managing Director, Solutions Leader & Member of Board of Directors
MorganFranklin Consulting


Jim Burns helps clients achieve integrated risk and compliance programs that deliver increased transparency, accountability, and cost-effectiveness. He has more than 30 years of experience driving operational growth, leading transformational initiatives, maximizing emerging technology opportunities, and enabling organizational change in both the public and private sectors. He has led regional and national consulting firms and managed extensive interactions with boards of directors and executive management across a spectrum of subject matter.

Since joining MorganFranklin, Jim has led multiple IT analysis projects to develop financial, operational, and strategic investment plans for IT service delivery organizations. He has also led enterprise technology risk transformation projects to improve the transparency of CIO risk environments, including aligning IT service risk to business risk and quantifying risk tolerance.
 
Prior to joining MorganFranklin, Jim spent 18 years at Deloitte, most recently as a Principal in the Security and Privacy practice implementing global operational and technology risk and compliance programs. Earlier in his career, Jim founded a CIO transformation consulting firm, where he identified and led global transformational projects.


Lisa Mayr
Chief Financial Officer
Blackboard
Lisa is the Chief Financial Officer at Blackboard and served previously as the Vice President of Finance. Lisa is responsible for all financial aspects of the company, including investor relations, capital markets, accounting, financial planning and analysis, treasury and procurement.
Lisa has over 25 years of experience in corporate finance and has worked in similar roles at large global companies across industries, such as LivingSocial, GeoEye (acquired by Digital Globe), Towers Watson and Sunrise Senior Living. She also served as the Chief Financial Officer of Arlington Capital Partners, a private equity firm based in the DC area. Prior to her corporate roles, Lisa also worked with Ernst & Young in their Transaction Advisory Services practice.
Lisa has an MBA from Georgetown University and an undergraduate degree from American University. Lisa is a long-time finance leader in the Washington, DC area and was recently selected by Women in Technology for the Leadership Foundry Class of 2016.

Abdul Omar
Chief Financial Officer
Orchestro

Abdul is responsible for Orchestro's financial, operational & strategic planning, and the successful execution of the strategy and vision of our company. He has over 20 years experience in finance, performance management, mergers & acquisitions, strategic planning, financial reporting, including systems and internal controls.


Troy Vallier
Chief Financial Officer
Kramerbooks 
(Moderator)
Recently the Divisional CFO of OEM Computing Solutions/Arrow Electronics from 2010-2015, Mr. Vallier led a successful acquisition of 2 companies, Split out a $100M European business from the core company, while managing a staff of 50, including 2 regional CFOs.

From 2007-2010 Mr. Vallier was the CFO at Atkinson Construction where he was responsible for SOX compliance, he managed budgeting, forecasting and internal business reviews, enhanced the company's inadequate reporting capabilities and led the company's acquisition efforts
Before Atkinson Construction, Mr. Vallier acted as Vice President - Finance at Level 3 Communications from 1998 to 2007 where he managed a global staff of 190 , off shored 25% of his team, integrated Six Sigma methodology and was successful in reducing DSO from 100 to 25 days.
Mr. Vallier's key areas of expertise are in Mergers and Acquisitions Process / Automation, Change Management, Budgeting / Forecasting, Cost Containment, Domestic / International business, Off Shoring, implementing Six Sigma Methodology.
Mr. Vallier earned his BA in Accounting at

University of Nebraska at Omaha

and

also has a BS in Forestry at Iowa State University.
When & Where

KPMG
1676 International Drive
McLean, VA 22102


Tuesday, October 18, 2016 from 7:30 AM to 10:00 AM (EDT)
Add to my calendar
Organizer
CFO Leadership Council ~ Membership
The CFO Leadership Council is a community dedicated to empowering its members to grow and thrive, no matter the challenge in front of them. We value every senior financial executive who walks through our door or engages us online.  Our events feature relevant speakers, panel discussions and conversations that spark new ideas, practical solutions and tangible takeaways to solve your most pressing issues. Each of our individual chapters offer a confidential, 'sales free' setting to allow you to talk freely and ask real questions of your peers. Our events are full of passionate, energetic senior financial executives who are there to collaborate and empower.
Where Budgeting Intersects with Strategic Planning by The Washington, D.C. CFO Leadership Council