Description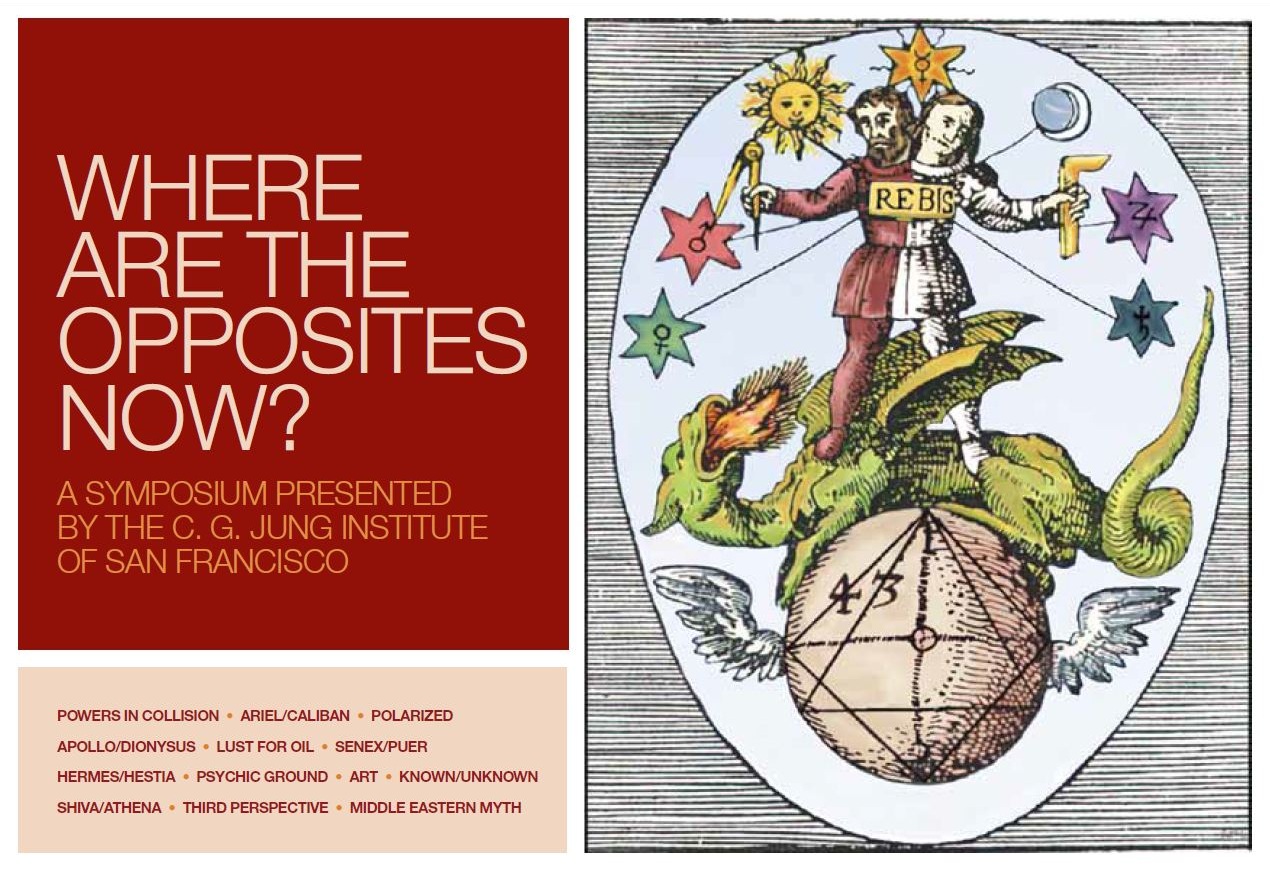 Saturday, February 23, 2013, 9:30 AM to 5:30 PM
The Firehouse
Fort Mason Center, San Francisco
A boxed lunch, to be delivered onsite, can be ordered in advance.
The "One" … seeks to hold to its one-and-alone existence, while the "Other" ever strives to be another opposed to the One. The One will not let go of the Other because, if it did, it would lose its character; and the Other pushes itself away from the One in order to exist at all. Thus there arises a tension of opposites. . .
C. G Jung "A Psychological Approach to the Trinity," CW 11, Psychology and Religion East and West, § 119.
Each generation must formulate for itself the primal powers in collision or combination that constitute its most-frequently polarized opposites. Shakespeare's alter-ego Prospero deployed Caliban, an ugly, earthbound spirit, and Ariel, a graceful angel of the air. Nietzsche identified the Greek gods Apollo and Dionysus as the twin roots of the mythopoeic imagination. In the late 1960s, James Hillman focused on the split between senex (rigid archetype of age) and puer (restless image of eternal youth) as the unconscious basis of that era's gap in mutual understanding. Do we know which competing consciousnesses structure our historical present? This symposium will bring Jungian analysts together with artists, activists, the audience, and each other for a daylong engagement with the tensions of our time.
MORNING PRESENTATIONS
Qi Re Ching and Diane Deutsch write: "In the aftermath of our divisive fall elections we turn to the Greek mythic images of Hestia, the personification of the immutable hearth, and Hermes the fleet-footed, boundary-crossing messenger of the gods. This pair embodies the tension between stability and continuity, on the one hand, and movement and transformation on the other, as well as their potential reconciliation."
Antonia Juhasz and Steven Nouriani will draw on the ancient Middle Eastern myths of Shahmaran and Zahaak to explore the political, social, ecological, economic, psychological and spiritual roots of the urgent situation we face in the world today. Juhasz will discuss how the pursuit of oil impacts each of these factors from Afghanistan to here in the Bay area, and will highlight successful efforts to end the resultant conflicts. In his presentation, "A Global Crisis: Earth and Soul Consciousness", Nouriani will analyze the deeper psychological and spiritual forces within the present planetary emergency.
LUNCH FROM 12:45 TO 2 PM
(Box lunches can be ordered in advance, see information below)
AFTERNOON PRESENTATIONS
Mary Hull Webster: To bring new forms—both personal and cultural—into being, some artists work from a charged psychic ground between known and unknown content. The struggle invites a romance from which a new image may engage and transcend its maker. In "Romancing the Opposites: Figments in Space and Time," images of Webster's art fade in and out, while fragments of spoken text arrive from time to time.
John Beebe and Virginia Beane Rutter will discuss the archetypes of Athena, the fierce Greek wisdom goddess, and Shiva, Hindu deity of destruction and transformation, as they appear in the dreams of contemporary men and women, amplifying these with personal and clinical examples of their own.
Tina Stromsted will facilitate a brief movement session to assist in exploring and integrating the tension between the opposites invoked in this symposium. Participants will be invited to engage the transcendent function by creating an embodied pathway between conflicting attitudes, giving birth to a new, third perspective.
Concluding Panel (all speakers, in dialogue with each other and the audience)
SPEAKERS
Diane Deutsch, a Jungian analyst working in San Francisco, creates community through silence and conversation. Her teaching and analytic work pay special attention to strong emotional experiences, their expression and containment.
Qi Re Ching is a Jungian analyst with a background in fine arts, in private practice in San Francisco. He has had a longstanding interest in the mediating role of the mythic image in bridging contradictions and giving form to the in-between spaces of the human experience.
Antonia Juhasz, a widely respected oil and energy expert and activist, is the author of Black Tide, The Tyranny of Oil, and The Bush Agenda. Founder of the Energy Program at Global Exchange, a San Francisco-based human rights organization, she has published articles in major newspapers and magazines across the U.S. She is currently an Investigative Journalism Fellow at UC Berkeley.
D. Steven Nouriani, a Jungian analyst, has been presenting on East-West cultural issues and on the transformation of darkness and consciousness at conferences in the US and abroad for two decades. He teaches at several Bay Area universities and is in private practice in San Francisco and San Jose.
Mary Hull Webster, a visual artist and writer, works in many media. Among her long term projects are Looking for Lucia, a cycle of artwork clustered around an interior state of mind having to do with light, and Time's Cargo, an inquiry about the nature of time in our contemporary world.
John Beebe is a Jungian analyst in private practice in San Francisco who teaches in many parts of the world. His most recent book is the edition of The Question of Psychological Types: The Correspondence of C. G. Jung and Hans Schmid-Guisan (1915-1916), just published by Princeton University Press.
Virginia Beane Rutter, a Jungian analyst who is also trained as an art historian, is the author of Woman Changing Woman, Celebrating Girls, and Embracing Persephone. A co-editor and author of Initiation: The Living Reality of An Archetype, and Ancient Greece, Modern Psyche, she is in private practice in Mill Valley.
Tina Stromsted is a Jungian analyst, Dance/Movement therapist, author, and former Co-founder of the Authentic Movement Institute. Based in San Francisco, she teaches at Pacifica Graduate Institute, the Marion Woodman Foundation, and internationally. Her work explores the integration of body, mind, psyche, and soul.
LUNCH INFORMATION:
Boxed Lunches are available for a fee of $12.50. All lunches include a piece of seasonal organic fruit and a Bi-Rite Creamery cholate chip cookie. If you select a ticket that includes a lunch option, you will be given your choice of three different lunches:
Roasted Free Range Turkey & Swiss Cheese with Dijon Mustard, Aioli and Greens
Grass-Fed Roast Beef & Cheddar Cheese with Horseradish Mayo and Green
Laura Chenel Goat Cheese & Grilled Vegetables (Vegetarian)
We regret that substitutions are not possible. Coffee, tea and water will be available throughout the day.
DIRECTIONS TO FORT MASON: http://www.fortmason.org/aboutus/visitor-information/directions
Organizer of Where are the Opposites Now?
A non-profit educational and community service organization that devotes itself to the furtherance of Jungian thought in clinical work and in cultural discourse.

In addition to its Analytic Training Program, the Institute provides educational events for the general public, seminars for professionals, and produces Jung Journal: Culture and Psyche, now published by Taylor & Francis. The Institute houses an extensive library and offers a sliding scale psychotherapy clinic.  Friends of the Institute, an auxiliary organization, welcomes new members.