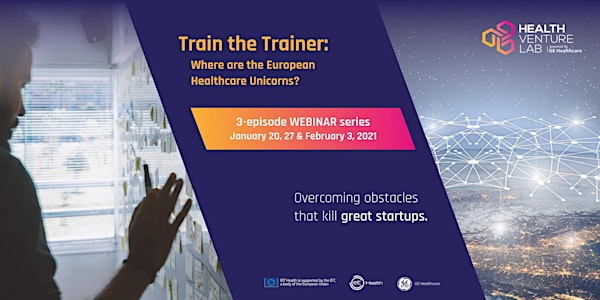 Where are the European Healthcare Unicorns?
An online course dedicated to help you nurture Europe's greatest talents and innovations.
Refund Policy
Contact the organizer to request a refund.
About this event
Do you want to expand your network and learn how to identify promising opportunities in different regions? Are you looking to eliminate cross-cultural and organizational differences in your line of work?
Health Venture Lab launches its first "Train The Trainer" limited webinar series sharing must-have strategies required to nurture the next unicorn.
If you are involved in the healthcare ecosystem and looking for better ways to support startups - join the Health Venture Lab community for this 3-episode webinar series on how to predict and overcome obstacles that are stopping startups to flourish.
Every Wednesday on 20th, 27th of January, and 3rd of February from 3 to 6pm CET for several intensive hours you will get the most from the webinars' wide spectrum of topics performed with practical examples in expert and entrepreneurial sessions, success stories, motivational talks, and pathways told by local and global champions.
What you will learn:
strategies on how to invest in a healthcare startup;
other regions' regulations and specifications;
how to speed up the recognition of the next top tech innovator;
the more productive approach in research, and general system optimization;
specific obstacles startups are facing and ways to avoid them;
how to locate gaps in the system which are hindering innovators' processes;
how to boost up your innovative and entrepreneurial mindset.
You will also benefit from interactive consultation sessions to gain new practices and skills, smart team-building, and applicable knowledge.
Are you looking to start 2021 with an entrepreneurial path or upgrade your skills as an educator? Here is your chance to complete one of your New Year's resolutions for self-development early on.
Online course topics and schedule:
Episode 1: Unmined opportunities of European partnerships
Date: Wednesday, Jan 20th, 2021
Time: 3 - 6pm CET
From tapping opportunities to building global champions, discover hidden gems in your environment, and learn how to avoid startup stagnation in complex networks.
Episode 2: How to optimize and drive a support system for startup success
Date: Wednesday, Jan 27th, 2021
Time: 3 - 6pm CET
Novelties and trends of US and EU technology transfer and healthcare ecosystems. Listen to our US and European experts as they guide you through the pitfalls of early startup growth and explore what is driving outstanding technology transfer.
Episode 3: Funding models for thriving ideas
Date: Wednesday, Feb 3rd, 2021
Time: 3 - 6pm CET
Our team of experts will reflect on financing practices that help healthtech teams thrive and give you insight into the traps of current trends in the EU.
About Health Venture Lab:
Health Venture Lab is dedicated to helping the international healthtech community through traction-focused programs designed to help businesses succeed.
More info @ https://hvlab.eu