Description
Congressman Mike Honda invites you to join him and an esteemed panel of Silicon Valley women leaders for a fruitful discussion on the status of women in government, justice, the workforce, health, and leadership, on Monday, April 11th from 9:00am to 11:00am, at De Anza College.

We look forward to having you with us. Please contact Huong Nguuyen (huong.nguyen@mail.house.gov / 408-436-2720) for any questions.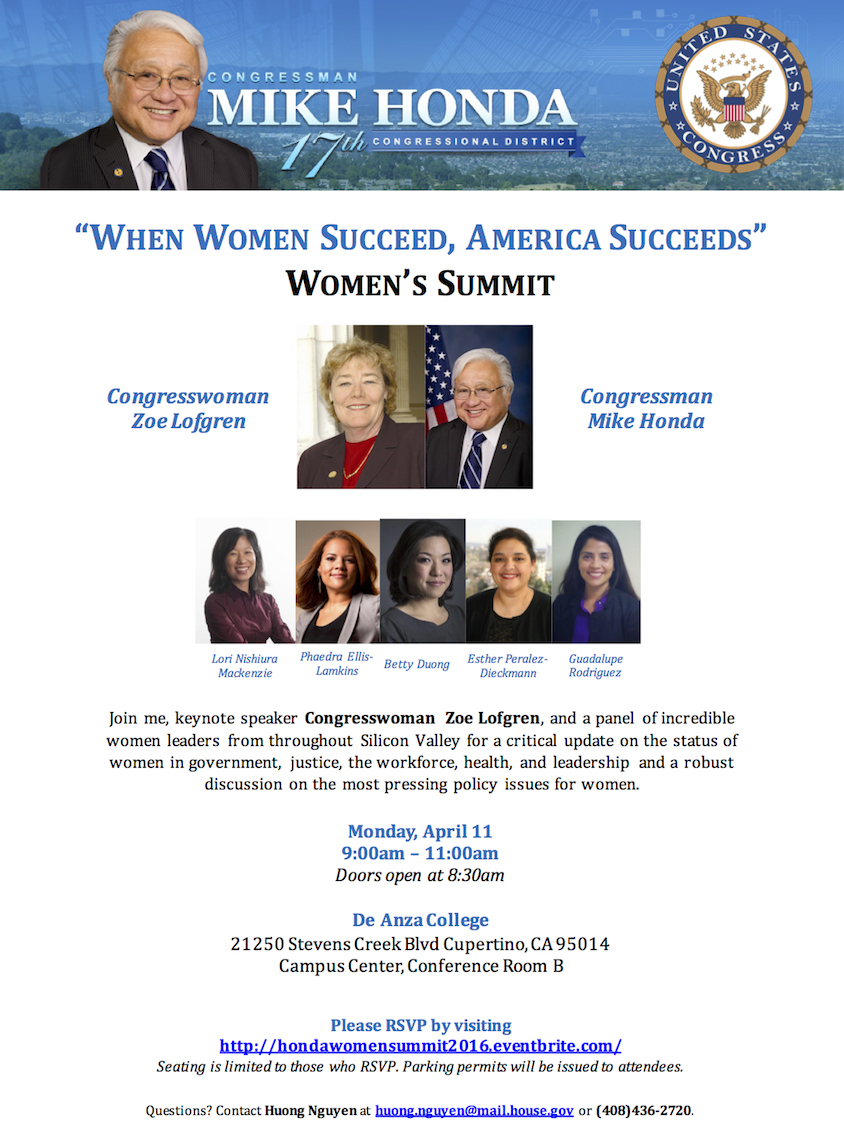 ABOUT THE SPEAKERS
Esther Peralez-Dieckmann
Esther is currently the Policy Director of Santa Clara County Office of Women's Policy. Key accomplishments in Esther's role as Director of the Office of Women's Policy include advocating for legislation that protects women from domestic violence; directing efforts on "Breaking Cycles, Rebuilding Lives," an award-winning initiative which has been recognized as a first of its kind report about female offenders at the jail level; championing pilot efforts to move female offenders from incarceration into non-traditional job training and employment; and providing support and technical assistance to community organizations.
Betty Duong
Betty is Supervisor Cindy Chavez' Deputy Budget and Policy Director. Betty earned her bachelor's in Asian American and Ethnic Studies from U.C. Berkeley in 2005 and a law degree from U.C. Davis in 2010. Betty is a volunteer Attorney with the South Bay Workers' Rights Clinic, and formerly served as Special Counsel to the Vietnamese American Workers' Rights Project with the Legal Aid Society-Employment Law Center. She is a life-long resident of San Jose.
Phaedra Ellis-Lamkins
Prior to joining Green for All, Phaedra was a leader in the labor movement heading both South Bay AFL-CIO Labor Council and Working Partnerships USA. One of her first initiatives after taking over Green For All was to build a coalition of "a broad range of groups — many of whom are not known for their engagement in climate and energy issues." This coalition came together to advocate for equity-based amendments to the American Clean Energy and Security Act of 2009 (ACES) — the climate bill in the House of Representatives. The coalition declared success when the entire House of Representatives approved a version of ACES that included $860 million for green job training and a provision guaranteeing local workers access to ACES-funded energy-efficiency and renewable energy projects.
Guadalupe (Lupe) Rodriguez
Lupe is currently the Director of Public Affairs at Planned Parenthood Mar Monte. Previously, Lupe was the Program and Policy Director and interim Executive Director at ACCESS Women's Health Justice
Lupe served on the board of directors of the California Family Health Council, and now chairs the board of ACCESS Women's Health Justice, and sits on the board of California Latinas for Reproductive Justice. She is serving her second term as the Chair of the Santa Clara County Commission on the Status of Women, and was recently elected to the board of the Silicon Valley Chapter of Democratic Activists for Women Now (DAWN). She is an adviser for the Women's Health & Rights Program at the Center for American Progress in Washington, D.C..
In 2010, Lupe was honored with the 'Generation Award for an Emerging Leader' from the California Coalition for Reproductive Freedom, and she received the "30 Under 30" Health Care Leaders award by Silicon Valley Latino magazine in 2013. She has a BA in neurobiology from Harvard University.
Lori Nishiura Mackenzie
Lori Nishiura Mackenzie is Executive Director of Stanford University's Clayman Institute for Gender Research, home to eminent scholars and activists forwarding gender equality. She defines the organization's strategic direction and engages community members to drive impact with the research. Her work has been published in numerous outlets, and she speaks widely on the topics of blocking unconscious bias, women's leadership and creating effective workplaces. She is executive editor of Gender News and the annual research magazine, upRising. Lori is the founder of the online Voice & Influence program offering the skills, information and inspiration to be agents of change in their own lives and more broadly, for gender equality. This curriculum has been widely viewed through partnerships with LeanIn.org, the Stanford Graduate School of Business and the Darden Graduate School of Business. Lori joined the Institute after working in marketing strategy and business management for 20 years at companies such as Procter & Gamble, Apple Computer, eBay, PayPal and CafePress. She is on the board of the Women's Foundation of California and the Alliance for Girls. Lori has an MBA from the Wharton School of Business at the University of Pennsylvania and a BA in Economics from the University of California, Berkeley.