Description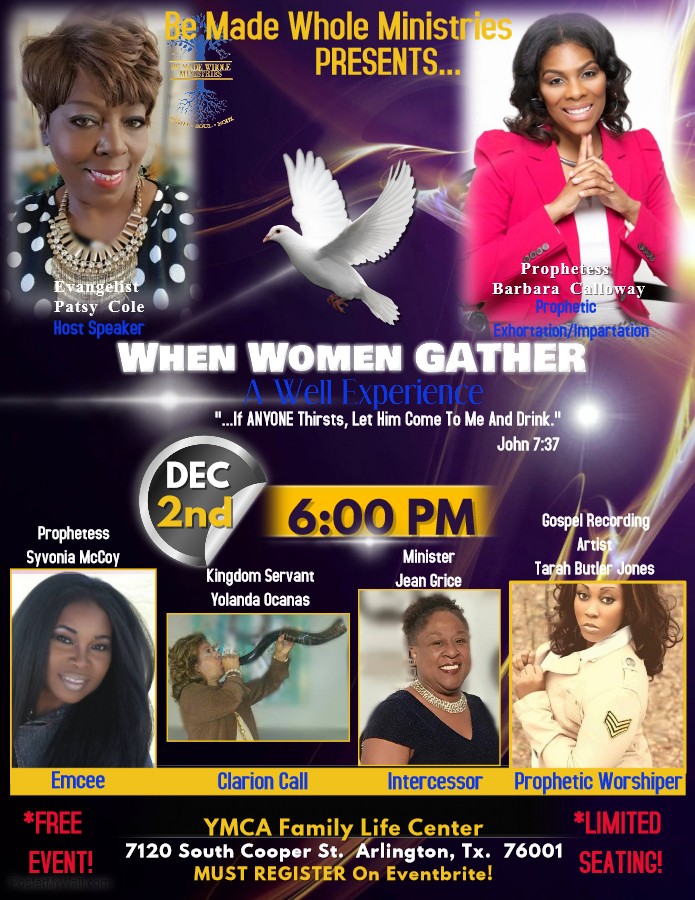 ---
BELIEVERS and UNBELIEVERS...
Women! Are you READY to be POSITIONED for PURPOSE? Have you grown weary of your "Desert Place"? Is your heart cry for an Outpouring of God's Spirit? Are YOU in NEED of a Place of Refuge...A Place of Restoration...A Time of REFRESHING?
This WOMEN'S GATHERING ordained by God will grant you an opportunity to ENCOUNTER Jesus in a manner leading you to a DEEPER and SUSTAINED relationship with Our Creator God!
There is a CALL that God is SOUNDING throughout the Land -
He is calling the thirsty to COME to Him and DRINK!
His desire is that HE would come into us as the living waters to fill us up until He overflows from us! NO Religious Agenda's...JUST the Holy Presence of a Holy God!
Man was made with a continual thirst for God. He put in us a thirst for something eternal. Our thirst will NEVER be quenched by what the World has to offer. BUT if you come with an open heart..."Christ as the living water will quench your thirst and satisfy your hunger – the water you drink of Him will become in you a Fountain, a Spring gushing up into eternal life."

"The Spirit with the Bride says WHOSOEVER is thirsty, let him COME and DRINK."
If you are thirsty, and READY for the longing of your soul to be satisfied...This GATHERING is for YOU And YOU are qualified to COME!
*****Limited Seating*** REGISTER NOW!