When Things Don't Work Out as Planned: Single in the Orthodox Community
Hear the experiences of individual heads of households - their challenges, triumphs, and advice on building a more caring community.
About this event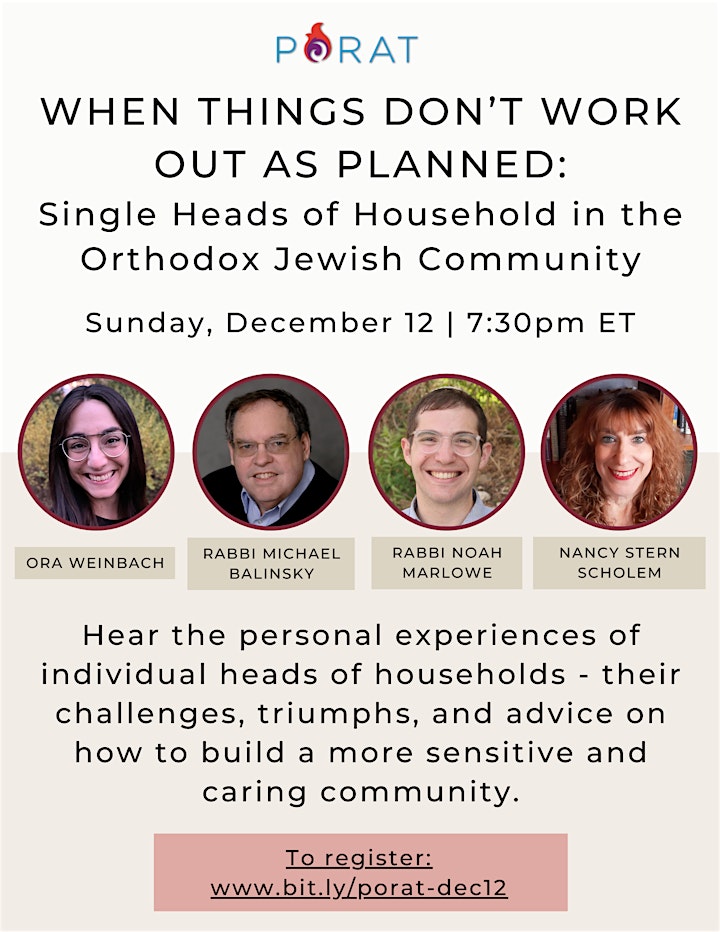 Sunday, December 12 at 7:30pm ET (4:30pm PT | 5:30pm MT | 6:30pm CT)
Please join us to hear the personal experiences of individual heads of households - their challenges, triumphs, and advice on how to build a more sensitive and caring orthodox Jewish community.
At the conclusion of the program, we will provide an opportunity to join a voluntary moderated process breakout session during which participants will be asked to share something new that they learned or a way in which they may act or think differently.
There will be automated closed captioning through Zoom for this event.
For more about this and other PORAT events, go to: http://www.poratonline.org/events
About our speakers:
Ora Weinbach is a Masters of Divinity candidate at Yale Divinity School, Community Educator at the Young Israel of Brookline, and a Wexner Graduate Fellow. She is also a participant in Ohr Torah Stone's Halakha Scholars Program. She holds a BA in Jewish Education from YU and is a certified Sexuality Educator.
Rabbi Michael Balinsky, currently retired, was Executive Vice President of the Chicago Board of Rabbis. He served as Director of Faculty Development for the Melton Adult School and was the director of the Hillel at Northwestern for 20 years. He is a graduate of YU and RIETS. He is married to Dr. Myra Rapoport and they are the parents of three daughters.
Rabbi Noah Marlowe is a rabbinical student pursuing a certificate in Mental Health Counseling and MEd at Yeshiva University. He completed his BA in Psychology at Yeshiva College. Noah is an alumnus of Tikvah's Beren Fellowship, AIPAC's Leffell Fellowship, 92 Street Y's Jewish Innovation Fellowship, and the Fuchs-Mizrachi Beit Midrash Fellowship.
Nancy Stern Scholem has a BS in 19th Century English Literature and a MS in Early Childhood Education. She worked for 35 years in publishing. Nancy has resided for the past 15 years in Riverdale. As an active HIR Board member, she spearheaded the Pushka Project, and is involved in the Caring Caller and Bayit Connections programs. Nancy has been a frequent speaker on Jewish Genealogy and being a child of a survivor.
Organizer of When Things Don't Work Out as Planned: Single in the Orthodox Community