When the World Seemed New: End of the Cold War and the Origins of Our Times
Description
Dr. Jeffrey Engel: "When the World Seemed New: The End of the Cold War and the Origins of Our Times".
Wednesday, October 18, 2017
6pm – Reception including heavy hors d'oevres and beverages
7pm – Lecture and Q&A
Admission $0-$25 including food and beverages

---
** When ordering multiple tickets, please add guest's name in comment box or order each ticket individually – Thank you! **
---
Dr. Jeffrey Engel will speak to the end of the Cold War and how this period of history is crucial for understanding today's international relations.
Jeffrey A. Engel is director of the Center for Presidential History at Southern Methodist University. A Senior Fellow of the Norwegian Nobel Institute and the John Goodwin Tower Center for Political Studies and graduate of Cornell University, and received his M.A. and Ph.D. in American history from the University of Wisconsin-Madison, before serving as a John M. Olin Postdoctoral Fellow in International Security Studies at Yale University.
Engel has authored or edited ten books on American foreign policy, including Cold War at 30, Feet: The Anglo-American Fight for Aviation Supremacy; Local Consequences of the Global Cold War; The Fall of the Berlin Wall: The Revolutionary Legacy of 1989; When the World Seemed New: George H.W. Bush and the End of the Cold War. A frequent media contributor on international and political affairs, his scholarly and popular articles have appeared in such journals as Diplomatic History; Diplomacy & Statecraft; Perspectives on History; The Los Angeles Times; The International Journal. In 2012, he received the Stuart L. Bernath Lecture Prize from the Society of Historians of American Foreign Relations.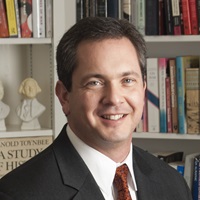 Sponsors: The lecture is part of the 2017 "Germany: Making Choices" Campus Campaign sponsored by the Embassy of the Federal Republic of Germany, Washington, D.C. and the University of St. Thomas. Additional sponsors include the German-American Heritage Foundation, Bruce Larson, and the Germanic-American Institute.