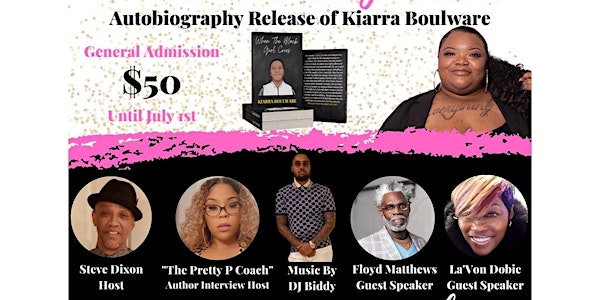 When The Black Girl Cries
Location
Arena Players Incorporated
801 McCulloh Street
Baltimore, MD 21201
You're invited to help author Kiarra Boulware celebrate the release of her autobiography, When The Black Girl Cries.
About this event
𝐂𝐨𝐦𝐞 𝐨𝐮𝐭 𝐚𝐧𝐝 𝐞𝐧𝐣𝐨𝐲 𝐠𝐫𝐞𝐚𝐭 𝐟𝐨𝐨𝐝, 𝐦𝐮𝐬𝐢𝐜, 𝐚𝐧𝐝 𝐠𝐨𝐨𝐝 𝐯𝐢𝐛𝐞𝐬 𝐚𝐬 𝐰𝐞 𝐞𝐧𝐭𝐞𝐫 𝐢𝐧𝐭𝐨 𝐭𝐡𝐞 𝐞𝐱𝐩𝐞𝐫𝐢𝐞𝐧𝐜𝐞 𝐨𝐟 𝐨𝐩𝐞𝐧 𝐦𝐢𝐧𝐝𝐞𝐝𝐧𝐞𝐬𝐬 𝐚𝐧𝐝 𝐡𝐞𝐚𝐥𝐢𝐧𝐠. Every attendee will receive a signed copy of 𝐖𝐡𝐞𝐧 𝐓𝐡𝐞 𝐁𝐥𝐚𝐜𝐤 𝐆𝐢𝐫𝐥 𝐂𝐫𝐢𝐞𝐬 by 𝐊𝐢𝐚𝐫𝐫𝐚 𝐁𝐨𝐮𝐥𝐰𝐚𝐫𝐞.
This event will take place on 𝐒𝐚𝐭𝐮𝐫𝐝𝐚𝐲, 𝐀𝐮𝐠𝐮𝐬𝐭 𝟐𝟕, 𝟐𝟎𝟐𝟐 at the prestigious 𝐀𝐫𝐞𝐧𝐚 𝐏𝐥𝐚𝐲𝐞𝐫𝐬 𝐏𝐞𝐫𝐟𝐨𝐫𝐦𝐢𝐧𝐠 𝐀𝐫𝐭𝐬 𝐓𝐡𝐞𝐚𝐭𝐞𝐫 located at 801 McCulloh Street, Baltimore, MD 21201. 𝐕𝐈𝐏 𝐌𝐞𝐞𝐭 & 𝐆𝐫𝐞𝐞𝐭 𝐰𝐢𝐥𝐥 𝐬𝐭𝐚𝐫𝐭 𝐩𝐫𝐨𝐦𝐩𝐭𝐥𝐲 𝐚𝐭 𝟑:𝟎𝟎𝐩𝐦. Immediately following VIP Experience, VIP attendees may be seated in the theatre.
𝑻𝒉𝒆𝒓𝒆 𝒘𝒊𝒍𝒍 𝒆𝒏𝒕𝒆𝒓𝒕𝒂𝒊𝒏𝒎𝒆𝒏𝒕 𝒕𝒉𝒓𝒐𝒖𝒈𝒉:
1. Music By Live DJ (TVs Biddy)
2. Performances
3. Reading of Book's Excerpts
4. Live Author Interview (Interview by The Pretty P Coach)
5. Raffles & Giveaways
𝑽𝑰𝑷 𝑻𝒊𝒄𝒌𝒆𝒕𝒔 𝑰𝒏𝒄𝒍𝒖𝒅𝒆: (Everything In General Admission)
1. Author Meet & Greet with Catered Brunch & Wine
2. Seating in Front 3 Rows of Theater During Event
3. 360 Camera Fun
4. Custom Swag Bags with Gifts
5. Custom Event Keepsake
6. Exclusive Shopping Experience with Event's Vendors
𝐑𝐚𝐢𝐬𝐢𝐧𝐠 𝐭𝐡𝐞 𝐯𝐢𝐛𝐫𝐚𝐭𝐢𝐨𝐧 𝐨𝐟 𝐭𝐡𝐞 𝐜𝐨𝐥𝐥𝐞𝐜𝐭𝐢𝐯𝐞 𝐭𝐡𝐫𝐨𝐮𝐠𝐡 𝐛𝐨𝐧𝐝𝐢𝐧𝐠, 𝐭𝐨𝐠𝐞𝐭𝐡𝐞𝐫𝐧𝐞𝐬𝐬, 𝐚𝐧𝐝 𝐜𝐮𝐥𝐭𝐮𝐫𝐞. 𝐘𝐨𝐮 𝐝𝐨𝐧'𝐭 𝐰𝐚𝐧𝐭 𝐭𝐨 𝐦𝐢𝐬𝐬 𝐨𝐮𝐭 𝐨𝐧 𝐭𝐡𝐢𝐬 𝐞𝐯𝐞𝐧𝐢𝐧𝐠 𝐨𝐟 𝐡𝐞𝐚𝐥𝐢𝐧𝐠, 𝐩𝐞𝐚𝐜𝐞, 𝐛𝐨𝐧𝐝𝐢𝐧𝐠, 𝐚𝐧𝐝 𝐞𝐧𝐥𝐢𝐠𝐡𝐭𝐞𝐧𝐦𝐞𝐧𝐭.
𝐓𝐡𝐢𝐬 𝐢𝐬 𝐚 𝐓𝐈𝐂𝐊𝐄𝐓 𝐎𝐍𝐋𝐘 𝐞𝐯𝐞𝐧𝐭. However, there are no physical tickets. After purchasing your ticket(s), your name will added to the guestlist with the type and number of tickets you purchased. You will receive a wristband upon entering the event.