When Strategy Meets Public Service - UX Research and Strategy in Government
Working on digital services teams often require teams of product managers, designers, researchers, and strategists to solve tough problems.
About this event
Strategy, policy, and design converge in cities around the country. Working on 'digital services teams' often require teams of product managers, designers, researchers, and strategists to solve America's toughest problems. Ripe with lessons, working in public service often presents significant policy constraints combined with a complex set of stakeholders.
By the end of the discussion you'll learn how to:
Navigate the constraints of policy (and politics)
Leverage community-based organizations
Work with key stakeholders in public service
Agenda
5:00-5:10 p.m. (Central time, similar to Chicago and Dallas, USA) - Introduction and announcements for UX Research and Strategy + Service Design Network
5:10-6:00 p.m. (Central time) - Discussion + Q&A
6 -7 p.m.(Central time) - Networking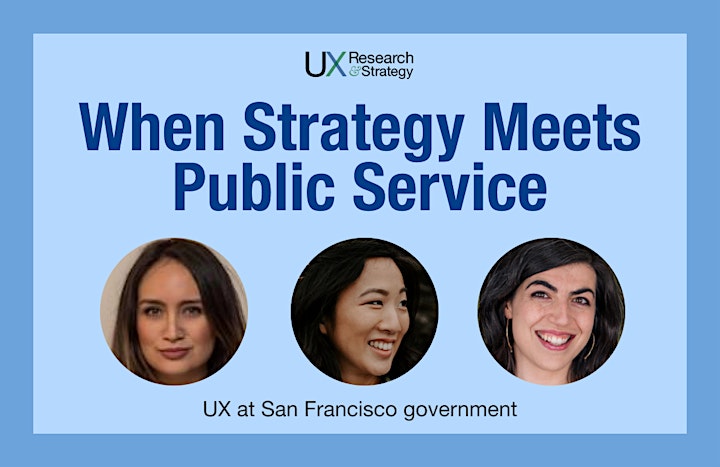 Speakers
Iran Narges - Iran began practicing service design in 2013 at Adaptive Path, building on 15 years of graphic design and art direction experience across a wide range of industries and media. In her previous role as Design Director at Capital One, she led a team focused on scaling service design and strategic design capabilities across the enterprise. She is currently the Lead Service Designer at San Francisco Digital Services, working on the various aspects of permitting, and leading the Service Design & Research team. •
Mai-Ling Garcia - A proud, but unlikely bureaucrat, Mai-Ling strives to make the government simple and easy to use. She works to bridge the gap between rapidly evolving technologies and their use to benefit communities. She developed and executed a digital and service delivery strategy for the City of Oakland as the City's Digital Engagement Officer. She founded the City's first Digital Services team focused on improving the public experience of government for Oaklanders, including Oaklandca.gov. More recently, she is serving the City of San Francisco Digital Services as the Head of Digital Strategy and Engagement.
Lauren Jong - Lauren first entered the civic technology space as a private sector volunteer in the inaugural Civic Bridge cohort, partnering with City departments to define how people search and apply for affordable housing. After half a decade designing consumer products at Google, she joined the City and County of San Francisco on the Digital Services team. Lauren leads the UX team, and works to deliver City services online through the city website.
This event is limited to the first 1,000 who enter the Zoom meeting.
We know these speakers are going to be awesome and high demand. So please consider whether you will actually be able to attend to make room for those who are eager to be there.
** Please Consider Donating **
A Donation Ticket to this webinar is the same as a regular admission ticket to the event. Plus, you are helping keep this event FREE for attendees around the world. Please consider getting a donation ticket as your admission ticket to help UX Research and Strategy provide events like this to the UX community.
Host: UX Research and Strategy
UX Research and Strategy is a registered 501c3 group devoted to teaching and exploring topics related to User Experience Research and Strategy. Started by three very talented ladies, Jen Blatz, Lorie Whitaker and Lauren Singer, who saw the need to address the gap in these topics in the local UX community. The hope for this group is to enrich and complement the UX Design community through knowledge sharing and partnership.
Whether you are a researcher, designer, product owner, strategist, content creator, project manager, developer, technologist, marketer, customer experience pro or any other discipline, please join us.
For more information:
Please note that by attending our events, you are granting us permission to potentially use a photograph including you on our social media channels and website. Don't worry, we will try our best to make you look good.
For online events, and for your privacy, if you do not want your name or image potentially appearing on a Zoom screen, please anonymize your name in Zoom and hide your video.
Please note, we are unable to refund donations.
A Zoom link to the webinar will be provided in your confirmation ticket. Scroll down through the email and you will see the zoom link to join.
UXRS a code of conduct. But getting a free or donation ticket to our events, you agree to read and abide by the conditions of this code of conduct. Failing to do so will result in immediate removal from our events and any social media channels. We expect you to be respectful of everyone on our UXRS community.
Thank you for your support!