Description
Greetings!

Richard Gallion Entertainment,Inc.creates only hit stageplays. Currently touring Honorably "Diss"Charged and WHEN SILENCE SCREAMS is taking Chicago and other cities by storm!
With standing ovations from jam packed audiences, and so many heartfelt reviews of just how amazing the shows ministered to those who came.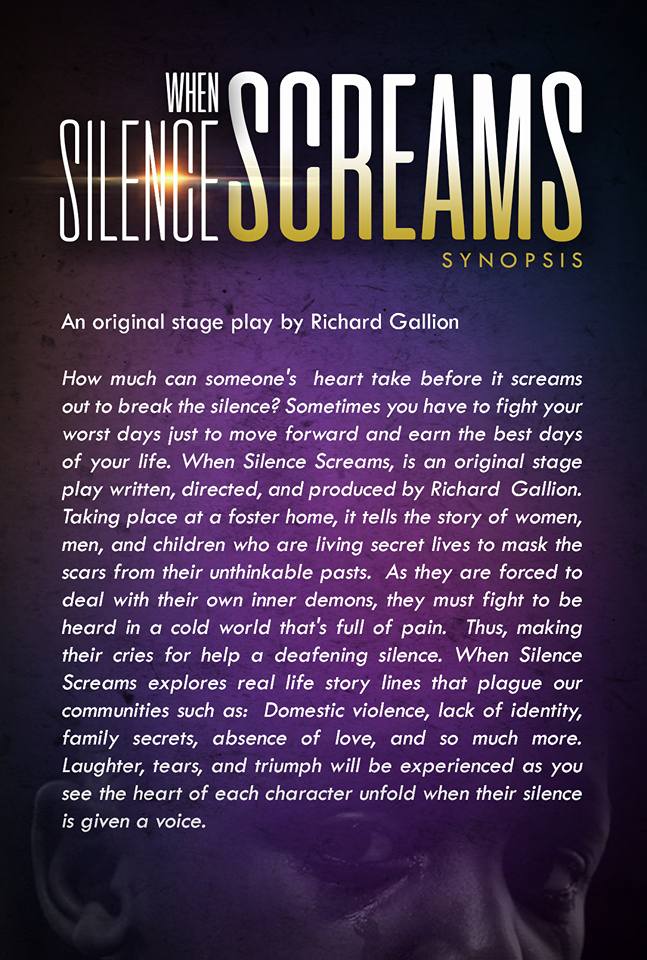 When

Silence

Screams

Synopsis

.
An original stage play by Richard Gallion

How much can someone's heart take before it
screams
out to break the
silence
? Sometimes you have to fight your worst days just to move forward and earn the best days of your life.
When
Silence
Screams
, is an original stage play written, directed, and produced by Richard Gallion. Taking place at a foster home, it tells the story of women, men, and children who are living secret lives to mask the scars from their unthinkable pasts. As they are forced to deal with their own inner demons, they must fight to be heard in a cold world that's full of pain. Thus, making their cries for help a deafening
silence
.
When
Silence
Screams
explores real life story lines that plague our communities such as: Domestic violence, lack of identity, family secrets, absence of love, and so much more. Laughter, tears, and triumph will be experienced as you see the heart of each character unfold
when
their
silence
is given a voice.
--

CHECK OUT A QUICK SNIPPET OF WHEN SILENCE SCREAMS!