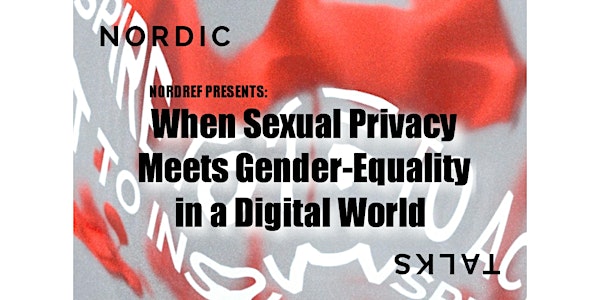 When Sexual Privacy meets Gender Equality in a Digital World
Sexting? "Revenge porn?" What needs to change when gender-equality meets sexual privacy in a digital world, where dickpics are the new norm?
About this event
Digitalisation has revolutionised how we live, work and communicate. Intimate communication is no exception, with sexual exchanges going digital. Simultaneously, intimate material is being abused in various ways online, making the concept of sexual privacy an urgent and central right in our digital citizenship. As online sexual abuse disproportionally targets women and girls, gender equality is at the heart of the issue. Iceland recently passed a law that aims to define and protect sexual privacy in a digital world. Inspired by this new legislation, NORDREF's Nordic Talk will explore how sexual privacy affects equality in the region – and worldwide.
Schedule and speakers
9:00-9:10: Welcome address by the chair of the Nordic Digital Rights and Equality Foundation
9:10-10:15: SESSION 1 (INSTITUTIONS): WHEN SEXUAL PRIVACY MEETS GENDER-EQUALITY IN A DIGITAL WORLD: What are the institutional changes needed for:
- legislation to effectively address new and emerging forms of abuse that takes place online?
- law enforcement to effectively prevent acts of digital violence, and prosecute perpetrators?
- justice systems to dole out adequate punitive measures for perpetrators, that also support the victim in putting a stop to the abuse (which can be perpetrated infinitely given the timeless nature of the internet)?
Speakers:
María Rún Bjarnadóttir (ICELAND)
The lawyer and policy expert responsible for the creation of the new legislation, María Rún Bjarnadóttir is also the chair of the Council of Europe Expert Committee on Combating Hate Speech (ADI/MSI-DIS), where she serves as Gender Rapporteur, and sits on the Council of Europe Steering Committee on Anti-Discrimination, Diversity and Inclusion (CDADI), as well as the GREVIO committee. María Rún is a co-founder of NORDREF.
Sophie Mortimer (UK)
In her role as manager of the Revenge Porn Helpline, Sophie Mortimer has supported victims of image-based sexual abuse across the UK. Apart from victim-support, the Revenge Porn Helpline lobbies for institutional change and collaborates with online platforms such as Google and Meta to remove non-consensual material from the internet and develop useful tools for victims, as well as platforms.
Daniel Godman (SWEDEN)
Daniel Godman is a National Operations Developer and Senior expert on hate crime and crimes against democracy within the National Operations Department (NOA) of the Swedish Police Authority. His work highlights the intersections of race, nationality, religion, sexuality and gender-identity that hate crimes and threats are rooted in, and how online abuse is actively undermining democracy.
Moderator: Thordis Elva, founder of NORDREF
10:15-10:25: Address by the Women's Shelter of Reykjavík
-----15 minute break-----
10:40 Musical performance: Ragga Rix
10:45-11:45 SESSION 2: (CULTURE): WHEN SEXUAL PRIVACY MEETS GENDER-EQUALITY IN A DIGITAL WORLD: What are the cultural changes needed for:
- boys and men to become contributors to the solution as opposed to the problem, seeing as they are greatly overrepresented among perpetrators of online abuse?
- online platforms to foster a culture of consent, and a zero-tolerance policy when it comes to digital violence?
- intercultural dialogue to take place cross borders in Europe and globally, given that online abuse consists of cross-border crimes?
- women and girls to be empowered as active participants in the creation of digital solutions for their own benefit?
Speakers:
Cindy Southworth (USA)
As the head of Women's Safety for Meta , Cindy Southworth is one of the most influential people in the world today when it comes to the wellbeing of women on social media. One of her focus areas has been non-consensual sharing of intimate images that disproportionately impact women. Prior to joining Facebook, she was the Executive Vice President at the U.S. National Network to End Domestic Violence and Founder of the Safety Net Technology Project.
Christian Mogensen (DENMARK)
Author of the explosive 2020 report: "The Angry Internet - A threat to gender equality, democracy & well-being", Danish researcher Christian Mogensen has explored the so-called manosphere and incel culture in the Nordic region. His previous work has focused on the internet, particularly gaming culture and its impact on children and young people in particular, as well as the elderly and disabled.
Asha Allen (UK / BELGIUM)
As the Advocacy Director for the Center for Democracy & Technology, Asha Allen is digital rights advocate, human rights defender and policy expert. Her recent work with the European Women's Lobby, specifically coordinating the #HerNetHerRights project, highlights the prevalence of violence against women in the digital space. She is a prominent international speaker and consultant in the area of eradicating online harassment and abuse.
11:45-11:55 – Closing speech by Minister of Industry, Science and Innovation, Áslaug Arna Sigurbjörnsdóttir.
12:00 Final remarks, end of seminar
Organizer of When Sexual Privacy meets Gender Equality in a Digital World