Watch the documentary about "McDuffie" the man and the uprising. Join us in a community dialogue about then and now.
About this event
For Black History Month 2021, South Florida People of Color and Epyllion Studios are proud to present the documentary film When Liberty Burns and engage our community in a facilitated virtual dialogue about racism, policing, people and policy.
When Liberty Burns tells the story of Arthur Lee McDuffie, a Black man who was chased and fatally beaten by police in 1979. The uprisings that broke out in 1980 following the acquittal of the officers involved are known as the "McDuffie Riots". This timely reflection on Miami history offers new perspectives that urge us to press on for racial justice.
Registered participants for this South Florida People of Color event will watch the film on their own via our streaming platform prior to the Unity360 Community Dialogue. The 2-hour film will be available for viewing starting on Friday February 5th. Be sure to finish watching the film before Sunday February 7th at 1:00 PM when the Unity360 Dialogue begins.
The Unity360 Community Dialogue will be a 3-hour workshop filled with activities to deepen our understanding of the film and its themes. Where were you when Liberty burned? We will dig into how this important and still-relevant Miami story has affected us personally and as a community.
Workshop Leaders
Quincie Doucet, SFPoC Facilitator
Charo Valero, SFPoC Facilitator
Panelists/Special Guests
Dudley Alexis, Director, Editor and Co-Producer of When Liberty Burns
Femi Folami-Browne, Co-Producer of When Liberty Burns
Dr. Tameka Bradley-Hobbs, Historian and Director of the Florida Memorial University Social Justice Institute
Our special guests will stick around to participate in the workshop!
How to participate in this event:
Register here.
View the film any time starting Friday, February 5th. The streaming link will be provided on the EventBrite Online Event Page and reminder emails. The film is 2 hours long so allow time to watch it before the dialogue starts.
Join the Unity360 Community Dialogue on Sunday, February 7th at 1:00 PM . The Zoom link for the workshop will be provided on the EventBrite Online Event Page and reminder emails.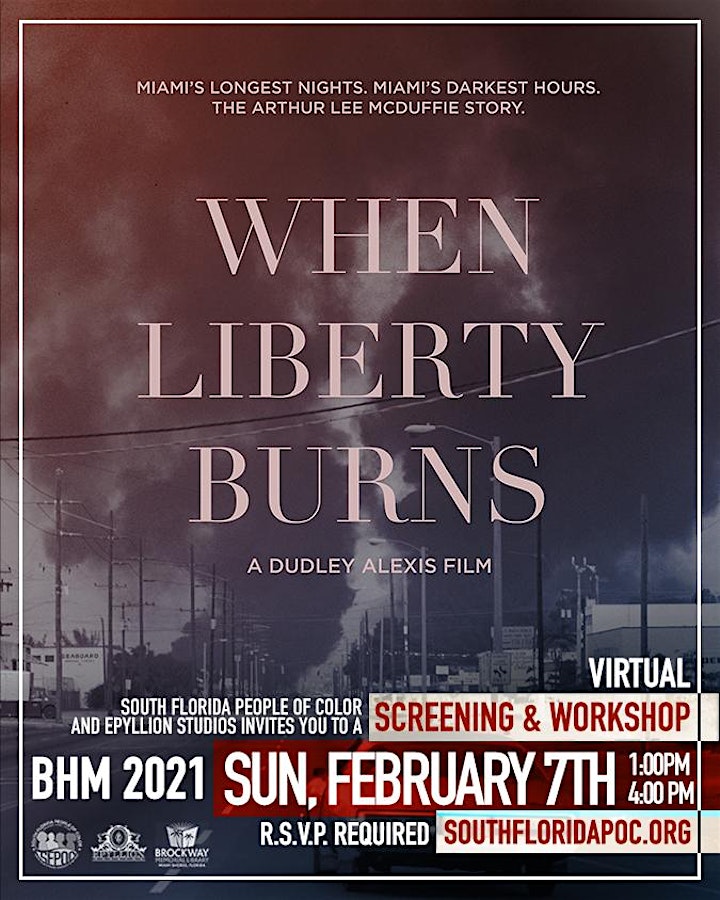 Event Sponsors

Organizer of When Liberty Burns film and Unity360 Community Dialogue