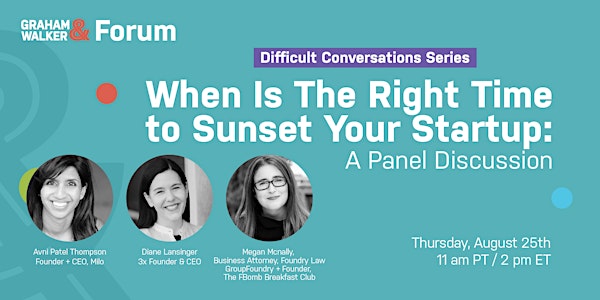 When Is The Right Time to Sunset Your Startup: A Panel Discussion
Presented by Graham & Walker
About this event
G&W is continuing our difficult conversation series by tackling the topic no one wants to talk about: how do you know if it's time to close the doors on your startup? Join us for a panel conversation where founders will discuss their experiences, answer questions, and help you explore your options.
Featured Speakers:
Avni Patel Thompson, Founder + CEO, Milo
Diane Lansinger, 3x Founder + CEO
Megan Mcnally, Business Attorney, Foundry Law Group + Founder, The FBomb Breakfast Club
Moderated by Divya Kakkad, Head of Platform, Graham & Walker
About Graham & Walker
Graham & Walker is a venture firm that activates the potential of all women in business through programs, community, and direct investments. We are on a mission to reshape the Nasdaq by investing in tech companies founded and led by women. For more information, please visit https://grahamwalker.com
-----
By registering, you agree to receive updates about news, programs, and special events from G&W.
This event will be recorded and your likeness or image may be used in media to promote future G&W events and programs.