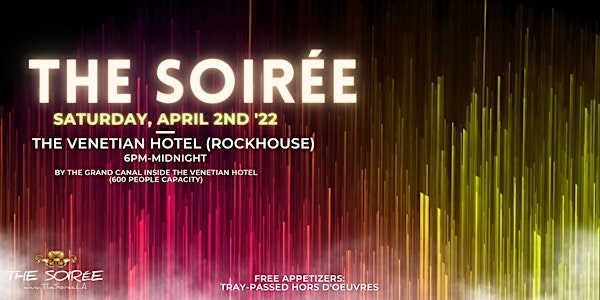 When: Grammy® Weekend Party: 7th Annual THE SOIRÉE (Celebs & Industry Gala)
The industry's annual Pre-Award Gala meeting point ... annual hotspot of celebrities, key entertainment industry folks & great performances
About this event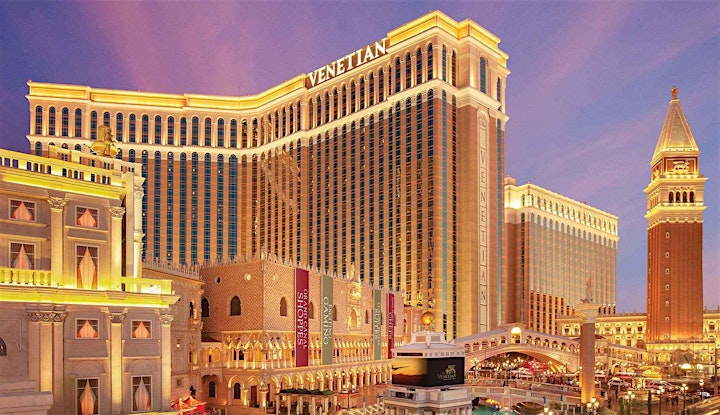 The hottest annual Pre-Award ticket in the city ... annual hot-spot of celebrities and key entertainment industry people, inside The Venetian Hotel at THE ROCKHOUSE. (by The Grand Canal Shoppes inside The Venetian Hotel on the Las Vegas strip)
Self - and valet parking at the hotel are complimentary.
When: Grammy® Weekend: 7th Annual THE SOIRÉE Party inside The Venetian Hotel
The Music Industry's Annual Hotspot - Red Carpet Event - THE SOIRÉE is independent from the GRAMMYs®
Where The Industry Meets -  The Annual Celebrity Filled Red Carpet Event During Award Weekend.
Past Attendees incl. Larry King, Dionne Warwick, David Hasselhoff and many more
Watch past videos with interviews and performances directly at: www.thesoiree.la
Free Tray-passed Hors-d'Oeuvres appetizers include:
Bruschetta with fresh tomatoes, basil & mozzarella
Cocktail Meatballs
Teriyaki Beef Skewers
Shrimp Skewers
Chicken Satay with spicy peanut sauce
Mini Vegetable Egg Roll with plum sauce
---------------------------------------------------------------------------------------------
As of Jan 21st '22, no proof of vaccinations are required to enter the venue.
Masks: Do bring masks, though, they are not required while drinking or eating.
---------------------------------------------------------------------------------------------
THE SOIRÉE is « A Premier Annual Music Industry Gala » which is hosted simultaneously to Grammy parties during GRAMMY® Week. (THE SOIRÉE is and independent annual GALA and not affiliated with the Recording Academy)
«Stars, Music Industry Executives, Artists , Music Producers, Models and Influencers» at the Annual THE SOIRÉE 
Connect with Grammy Members, Music Industry Executives, Major Labels, Managers, Producers, Licensors, Agents, Celebrities and Industry Influencers at the annual THE SOIRÉE red carpet Gala. The Music Industry's annual hot spot for Networking and Celebrating during award weekend! Claim your tickets before they're sold out again.
THE SOIRÉE has quickly become one of the most anticipated leading annual music industry events during award season. With over 500 influential core representatives from the music- and entertainment industry, this media filled epicenter is the annual go to event for hundreds of music industry leaders, influencers, tastemakers and members of the Recording Academy. 
Follow THE SOIRÉE:
-----------------------------------------------------------------------------
When: 6pm , 5:30 press check in at The Venetian Hotel (Rockhouse), Las Vegas
Dress Code: Dress to impress
Age: All age event
Tickets Strictly Enforced!
Refund Policy:
Each ticket has its individual barcode and tickets are allowed to be transferred if for any reason the original ticket buyer can't attend the event for unseen reasons. All tickets therefore are non refundable. You don't have to contact the organizer. We will honor the ticket even if it bears somebody else's name in this case. 
Parking:
Parking at the Hotel is complimentary/free.
--------
THE SOIRÉE is an independent annual event arm during GRAMMY® Week and not affiliated with, endorsed by, or licensed by The Recording Academy. The term "GRAMMY® Week" or "GRAMMY® Weekend" is solely for the purpose of informing the public of the time of the event.
Organizer of When: Grammy® Weekend Party: 7th Annual THE SOIRÉE (Celebs & Industry Gala)
More infos, videos, pictures, performance and sponsoring requests at:  www.thesoiree.la