Description
Come join Steanna Williams at her first official art showcase in Parkland, FL. Steanna has created an empowering story that she needs to share with the world. Through mixed media, Steanna is paying homage to Black women and girls around the world.
Steanna Williams Message:
Through When Black Girls Smile, I strive to empower black women/girls to love themselves unconditionally. Allowing them to openly embrace our culture and not fall victim to sterotypes like BLACK WOMEN ARE ANGRY. I understand that there are so many untold stories behind the smiles of Black women/girls. Everyone wants to black until its time to be black. We have arrived. We are flourishing. We are smiling like never before and its such a magical thing.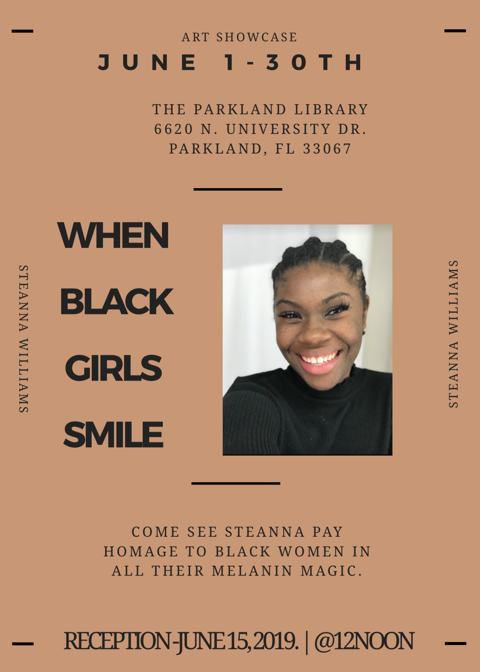 This is a Free Event!!!! RSVP FOR RECEPTION.
There will be drinks to to celebrate this accomplishment for Steanna Williams and more to come.
We are asking that you come dressed in SEMI-Formal attire. (not mandatory but please try)
Tell A Friend. Tell A Sister. We are calling out all women. Everyone is welcomed.
Please take photos, post selfies with paintings, grab a photo with Anna, or just a go IG/FB live in the moment.
#AnnaInspiresArt2019
#WBGS
#WBGS2019