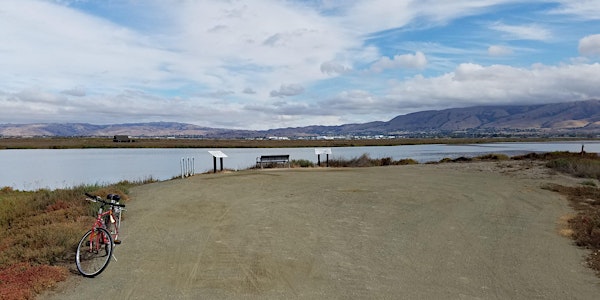 Wheels and Wildlife at the Don Edwards SF Bay National Wildlife Refuge
Location
Don Edwards San Francisco Bay National Wildlife Refuge Environmental Education Center
1751 Grand Boulevard
San Jose, CA 95002
Sales Have Ended
Registrations are closed
Thank you for your interest in this event. You are still welcome to join. Please email us that you'll be attending so we can add you to the list, or we'll have you register at the check-in table. We will host additional bike rides in the coming months.
Description
Descripción en Español a continuación=>
Did you know you could ride your bike on the Refuge trails in Alviso? Join us for a bicycle tour around the levee! We will stop along the way to learn about the Refuge, the wildlife and habitats they use, the importance of Coyote Creek watershed, and the history of the area!
The ride is 4.5miles on a level trail, and there is no shade along the way. Must provide your own bikes, gear, and water bottles. Helmets are required for children. Water and snacks will be provided at a stop. Children ages 10+ recommended, please use your best judgement on skill level for the distance.
==
¿Sabía usted que puede andar en bicicleta en los caminos del Refugio en Alviso? ¡Acompáñenos en un recorrido, en su bicicleta alrededor del dique! Vamos a tener breve paradas para aprender sobre el refugio, la vida silvestre y los hábitats en que viven. ¡Y conoceremos la importancia de la cuenca de Coyote Creek, y la historia del área!
El viaje es de 4.5 millas en un sendero de nivel, y no hay sombra a lo largo del camino. Tendrá que proveer su propia bicicleta, equipaje, y botellas de agua. Agua y bocadillos serán proveídos solamente en una parada. Cascos serán un requisito para los niños. Niños mayores de 10 años se recomienda que usen su mejor criterio respecto a sus habilidades para recorrer tal distancia.
Partners are Keep Coyote Creek Beautiful, San Francisco Bay Bird Observatory, San Francisco Bay Wildlife Society, US Fish and Wildlife Service, and National Wildlife Refuge System
Funded by the Whale Tail grant
Co-sponsored by SJSU Center for Community Learning and Leadership and CommUniverCity