Description
The first WhatsappMarketing workshop to learn about whatsapp marketing Strategies and Cases Studies. You've probably heard of Facebook Advertising, Twitter Ads, Google Adwords, and Whatsapp but are you using it to your advantage?
Expert Mobile strategist, Gonzalo Gómez Rufino of WhatsappMarketing, will be leading this workshop to help you learn and create your whatsapp marketing campaigns. How to use WhatsappAlertas.com to attract more customers as contests, handle databases, generate buzz whatsapp, and create your whatsapp marketing loyalty campaigns with WhatsappMarketing.es plataform.
Find out about the best practices & Cases Studies for Whatsapp Marketing. Walk away knowing more about how to strategically use WhatsappMarketing and boost your bottom line.
Topics that will be covered at this workshop:
Proven best practices for attracting more customers through WhatsappMarketing

How to handle a contest thru WhatsappAlertas.com

How to make the most out of your customers mobile databases

Social Marketing Strategies merge with Whatsapp

Ways to boost loyalty with your customers

Cases Studies: WhatsappMarketing & Whatsapp Contests
Cost: 11$ (Catering Included)
Wednesday, March 9, 2016
6:00pm – 8:00pm

LAB Miami - WynWood
About the presenter: Gonzalo Gómez Rufino is the Mobile Marketing Strategist at WhatsappMarketing. Gonzalo has trained and educated companies from Europe. He will help any business owner learn and execute mobile strategies that'll help boost business in 2016.
The workshop will be in English & Spanish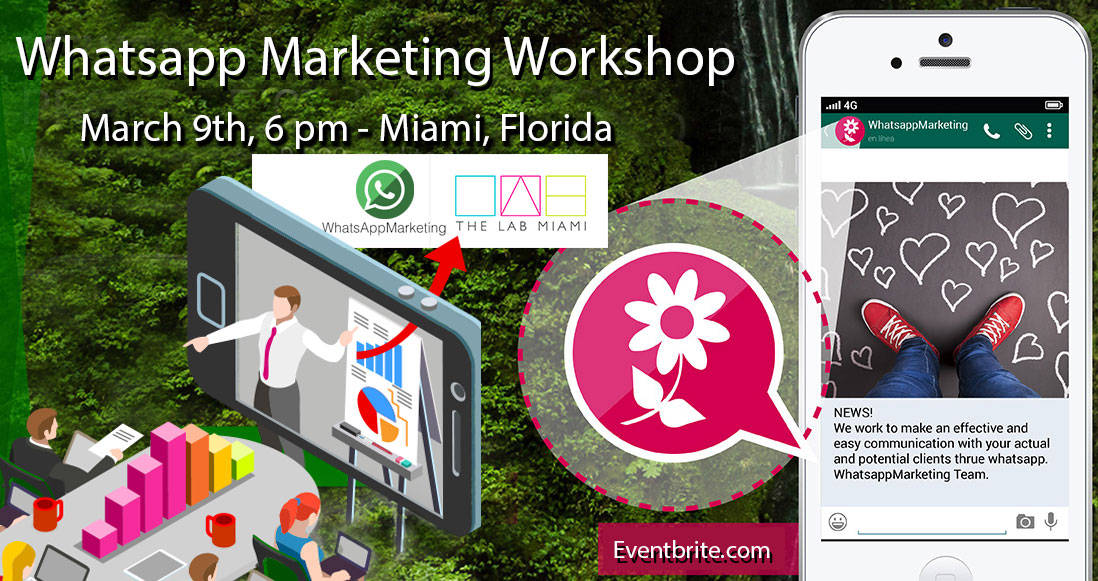 Organizer of WhatsappMarketing Strategies & Cases Studies
A professional and effective Broadcast whatsapp & Helpdesk Platforms to communicate with potential customers or create contests thru whatsapp. 

Your whatsapp Marketing strategies campaigns with with images or videos and unlimited characters.
A video or picture is worth than thousand words. Enrich your whatsapp contests with our strategies.
www.WhatsappMarketing.es & www.WhatsappAlertas.com