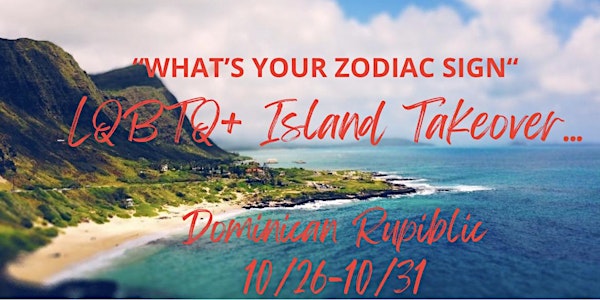 "What's Your Zodiac Sign" LQBTQ+ Island Take Over
What's your zodiac sign LGBTQ+ Island Take Over Is Here! Get Ready for the Meet and Greet end of year Birthday Bash in Punta Cana! INFO ONLY
By Naked Nikki & Shunda D
Date and time
October 26 · 3pm - October 31 · 6pm AST
Location
Dominican Republic Arena Gorda Punta Cana, Dominican Republic 23000 Dominican Republic
About this event
5 days 3 hours

Mobile eTicket
Come and Party with your favorite Brownliqher Podcast Host Naked Nikki and Shunda D for the last Meet and Greet of the year! This event is not FREE! This is an information Ticket ONLY! Resevations for this meet and greet will be created with each individual party!
This LGBTQ+ Island Take Over All Inclusive Resort Party is going down in Brownliqher History!!
Situated on the beautiful azure waters of Playa Bavaro in Punta Cana, an entirely refurbished 528-suite property featuring a sophisticated and sleek design. We will have access to five different resorts, for a total of: 22 restaurants, 23 bars and 8 swimming pools. Also, 24-hour all-inclusive, Unlimited à la carte dining at specialty restaurants of the complex, Wide selection of international and premium liquors, Exclusive beach and pool bar service, Unlimited drinks at all hotel bars with a large selection of domestic liquor and beer and Free 24-hour WiFi throughout the hotel.
"What's Your Zodiac Sign"… Lesbian Island Takeover Is Here !!
Are You Ready for the end of Summer Island Splash in the Dominican Republic!? Come Party with BrownLiqHer Travel Lounge and turn up with your favorite host Naked Nikki and Shunda D for the last Meet and Greet of the year. Let's See whose Zodiac Sign is going to represent there gang gang on our Destination Getaway!!
Date: October 26th - October 31, 2023 / 6 Days 5 Nights
** Deposits starting as low as $119.99 per person for packages including All Inclusive 5 Star Resort with travel protection and transportation to and from the airport.
**Pricing for Package A is starting at $760.00 per person.
**Full packages including flight, All inclusive resort, travel protection and transportation to and from the airport deposits are starting at $430.00 per person.
**Pricing for Package B will vary with included flight starting at $1,324.26 per person.
**We also have Financing options to where you can vacation tomorrow and pay a low monthly payment for 12 months SOOO NO EXCUSES!! COME TRIP & TRAVEL!!
**1st Deposit Due June 16, 2023‼️
Transportation Is Provided With Your Package!
Once your package is paid for you don't have to spend Any Money $$$ once you reach the Dominican Republic.
Upon arrival after clearing immigration and customs, proceed towards the arrival hall and look for the Amstar logo on the electronic monitors. Since you have already arranged for your hotel transportation, there is no need to stop with timeshare representatives offering you information and products in the arrival hall. This will help ensure a timely departure to your resort.
An Amstar representative (wearing a signature blue-flowered shirt will greet you outside the terminal building and escort you to your transfer vehicle.
YOU MUST HAVE A VALID PASSPORT TO ATTEND THE MEET AND GREET.
A valid U.S. passport is required for all U.S. citizens seeking to enter or transit through the Dominican Republic. Authorities have not made any exception to this policy for travelers arriving from Puerto Rico. Dominican immigration authorities will deny entry to persons arriving without a valid travel document.
THIS LINK HAS BEEN PROVIDED FOR INFORMATION ONLY!!
** Reservations will be created perosonally with our host and travel agent Nikki Flowers to avoid expensive fees and taxes.
** Deluxe Swim Up Suites are available first come first serve. Please don't wait the suites go quickly. The cost of the swim up suites are $874.13 per person, full price $1728.45 for 6 days 5 nights . Based on a 2 person occupancy.
** Yes!! We can create reservations for up to 3 people in a deluxe junior suite starting at $978.56 per person for 6 days 5 nights.
** Travel Protection will be provided for every reservation created. Two options will be provided. Option 1 - full travel protection: This plan is great for travelers who will be traveling with us again, allowing reuse of the funds in the form of a travel credit for travel commencing within 395 days of original departure date. Option 2 - Cash Refund: Customers who want their full refund in original form of payment should select this plan. Remember that all bookings without Travel Protection Plus receive any refund due in the form of future travel credits.
CANCELLATION POLICY:
BY PAYING YOU UNDERSTAND ALL POLICIES & TERMS & CONDITIONS LISTED BELOW CANCELLATION POLICY: We understand that life happens and therefore, we have set in place travel protection. When booking your reservation you will have to choose a option for travel protection or provide documentation that you have your own. In the event that you use or DO not USE the cancellation insurance, note that the insurance is NON REFUNDABLE.
CANCELLATION FEES:
Please acknowledge that there is no way for us to fully protect you against exposure and/or infections of Coronavirus/COVID-19 including each of its known and future strains (collectively. *COVID*) related to your participation at one of our Events. By attending an Event, you affirm that you are not infected with COVID, and that you have complied with all current CDC guidelines recommended of persons who attend public events, and that you hereby fully release us from all liability related to any COVID related claim.
ALSO UNDERSTAND THAT IF YOU CONTRACT IT WHILE ON A TRIP & ARE OUT OF THE COUNTRY YOU ARE RESPONSIBLE FOR ANY ADDITIONAL HOUSING /AIR FARE OR ANY ADDITIONAL EXPENSES THAT OCCUR. THAT IS WHY INSURANCE IS NEEDED DURING COVID TIME* TO LEARN MORE ABOUT COVID INSURANCE PLEASE CHECK OUT THE LINK PROVIDED FOR YOU.
https://www.insubuy.com/covid19-travel-insurance/#
LEGAL ISSUES:
YOU AGREE that if you have any pending/closed/open legal issues, convictions, cases or anything pertaining to legal proceedings, that you consult your attorney for travel outside of the US. YOU also UNDERSTAND we are NOT liable for countries that you may not be permitted to enter because of your legal issues. You sign this contract under the knowledge you are free & clear to travel without restrictions.
PHOTO/VIDEO RELEASE:
All guests agree to participate in promotional, publicity, or merchandising pictures of the guests during this event. The guest hereby agrees that Brownliqher LLc, Nikki Flowers & Reshunda Davis may use film and photography from our events, including images of ourattendees, for promotional and advertising purposes. The guest hereby authorizes the reproduction, sale, copyright, broadcast and /or distribution of said video, sound recording and pictures without limitations.
The guest further agrees and releases Brownliqher LLc, Nikki Flowers & Reshunda Davis their sponsors, representatives and agents from any liability, loss, expense or claims arising from distribution, broadcast, sale or use of his or her likeness or voice. The guest certifies that he/she is over 21 years of age. If a guest desires not to be included in any promotional videos and pictures, please avoid the camera and if you feel you were photographed or filmed, let the camera person know, Brownliqher LLc, Nikki Flowers or Reshunda Davis know but yet and still we can not guarantee your likeness will not be included in promotional or news materials.
ADDITIONAL INFO:
If you would like to start making payments before the due date please reach out to your host and travel agen Nikki Flowers.
Contact Information:
Email: Brownliqher@gmail.com
Phone: 412.606.2485 Text Only
Facebook Messenger: Brownliqher
Instagram: Brownliqher
Facebook Travel Page: Luxurious Destinations & Events
These prices are the early bird special!! If you don't make the deposit by the first due date June 16,2023 an additional $25 dollars will have to be applied to the deposit amount. Reservations will not be created until the full deposit has been made for the items you've selected. You will receive a reservation number with all your info to insure you we did receive your payment. If you have any addition questions please contact brownliqher@gmail.com and we will get back to you within 24 hours of your request.
#LetsGetReadyToParty
About the organizer
We create LGBTQ+ Meet and Greets to bring our community together. We also host a podcast called Brownliqher_ that can be heard on all podcast platforms.