About this event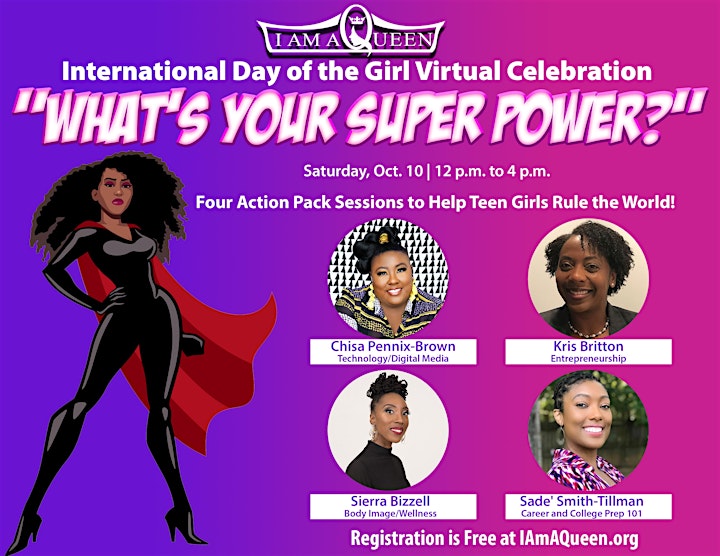 I Am A Queen's International Day of the Girl Virtual Celebration
"What's Your Super Power?
Saturday, Oct. 10
12 p.m. to 4 p.m.
Four Action Pack Sessions to Help Teen Girls Rule the World!
(Teens Can Select the Sessions They Would Like to Attend)
Registration is Free for Girls Ages 10-18
12-12:45 p.m. – My Body, My Temple (Body Image)
Learn the importance of accepting the changes your body is experiencing as a young lady. This session will help you to develop a self-love regime with yourself and help you to become mindful of what you put into your body.
Instructor
Dr. Sierra Bizzell | CEO of Beautiful Beginnings and the Faithfully Fertile Foundation
Website: http://www.faithfullyfertilefoundation.com/
Dr. Sierra Bizzell is a secondary infertility survivor, health and fertility coach, master herbalist, birth doula, and breastfeeding educator.
She's happily married to Odell Bizzell and they have 3 children that are homeschooled. A graduate of NC State University, she received a B.A. in Psychology. Furthering her education at Liberty University, she received both an M.A. & an E.Ds. and she recently finished a PhD in Leadership.
In 2019, Sierra founded Faithfully Fertile Foundation which is an organization that provides education and grants to those that would like to start their families through reproductive assistance and adoption.
Sierra is the author of two books and loves helping people overcome their health and fertility challenges. Sierra wants to inspire others with her story and she aspires to become a midwife who will one day change the way that people see birth, womb health, and fertility.
1-1:45 p.m. - Amplifying Your Message through Social Media
Your voice matters and you do not need a full production equipment for it to be heard. This session will teach you how to amplify your message through technology and social media.
Instructor
Chisa Pennix-Brown, MBA | CEO of Lady Bizness
Website: https://www.ladybizness.com/
Lady Bizness is a social entrepreneurship and engagement company. Chisa D. Pennix-Brown, MBA is the CEO of Lady Bizness, NC's #1 Small Business Facilitator, and Author of the 90 Day Focus: Your Action Plan for Success. She is a professional trainer and speaker specializing in small business development, brand strategy, and social media marketing to improve a company, individual, event, or group's online presence. Her strengths lie in branding to create a consistent image in person and online with a primary demographic of women-owned and nonprofit businesses.
2-2:45 p.m. - Starting Your Business the Right Way
Research shows 64 percent of teen girls are interested in starting a business but don't know the proper steps to move forward. This session will teach you how to take one idea and turn it into a business.
Instructor
Kris Britton | CEO of Lucky Dog Volleyball
Website: https://www.grappleusa.com/
After graduating from Appalachian State University with a degree in Criminal Justice, Kris Britton became a police officer with the High Point Police Department, where she helped establish their first Youth Academy program to combat juvenile delinquency. After nine years of service, Kris became an educator with Guilford County Schools, where she taught social studies and coached basketball, before moving to central office as a district-level leader in curriculum and change. As an educator, Kris was named Guilford County Schools' High School Teacher of the Year. Ten years later Kris resigned to pursue a new career path in corporate leadership and received her MBA from Wake Forest University. She is currently the CEO of Lucky Dog Volleyball, the official championship event merchandiser for USA Volleyball. Under her helm, the company's revenues have grown exponentially.
3-3:45 p.m. - Career and College Prep 101
Learn the importance of having a plan to start college and a new career. This session will help you to overcome obstacles and navigate through potential opportunities.
Instructor
Sade' Smith-Tillman, MBA | Career Development Coach, Next Generation Career Coaching | Founder & Executive Director of Young Adult Reform Corporation
Website: https://getstartedwithnextgen.today/
Sade' Smith-Tillman is a certified career coach who develops and prepares new graduates for the workforce and assists seasoned professionals with career transitions. After experiencing first-hand the difficulties of transitioning from college to the professional world, she's made it a priority to help young people avoid some of those challenges and prepare for work.
Sade has spent several years working as a recruiter and an HR representative. After a successful career in coordinating recruitment and helping candidates find positions, she now focuses on assisting young adults secure their next career opportunity. She provides mentoring support, development, and direction to recent graduates and young professionals entering the workforce.
Sade is also the Founder and Executive Director of Young Adult Reform Corporation, a non-profit aimed at helping first-generation students from low-income communities secure an opportunity to attend a two or four-year college or university. She thoroughly enjoys volunteering, mentoring, and serving youth.
Organizer of What's Your Super Power? I Am A Queen's Day of the Girl Virtual Celebration
I Am A Queen is a youth-focused mentoring nonprofit dedicated to ensuring that young women can reach their goals for higher education and leadership. Young women are selected annual to commit to the program and must demonstrate a high need and a high level of motivation to achieve what no one in their family has accomplished.
The program is intentional about building a girl's self-esteem, helping them to overcome obstacles and preparing them for college and a career.
I Am A Queen's Focus Areas:
Queens Empower, Queens Educate and Queens Engage 
I Am A Queen's Mission Statement: 
To empower girls with a crown of confidence by providing transformational mentoring programs that develops them into future leaders and community service pioneers.
I Am A Queen's Vision Statement:
"Every Time a Girl Says, I AM A QUEEN, She Breaks Chains of Rejection, Defeat and Pain Off Her Life"