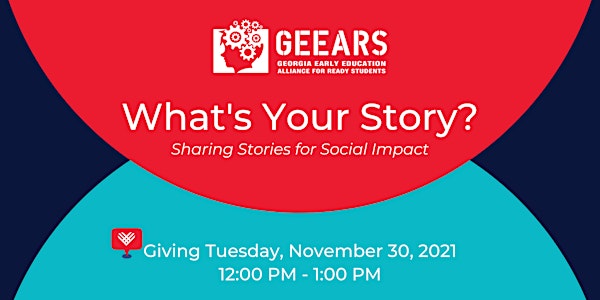 What's Your Story? Sharing Stories for Social Impact
Celebrate GivingTuesday with GEEARS by attending a virtual workshop on how to share narratives for social impact.
About this event
GEEARS: Georgia Early Education Alliance for Ready Students is excited to announce a new series, Advocacy Essentials! The Advocacy Essentials Series was created to equip nonprofit organizations and community members with tools to influence stakeholders and spark change.
We're kicking off the series with a virtual workshop on Giving Tuesday, November 30th. Join us for What's Your Story? Sharing Narratives for Social Impact.
We've invited top experts from the fields of marketing, social media, and community engagement to share practical advice on how to capture and tell stories for social impact.
Tickets are donation-based. Please consider making a tax-deductible donation to support our work.
Speakers:
Condace Pressley, Director Community and Public Affairs, WSB-TV
Condace Pressley is an Emmy award-winning broadcast journalist with decades of experience and host of the radio show and podcast Perspectives.  She's a former president of both the Atlanta and National Association of Black Journalists. Condace is a University of Georgia alum and member of both the Georgia Radio and Georgia Association of Broadcasters Hall he is active in the community and serves on the boards of directors of the Girl Scouts of Greater Atlanta, the Atlanta Community Food Bank, the United Way of Greater Atlanta, Chris 180, and the Alliance for Christian Broadcasters. In her free time, she enjoys gardening and reading in her rocking chair.
Danica Kombol, CEO, Nowhere
Danica Kombol is a serial entrepreneur and most recently, known as the CEO of Everywhere Agency, one of the country's top influencer marketing agencies, working with some of America's most iconic brands. Everywhere Agency was acquired by MWW PR in 2020.  As a social media marketer, Danica draws on her extensive background as a television producer and Public Relations executive. She began her career at Sesame Workshop and went on to become a successful television producer working on such legendary shows as Saturday Night Live. She speaks frequently on influencer marketing at global conferences and forums. She's a contributor to Forbes.com and moonlights as a travel blogger at Danica.me. 
Danica was named 2019 Marketer of the Year by the Atlanta American Marketing Association. Danica serves on the board of the National Black Arts Festival and is a founding board member of the Influencer Marketing Association. She's a graduate of Leadership Atlanta and an alumna board member of  WOMMA (Word of Mouth Marketing Association) and the Atlanta Women's Foundation She's a 2019 Recipient of the Atlanta Business Chronicle's "Women Who Mean Business" Awards.
Randalette L. Williams, Ed.S, Program Manager, Real Dads Read, Colga
Randalette L. Williams, Ed.S is a certified serial volunteer and lover of all things related to literacy! As the President of Chattahoochee Valley Parent2Parent, LLC, Randalette currently oversees the Real Dads Read of ColGa Program and the Mayor's Summer Reading Club in her hometown of Columbus, Georgia.  The Real Dads Read Program encourages reading among elementary and middle school-aged children, to improve academic outcomes, and strengthen father-child bonds through reading. Randalette has managed to install bookcases in barbershops throughout the city and run programs in local schools that focus on volunteers in the capacity of Real Dads Read, ColGa Program Manager.
Organizer of What's Your Story? Sharing Stories for Social Impact
GEEARS: Georgia Early Education Alliance for Ready Students is a nonpartisan, nonprofit organization operating to inspire and provide leadership for a statewide movement on quality early learning and healthy development for all children ages birth through five. GEEARS' vision is that all students will enter kindergarten prepared to succeed and on a path to read to learn by third grade.