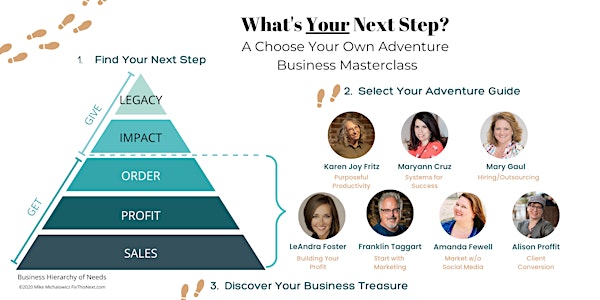 What's Your Next Step? A Choose Your Own Adventure Business Masterclass
Find Your Next Step in Business. Select Your Adventure Guide. Discover Your Business Treasure!
About this event
Join us (virtually) for A Choose Your Own Adventure Masterclass.
Explore your next business step.
Congratulations! You successfully took the first step; you're exploring this masterclass!
As an entrepreneur, chances are your to-do list is a mile long and increasing by the minute.
But, have you ever wondered if there's a better way? Wondered what steps to take and when?
There are so many steps to build your business, it's hard to choose which one to focus on first!
Marketing
Sales
Technology
Profitability
Systems and processes
Outsourcing and hiring
You know it's possible, though. I mean, others are doing it. Heck you hear about it ALL the time on social and in ads. But how do you know what is right for you and your business?
To answer that, we've brought together 7 of the hottest "Business Expert Guides" (aka business coaches) who truly understand one size does NOT fit all.
In this 90 minute masterclass adventure, you'll know, without a shadow of a doubt:
The 5 levels of Business Success - and where you're at right NOW
What is absolutely necessary (not just nice-to-have) to build to the next level
What you DON'T need to focus on right NOW
And so much more
Warning: Potential side affects from this adventure may include:
The ability to:
Silence the overwhelm of marketers telling you what you need
Stop wondering what to do next to grow your business most effectively
Simplify your to-do list by doing ONLY what matters most
Instantly connect with the ONE right expert to uplevel your business
Experience the reasons you started this biz - free time, more money, and bigger impact!
Join the adventure, register today!