Led by Niki Lopez with special guest Andrew Ruffner of World AIDS Museum and Educational Center and Coach Kitty of Moving Forward Wellness
About this event
What's Your Elephant™ LGBTQ Series
What's Your Elephant™ is a movement that uses the arts to create safe spaces to address the unspoken.
*In-person workshop. Mask required.
Art-making workshop and community chat led by Niki Lopez with special guest Andrew Ruffner of World AIDS Museum and Educational Center and Coach Kitty of Moving Forward Wellness
Supplies will be provided.
Participants in the workshop can submit their work to be a part of the virtual showcase Thursday, September 30, 6:30-8 PM or future showcase.
CALL FOR ART: https://bit.ly/wye2021-lgbtq-callforart
----
The mission of the World AIDS Museum and Educational Center - worldaidsmuseum.org
Promote dialogue the eliminates HIV/AIDS stigma through education, artistic expression, and cultural programming
Our Vision -Eliminate HIV/AIDS stigma and preserve its history. Tag Line -Document. Remember. Empower.
The mission of Moving Forward Wellness - movingforwardwellness.org
Moving forward Wellness takes a holistic approach to Wellness and an opportunity to make lasting changes at every level.
TLBGQ+ Trauma-informed wellness coaching for groups, individuals, non-profits and service businesses. Feel better, create a happy workplace. All it takes is wanting to be different.
What's Your Elephant™ LGBTQ Series:
A Series of art-making workshops + community talk + in-person and virtual Art exhibitions
The What's Your Elephant™ series has typically explored many 'elephants,' though sometimes there is an annual focus. This year, our series will highlight LGBTQ+ communities. We will be collaborating with grassroots community partners such as NAMI Broward County, World AIDS Museum and Educational Center, Ujima Men's Collective, South Florida Afro Pride Federation, Black Lesbian Archives, and Transpire Trainings & Consulting, and inviting our communities to make art, get vulnerable, and connect. This series will run from August 2021 – January 2022
WYE 2021/2022 will offer a hybrid of both in-person and virtual events.
For details on the What's Your Elephant™ LGBTQ Series: whatsyourelephant.org/whatsyourelephantlgbtq2021-series
This program was made possible by a grant from Our Fund Foundation, an LGBTQ Community Foundation.
About What's Your Elephant:
What's Your Elephant™ (WYE) is a combination of art exhibits, interactive installations, discussions, and workshops that are designed to provoke awareness by unveiling unaddressed topics. Themes often include but are not limited to: gender, sexuality, discrimination, and abuse. WYE shows us how art can heal and be a tool to process complex conversations, helping us to unpack the things that we, and the world around us, are challenged by. WYE also intentionally aims to destigmatize mental health topics and counseling.
----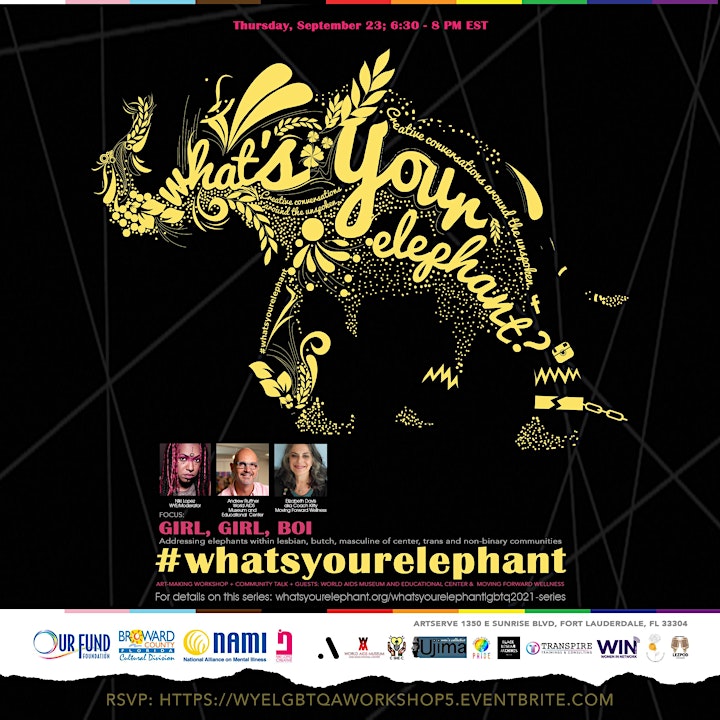 Organizer of What's Your Elephant's Girl, GIRL, Boi Art-Making Workshop + Chat @Artserve
Niki Lopez is an Afro-Latina, Queer, award-winning interdisciplinary Visual Artist, Activist, Social Practitioner, Placemaker, Curator and Cultural Programer.
Lopez is best known for her masks and a collection of works dealing with some of her past traumas and healing through the arts. Lopez is the founder of "What's Your Elephant," a movement that creates a safe space and uses the arts to address the unspoken.
"Art allows me to voice an opinion, challenge a perspective, and inspire change."
Niki has donated artwork to support various causes such as World AIDS MUSEUM, Human Rights Campaign and Equality Florida.
The 2019 Co-Grand Marshall of Wilton Manors/Stonewall Pride as the 'Future of Advocacy' and a 2020 recipient of Broward County's Arts & Culture Visionaries Award by ArtServe.
The host and programmer for The Circle, a podcast series sharing stories of our creative community, activists & social entrepreneurs.
Board member for Women in Network (WIN) and Island City Stage.
Lopez is also a co-founder for Artists for Black Lives Matter and the 1310 Bandits, an award-winning team of female-led LGBTQ filmmakers.
 --