Description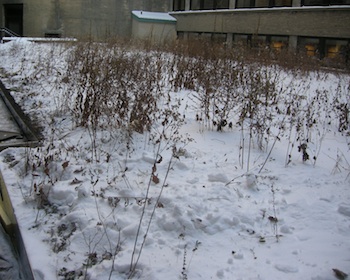 Please join the MN Green Roofs Council for a unique exploration of the winter effects on green roofs! The first hour will be dedicated to introduction of the expert panel's key research, opinions, and observations on the topic. The second hour will be moderated and interactive with your questions to the panel. Lastly, we have allowed time for networking with your fellow colleges who share similar green building interests. You can also check out the intensive dormant green roof on the second floor of the facility!
We have a wonderful cross disciplinary panel of experts who will share their knowledge in key areas of green roof design and construction, plant performance, biodiversity, and roof performance.
PANEL:
Leigh Whittinghill is a PhD student in the Department of Horticulture at Michigan State University working with Dr. Brad Rowe. She is currently doing research on vegetable production and carbon sequestration on green roofs. Her publications include a study on the effects of deicing salt on common green roof and green wall plants.
David Campbell, AIA, RWC, GRP, has been with Inspec, Inc. Engineers / Architects since 1994. Mr. Campbell also created and teaches a course at the University of Minnesota on the design and construction of vegetated roofs, exterior walls, and waterproofing. He will share his knowledge on the effects cold weather climates can have on vegetated roof assemblies and how to design these systems for long term performance under such conditions.
Julie Vigness-Pint has been documenting the extensive green roof at Ramsey-Washington Metro Watershed District since 2006, where she has been employed since 1999. The monitoring has focused on MN native plant use along with sedums, vegetation survival and a small amount of stormwater runoff. She serves on the Board of the MN Green Roofs Council.
Moderator: Angie Durhman, National Green Roof Manager at Tecta America Corp and serves on the Board of the MN Green Roofs Council.

EVENT DETAILS:
DATE: MARCH 6, 2012 from 9:00 am –Noon (Coffee and networking included)
LOCATION: St Paul Fire Station #1, 1000 W. 7th at Randolph, St Paul, MN.
Training Room on first floor.
COST: Student w/current ID: $20 Non-profit/Government: $40 For Profit Business: $60 Additional $10 at the door. Cash/check or charge.
1 Learning Unit available for those professionals needing credit!
Organizer of WHAT'S UP (ON THE ROOF) WITH WINTER?
The Minnesota Green Roofs Council promotes green rooftop technology as a sustainable building strategy in Minnesota. We work to educate developers, architects, landscape architects, engineers, roofers, building owners, policy makers and others about green rooftops as a cost-effective strategy to improve building performance, reduce environmental impacts and improve urban livability. Our steering committee meets monthly and hosts workshops, social events, and tours of local green rooftops. We develop resources like our RoofBloom guide and our Minnesota Green Roofs Directory.