Description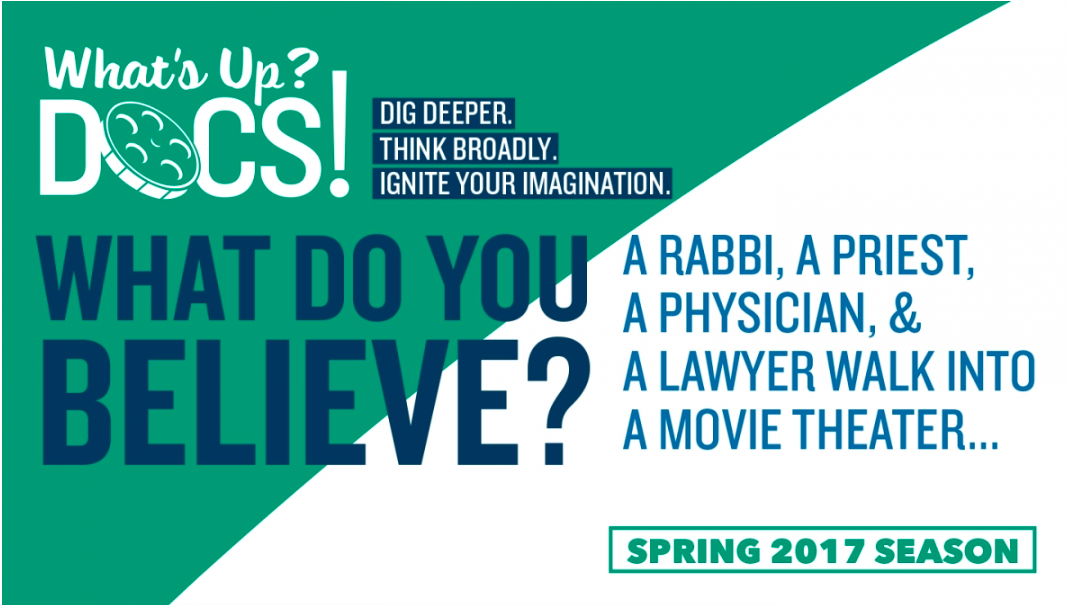 Our spring WHAT'S UP? DOCS! series asks the question: "What Do You Believe?" Join us for films and post-screening conversations that seek answers to these central human questions.
On Thursday April 13th, we examine the topic of "Faith" with Thoman Lennon's stunning new documentary Sacred. This screening will be followed by a discussion with several prominent D.C. religious leaders moderated by Sister Maureen Fiedler, creator and host of Interfaith Voices. Our post-screening panel features: Rabbi Gerry Serotta, Imam Talib Shareef and Brahmachari Vrajvihari Sharan, PhD.
Film Synopsis
Shot by more than 40 filmmaking teams around the world, Sacred immerses the viewer in the daily use of faith and spiritual practice. At a time when religious hatreds dominated the world's headlines, this film explores faith as primary human experience, and how people turn to ritual and prayer to navigate the milestones and crises of private life.
Academy Award-winning director, Thomas Lennon, commissioned or sourced footage from top independent filmmakers from more than 25 countries--and a wide range of religious traditions--each team contributing a single scene. The film, sweeping in its global reach, yet intensely intimate, is a tour de force that unifies these scenes into a single work, told without narration, without experts and, for long stretches, without words at all.
Watch an Interview with the Academy Award-Winning Director
Sister Maureen Fiedler, SL: Sister Maureen Fiedler is the creator and host of Interfaith Voices. She has been an active participant in interfaith activities for more than three decades, including coalitions working for social justice, racial or gender equality, LGBT rights and peace. Maureen is a Sister of Loretto and holds a Ph.D. in Government from Georgetown University.
Rabbi Gerry Serotta: Rabbi Serotta has been the Executive Director of the Interfaith Conference of Metropolitan Washington since 2014. Prior to that, he served as Rabbi of Shirat HaNefesh Congregation in Chevy Chase, Maryland, and as Executive Director of the interreligious organization Clergy Beyond Borders. He has played a leading role in a variety of interfaith, religious freedom, and human rights causes in the Washington area over many years.
Imam Talib Shareef: Imam Shareef is President and Imam of the historic Nation's Mosque, Masjid Muhammad. He is a retired Chief Master Sergeant of the United States Air Force and has served as Imam in five U.S. cities and seven military locations around the world. In 2011, Imam Shareef was recognized for his service by President Barack Obama at the White House Iftar. He is also a member of the Mayor's Interfaith Council.
Brahmachari Vrajvihari Sharan: Sharan serves as the Hindu Chaplain at Georgetown University. He is the first Hindu priest to serve in the role of chaplain at any university in the United States. Having trained as a priest at ashrams in India, he then completed his PhD in Sanskrit at the University of Edinburgh and taught at universities in Wales and London.
Sacred is being presented in partnership with:
The Interfaith Conference of Metropolitan Washington
The George Washington Department of Religion
The George Washington Interfaith Council
The George Washington Multicultural Student Services Center (MSSC)
Thanks to the generous support of Discovery Communications, the WHAT'S UP? DOCS! spring season will be FREE and open to the public.