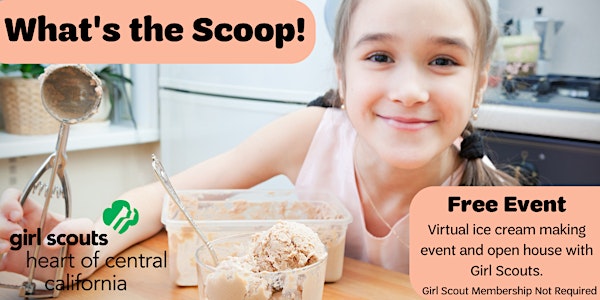 What's The Scoop with Girl Scouts
NON-MEMBER EVENT: This virtual event is for girls who are not already Girl Scouts and who are in Central/Northern California.
About this event
Have you ever made ice cream? It can be a lot of fun, and you end up with a tasty frozen treat! There is actually a lot of interesting chemistry that goes on behind making ice cream. Come and learn about it while checking out what Girl Scouts is all about!
Bring a friend, make new ones, and make ice cream with Girl Scouts — it's all VIRTUAL and FREE, no membership required!
Girls K-3rd: Join in for the fun!
Parents & Caregivers: Tune in for some Girl Scout information at the end of the event.
Materials Needed:
• 1 Gallon sized Ziploc bag
• 1 quart sized Ziploc bag
• 1 cup half-and-half (or milk of choice)
• 2 tbsp. granulated sugar
• 1/2 tsp. pure vanilla extract
• 3 cups of ice
• 1/3 cup kosher salt, rock salt or table salt
• Toppings of your choice (optional)
NOTE: You will receive a confirmation email from Eventbrite with Zoom information prior to the event. Within the email click: 'View Event Details' > "Access the Event.'
What's The Scoop Dates:
Thursday, August 26th, 2021 at 5:00 p.m., PST
Thursday, September 02nd, 2021 at 5:00 p.m., PST
Thursday, September 09th, 2021 at 6:00 p.m., PST
Thursday, September 16th, 2021 at 6:00 p.m., PST
Questions?
Email: CustomerCare@girlscoutshcc.org
Interested in joining Girl Scouts?
Visit: girlscoutshcc.org/join or text us at 916.702.7313