What's the Hold Up?: An Interactive Jumpstart

Multiple Dates
Event Details
Greetings Friends,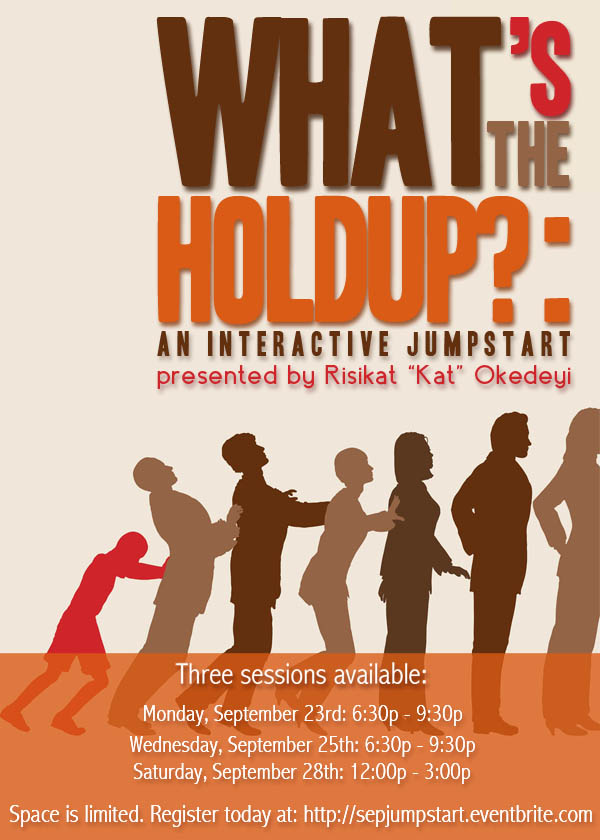 Just about every day I receive a call from someone who feels stuck in one aspect of their life or another. Over the past five years specifically, I have heard from people with the same issue of stagnancy. The conversations all start the same, but upon closer analysis what I find is that most folks are being held back by their hold ups. I found myself saying the same thing over and over, so I figured it was time to do more.
This is a "jumpstart" and as the word suggests, this session is designed to do just that. You already have the the energy swirling in you that is needed to fulfill a personal goal or dream. All I am going to do is bring that knowing out of you in a way that makes it difficult to ignore. Once it is out it can be turned into focused and forward movement.
In three hours I will work with you and a small cohort (no more than five participants in total) to uncover your hold ups and establish realistic practices. I find small groups are a great way to get feedback, exchange ideas and create accountability. I will also leave each attendee with at three specific directives to get the most out of this jumpstart. The rest will be up to you. 
The session includes:
Light lunch or dinner;

Printed materials;

A lecturette on common hold ups;

Exercises that identify your holdups and the triggers;

Customized feedback based on registration form and in-session sharing;

Three directives based on your goals;

Follow-up reception thirty days after the last session to celebrate and evaluate success.
Self-identified Creatives stuck or wanting to kickstart a new project;

Entrepreneurs in transition or stuck in a rut;

Those wanting to explore a Creative passion or who have an entrepreneurial interest.
What makes me qualified to lead this workshop?
I started my own production company in 2001 and it's still up and running;

I quit my "day job" as a trade executive in 2004 and I am still here;

I am a full-time professor, so I understand how to convey abstract concepts in a way that is meaningful and understandable; 

I am highly intuitive, so I can get to the root of an issue quickly;

I know what its like to be stuck, so I have a few tricks up my sleeve. 
Organizer
Risikat "Kat" Okedeyi
I am a full-time professor of English at a local community college and also run my own company LiL SoSo Productions. I have also been an herbalist for over eight years and am on a path of continuing growth and enlightenment. I do a great deal for others, but I am primarily a problem solver. I find beauty in everything around me and use my intuitive skills for the good of those around me. I come into this space because it is my destiny and I can help you see yours.
What's the Hold Up?: An Interactive Jumpstart