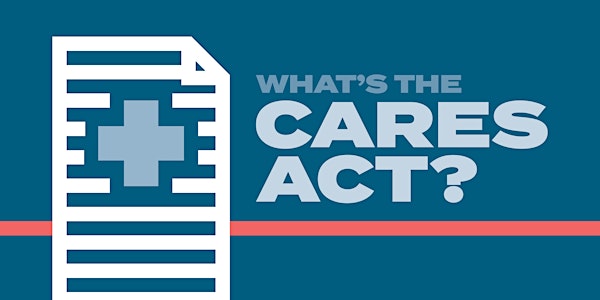 What's The CARES Act? Webinar Series
Webinar Series on Taking Full Advantage of the CARES Act for Knoxville and East Tennessee Businesses!
About this event
Taking Full Advantage of the CARES Act for Knoxville and East Tennessee Businesses!
NEXT WORKSHOP: July 10th @ 10AM - Online Event Access Link Here:
https://virtual.lunchpool.io/e/whats-the-cares-act-webinar-6
To ensure that you get the absolute most out of your time spent with us, we request that you would have the following details and documents handy during the online event.
PPP Loan amount and date they were funded
Amount of EIDL Advance
2019 Schedule C
2019 1065
2019 K1s ( only for form 1065, not form 1120s)
2019 W2s
2020 Q1 payroll records ( wages by employee), SUTA return
Covered period payroll register ( wages by employee and hours worked by employee)
Payroll register 1/1/2020 - 2/28/2020 ( wages and hours by employee)
Series Overview:
While Congress scrambles to replenish the billions of dollars that were exhausted within two weeks of the Paycheck Protection Program, we are here to continue educating Knoxville-based and East Tennessee-based businesses on what federal relief funds are available, and what are the value and limitations on those funds. Businesses having clarity and accurate information on these federal relief programs, especially later on the loan forgiveness aspect to PPP loans issued under the CARES Act later this summer, will be vital for businesses needing to preserve necessary cash flow.
This series of six interactive bi-weekly webinars will focus on the CARES Act, and how federal relief is available to Knoxville-based and East Tennessee-based small businesses.
This initiative is completely pro-bono and is for the public's benefit and use.
In the effort to combat misinformation, any and all information will be vetted and cited by primary sources of information, such as the U.S. Department of Labor, Congress, the Treasury Department, and the SBA, and will be supported with a companion digital platform as a knowledge-based, as later mentioned in this proposal.
CARES Act Expert Panelists Include:
Haseeb Qureshi (Panelist, CARES Act Expert)
Attorney and Entrepreneur-in-Residence with Morehous Legal Group, PLLC, and Lecturer for the Department of Management & Entrepreneurship at the Haslam College of Business at University of Tennessee, specializing in entrepreneurship. Haseeb also serves on the Mayor's Maker Council and is regularly involved within the community and entrepreneur based events.
Adrienne Webster (Panelist, CARES Act Expert)
Enrolled Agent and Owner of AOW Tax and Accounting, a bookkeeping and tax firm serving over 500 small business clients. Being close contact with small businesses of all sizes, in addition to our elected officials and tens of banks through the implementation of the CARES Act, Adrienne brings an incredibly deep level of understanding, both abstractly and practically, on the federal relief programs available to small business owners.