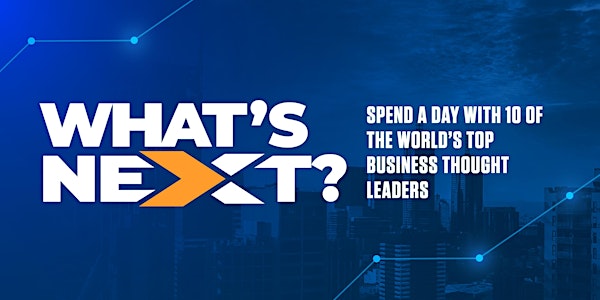 What's Next
Spend a day with 10 of the world's top business thought leaders in an intimate 100-person workshop style event.
When and where
Location
Innovation Loft 151 West 30th Street #2nd floor New York, NY 10001
Refund Policy
Contact the organizer to request a refund.
Eventbrite's fee is nonrefundable.
About this event
WHAT'S NEXT? is a first-ever conference that puts you in a room with ten of the world's top thought leaders on the topic of business transformation. With a strict limit of only 99 other participants, get ready for an intimate, workshop-style session where you will get to know the speakers and your fellow attendees.
A group of ten business transformation thought leaders have been meeting together as a group for the last few years to share thoughts and insights privately. Now, for the first time ever, they are opening access to their private mastermind group to a limited number of participants for one day only.
This isn't going to be like any "conference" you have ever been to. Each speaker will give their best 20-25 minutes of insights about WHAT's NEXT? in "Ted Talk" style format on what they see as the most important trends business need to be focused on in 2023 and beyond.
In addition, we will conduct breakouts with the speakers, so you will get to choose which of the amazing event faculty you want to spend time with in even smaller groups of 10-15 people, asking questions and contemplating WHATS NEXT?
The speakers will be answering A LOT of your questions, and we will have debates between key thought leaders on key topics like the future of blockchain, the most important trends in digital marketing, what is the #1 thing large brands need to be focusing on to succeed in 2023, and whatever topics are important to YOU and your fellow attendees.
The event will start at 10am on November 17, go through lunch and culminate with a cocktail party with the speakers.
WHAT'S NEXT takes place at a really cool and creative venue, The Innovation Loft, on 7th ave and 30th street right across from Penn Station—a facility normally not open to the public but used by one of the speakers for workshop sessions with his most important Fortune 1000 clients.
WHAT'S NEXT? SPEAKERS
These speakers aren't just presenting. All will be present for the full day, participating, mingling and answering your questions. With only a 10:1 ratio of participants to speakers you will have plenty of opportunity to ask them your questions (so get some ready!)

Shep is a New York Times and Wall Street Journal bestselling author, regular contributor to Forbes, and has been inducted into the National Speakers Association Hall of Fame.
Shep works with companies and organizations who want to build loyal relationships with their customers and employees. His articles have been read in hundreds of publications, and he is the author of Moments of Magic®, The Loyal Customer, The Cult of the Customer, The Amazement Revolution, Amaze Every Customer Every Time, Be Amazing or Go Home, The Convenience Revolution and I'll Be Back. He is also the creator of The Customer Focus™, a customer service training program that helps clients develop a customer service culture and loyalty mindset.

Michelle served as the NFL's CIO for over 10 seasons, departing earlier this year. During her tenure at The League she led many transformational projects including the digitization of the sidelines, a complete overhaul of the instant replay system used for contested plays, the implementation of high speed wireless connectivity at 31 stadiums and leading the first ever virtual draft, with the highest viewership ratings of any NFL draft in history.
Prior to the NFL Michelle was the CIO of Universal Studios Theme Parks where she led the technology for the launch of The Wizarding World of Harry Potter as well as the CIO of Constellation Energy where her responsibilities ranged from innovating marketing applications to the technology that keeps nuclear reactors running safely.
Michelle started her career at Walt Disney World where she led many innovative projects including the technology behind Destination Disney, the company's massive transformation of all sales, marketing and reservation systems , and the implementation of Disney's first CRM system.
Michelle currently serves on several boards including Ring Central, the $1.8 innovative VOIP company and she consults with leading brands in sports and entertainment.

David Meerman Scott spotted the real-time marketing revolution in its infancy and wrote a dozen books about it including The New Rules of Marketing and PR, now in an 8th edition, with more than 425,000 copies sold in English and available in 29 languages from Albanian to Vietnamese.
Now David says the pendulum has swung too far in the direction of superficial online communications. Tech-weary and bot-wary people are hungry for true human connection. Organizations have learned to win by developing what David calls a "Fanocracy" - (the subject of his Wall Street Journal bestseller) - tapping into the mindset that relationships with customers are more important than the products they sell to them.
He is a massive live music fan, having been to 905 live shows since he was 15 years old, is passionate about the Apollo lunar program, and he loves to surf but isn't very good at it.

Dennis is co-author of the #1 best-selling book on Amazon in social media, The Definitive Guide to TikTok Ads. He has spent a billion dollars on Facebook ads across his agencies and agencies he advises. Dennis is the "million jobs" guy: on a mission to create one million jobs via hands-on social media training, partnering with universities and professional organizations. You can find him quoted in major publications and on television such as CNN, the Wall Street Journal, Washington Post, NPR, and LA Times. Clients have included Nike, Red Bull, the Golden State Warriors, Ashley Furniture, Quiznos– down to local service businesses like real estate agents and dentists. He's spoken at over 750 conferences in 20 countries, having flown over 6 million miles in the last 30 years to train up young adults and business owners.

Shelly has been named by LinkedIn as their TOP Voice in Technology, he covers tech and business for Good Day New York, is a regular commentator on CNN and CNBC, co-hosts the award-winning podcast Techstream with Shelly Palmer & Seth Everett, and writes the popular daily business blog, Think About This. His latest book, Blockchain - Cryptocurrency, NFTs & Smart Contracts: An executive guide to the world of decentralized finance, is an Amazon #1 Bestseller.
Shelly is also the Professor of Advanced Media in Residence at the Newhouse School of Public Communications, the CEO of The Palmer Group, a consulting practice that helps Fortune 500 companies with tech strategy & solutions, and the co-founder of Metacademy, a free educational platform that teaches practical applications of blockchain, crypto, NFTs, Web3, and the metaverse.

Helen Yu is the founder and CEO of Tigon Advisory and Host of CXO Spice Show. She drives growth for tech companies from start-ups to global titans like Oracle and Adobe, and helps CEOs achieve multibillion-dollar revenue growth and record profitability. She's a board advisor to fast-growth SaaS companies and is on the board of the Global Cybersecurity Association. She's a top Twitter influencer with a 10M+ monthly reach and was ranked a Top 10 thought leader by Thinkers 360, and a top 10 digital transformation influencer by IBM. She's spoken at SXSW, TiECon, DMS, Money 20/20, Cyprus FinTech Summit, NAMIC. An avid adventurer who trekked to Mt. Everest base camp and ice-climbed glaciers, her book Ascend Your Start-up: Conquer the 5 Disconnects to Accelerate Growth won first place at the New York book festival, Firebird award and first place in Entrepreneurship & Small Businesses at American book festival in addition to achieving WSJ Best Seller. Helen's CXO Spice Show is named as the top 70 podcast to listen to in 2022.
Her social media links:
Twitter: https://twitter.com/YuHelenYu
LinkedIn: https://www.linkedin.com/in/tigonhyu/
CXO Spice YouTube: https://www.youtube.com/c/HelenYu

Mark is a popular and entertaining commentator who has appeared on many national television shows and periodicals including the Wall Street Journal, Wired, The New York Times, CNN, National Public Radio, CNBC, the BBC and the CBS NEWS. He is a regular contributing columnist to The Harvard Business Review.
Mark is also a globally-recognized keynote speaker, marketing strategy consultant, college educator, and author. He has built his career helping companies and leaders rise above the noise to become the signal in a world of overwhelming information density. He specializes in developing digital strategies as well as assisting with marketing training and social media workshops. Mark has advanced degrees in marketing and organizational development and holds seven patents. He studied under the legendary Peter Drucker for three years and is currently a faculty member of the graduate studies program at Rutgers University. Mark is the bestselling author of nine popular books including the first book on influence marketing (Return On Influence), the most popular book on personal branding (KNOWN), the chart-topping Marketing Rebellion and the acclaimed Cumulative Advantage. His books have been translated into 15 languages, can be found in 700 libraries worldwide, and are used as textbooks at more than 70 universities. He is the only person to keynote the annual Social Media Marketing World conference twice. Mark has lectured at Oxford University, Princeton, and many other prestigious institutions.

Richard is a LinkedIn Top Voices Influencer, an experienced executive communications manager, and a social media coach. He has helped thousands of people master social media tools and become fluent in social conversations, building their platforms and confidence to effectively reach their audience, define their brand vision and strategies, and develop high-caliber sales teams. In addition to working with businesses and organizations in the US, he's consulted startups and high-growth technology firms around the world. A former executive vice president of marketing for eighteen years, and an award-winning pioneer in technology, collaboration, and cloud computing, Richard has appeared on CNN, GMA, and other major media outlets. He shifted his attention to social media when he founded the podcast Funding the Dream, which became a leading voice in the crowdfunding space. Today, Richard continues to empower others through his weekly newsletter and podcast, which reach over 45,000 subscribers.

Braden is an engaging innovation speaker, a two-time best-selling author, and toolmaker for innovation & change professionals.He has experience training and advising some of the world's leading organizations. Braden speaks at conferences and corporate events around the globe about Human-Centered Change, innovation, design thinking, and digital transformation. He created the Human-Centered Change methodology to help organizations get everyone literally all on the same page . The 70+ visual, collaborative tools are introduced in the book Charting Change, including the powerful Change Planning Canvas™.

Howard is named "One of the 10 Digital Transformation Influencers to Follow Today" by IDC and "One of the Tops 10 Digital Transformation Influencers That Will Change Your World" by Enterprise Management 360. For the past 25 years, Howard Tiersky has been helping leaders at dozens of the world's largest brands including Fortune 500 companies, navigate digital transformation. He has helped organizations grow revenue across digital channels and create seamless customer journeys that resonate with today's hyper-connected audience. His work includes many award-winning web and mobile products for shopping, banking, travel, and entertainment for successful brands such as Morgan Stanley, Avis-Budget, A&E Entertainment, Universal Studios, and NBCUniversal. Howard is the Wall Street Journal bestselling author of Winning Digital Customers: the Antidote to Irrelevance, and the co-author of the Amazon bestselling book, Impactful Online Meetings. He is also a successful entrepreneur and the founder of two companies that enable large brands to win in the digital world: FROM, The Digital Transformation Agency and Innovation Loft.
THE VENUE
WHAT'S NEXT takes place at a really cool and creative venue, The Innovation Loft, on 7th ave and 30th street right across from Penn Station—a facility normally not open to the public but used by one of the speakers for workshop sessions with his most important Fortune 1000 clients.