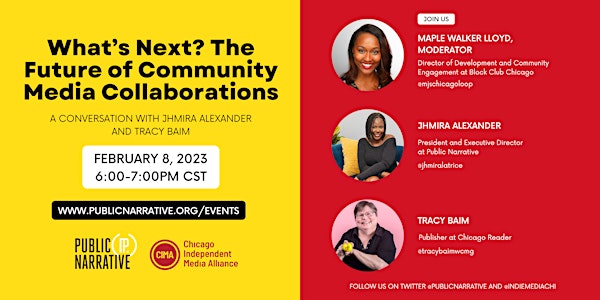 What's Next? The Future of Community Media Collaborations
A conversation between local media sustainability leaders Jhmira Alexander and Tracy Baim, moderated by Maple Walker Lloyd.
Date and time
Ends on Wednesday, February 8 · 5pm PST
About this event
What's Next? The Future of Community Media Collaborations is a conversation between Public Narrative president and executive director Jhmira Alexander and Chicago Independent Media Alliance (CIMA) founder and Chicago Reader publisher Tracy Baim on community media and media collaborations. Block Club Chicago's director of development and community engagement Maple Walker Lloyd will moderate the discussion.
With efforts by Chicago's media outlets and journalists to meet the demands of news consumers seeking more quality, factual and trusted news, hyper-local and independent entities have struggled to keep up with less and less access to the needed funding compared to their larger counterparts in the nation's third-largest media market.
After two years of advocacy, CIMA, journalists, Public Narrative and other local media supporters joined Mayor Lori E. Lightfoot at City Hall in October, where she signed an Executive Order designating that City of Chicago departments allocate at least 50 percent of their annual advertising spending to community media outlets.
And as part of the Executive Order, the Office of the Mayor will maintain a list of local media that exemplify Chicago's interconnected communities. That list will stem from CIMA's Chicago Independent Media Directory and Public Narrative's Chicago Media Guide, both released earlier this month.
At 6 p.m. on Wednesday, February 8, 2023, Alexander and Baim will discuss the landscape of community media, what individual and shared roles their respective organizations have played in the local media ecosystem, and what future collaborations like Public Narrative and CIMA's can look like moving forward.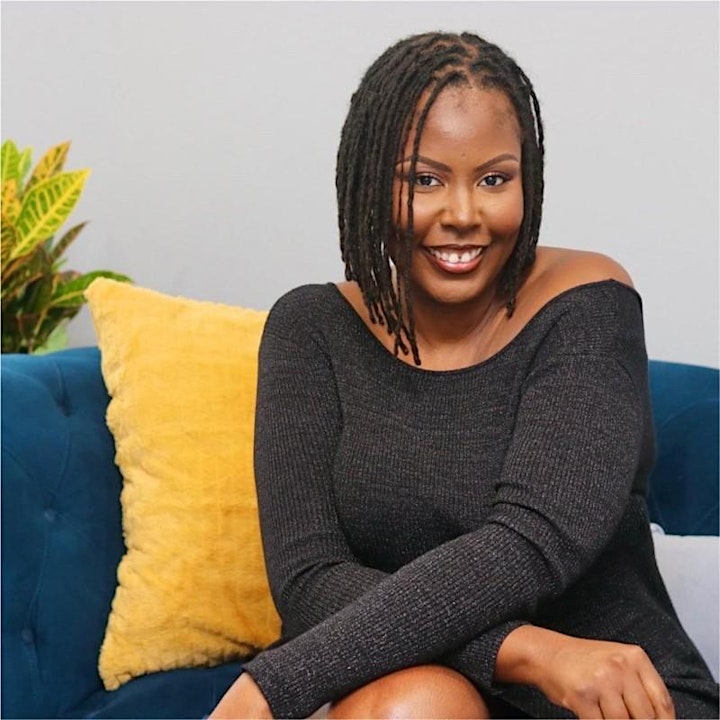 Jhmira Alexander, President and Executive Director at Public Narrative
Jhmira Alexander, MPA, is the president and executive director of Public Narrative, Chicago's premier communications and media literacy resource. She is a trained journalist committed to improving community health and well-being through media and civic engagement. Under her leadership, Public Narrative uses storytelling to implement narrative change strategies addressing harmful narratives related to public safety, health, and education.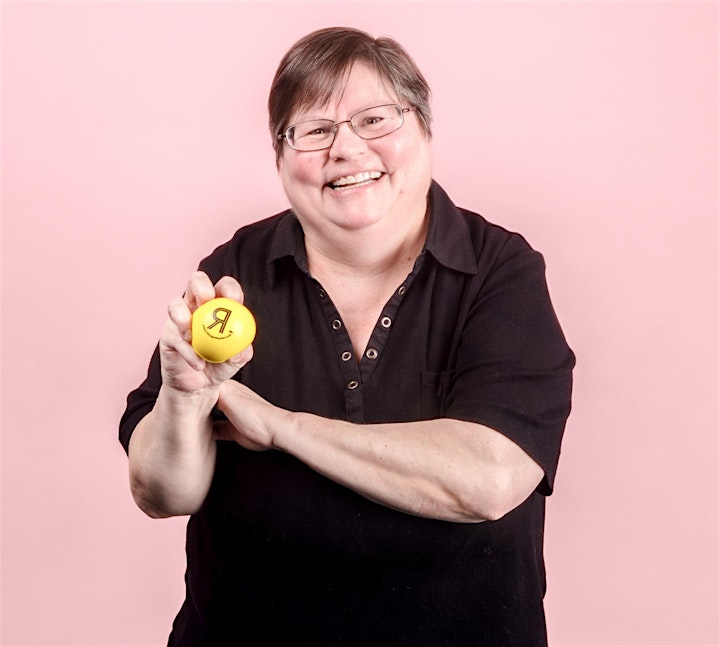 Tracy Baim, Publisher at Chicago Reader
Tracy Baim is the publisher of the Chicago Reader newspaper. She is the past publisher and managing editor of Chicago's oldest and only LGBTQ newspaper, Windy City Times—which she cofounded in 1985, and is the majority owner and board president. Baim received the 2013 Chicago Headline Club Lifetime Achievement Award. In 2014, she was inducted into the National LGBT Journalists Association Hall of Fame. In 2018 she was inducted alongside her late mother, Joy Darrow, into the Association of Women Journalists-Chicago inaugural women's journalism hall of fame. In addition, she has won numerous gay community and journalism honors, including the Community Media Workshop's Studs Terkel Award in 2005 and several Peter Lisagor journalism awards.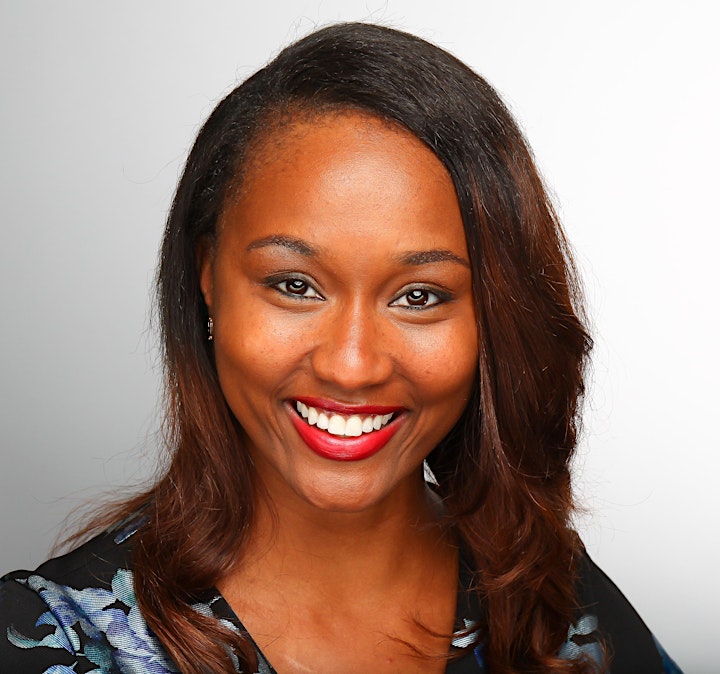 Maple Walker Lloyd (Moderator)
Maple Walker Lloyd is the director of development and community engagement at Block Club Chicago, where she works with subscribers, foundations and corporations to expand their support base. Previously, she was the team coordinator for the Journalism and Media program at the MacArthur Foundation and weekend news anchor for WGN Radio.
About Public Narrative and CIMA
Public Narrative is Chicago's premiere cultivator of narrative change and supporter of community-oriented journalism since 1989. It facilitates training, programming and resource building focused on cultivating media literacy, uplifting community voices in media, and shifting narratives around public health, public safety, and public education. Public Narrative supports more than 200 community and ethnic news outlets and for-and not-for-profit organizations through its initiatives. And it builds meaningful relationships among stakeholders to shift existing community narratives and amplify more inclusive and complete storytelling across Chicago, greater Illinois and beyond. See publicnarrative.org/about.
The Chicago Independent Media Alliance (CIMA) is a coalition of 62 independent, local, and community-driven media entities covering communities throughout the Chicago area, representing more than 80 outlets. Through regular collaboration and the creation of new revenue streams, CIMA uplifts the ecosystem to amplify the voices of Chicagoans. Since its founding in 2019, CIMA has helped direct more than $700,000 in funding for its members through an annual fundraiser, matching foundation funds, and collaboration grants. Founded in 2019, CIMA is a project of the Reader Institute for Community Journalism, publisher of the Chicago Reader. See indiemediachi.org/about/.
About the organizer
Public Narrative is Chicago's premier communications and media literacy resource, helping communities tell their stories for more than 30 years.