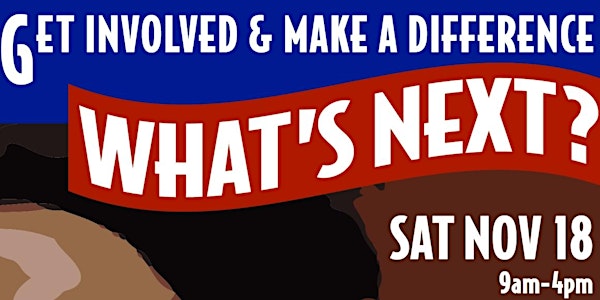 What's Next? Get Involved & Make a Difference
When and where
Location
Monument Mountain Regional High School 600 Stockbridge Road (Route 7) Great Barrington, MA 01230
Description
Saturday, November 18th, the Four Freedoms Coalition presents another day of exciting FREE advocacy workshops entitled: What's Next? Get Involved and Make a Difference. The event will be held at Monument Mountain High School in Great Barrington, which is wheelchair accessible, and is free and open to the public. Come to one workshop or for the whole day.

What's Next? workshops focus on issues, how they affect our community, and what YOU can do at the local level to address that issue.
The event is happening rain/snow or shine! Online registration will close at 6:00pm on Friday, but all workshops still have space available for walk-ins as well! Click on the register button to read full descriptions of each workshop.
A limited quantity of lunches will be available for purchase on-site. Attendees are also welcome to bring their own lunches. In an effort to be environmentally conscience, we encourage you to bring your own refillable water bottle. We will have coffee, tea and cider available, and there are water fountains at the school.
---
WHAT'S NEXT? SCHEDULE-AT-A-GLANCE
9am-9:30am: Registration & Check-in
9:30am: Keynote by Shirley Edgerton
10am: First workshops (one or two hours long)
10:00am - 11:00am: W.E.B. Du Bois' Relevance, Our Uncomfortableness: A Call to Arms

10:00am - 11:00am: Mobilizing Millennials

10:00am - 12:15pm: Becoming the Change We Want to See

10:00am - 12:15pm: Public Education: Historical and Political Perspectives

10:00am - 12:15pm: Together for Justice: An Introduction to Community Organizing

10:00am - 12:15pm: Welcoming Newcomers: Why It Matters and What You Can Do

10:00am - 12:15pm: Working Toward 100% Clean Energy in Massachusetts and the Berkshires
11:15am: Second one-hour workshops
11:15am - 12:15pm: Our Town Democracy: How it Works

11:15am - 12:15pm: Income Inequality: The Fight for a Livable Wage in Late Stage Capitalism

12:15pm: Lunch (buy one online when you register or bring your own!)
1:15pm: First afternoon workshops (one or two hours long)
1:15pm - 2:15pm: Defending Democracy's Critical Infrastructure: An Introduction to Voting Advocacy

1:15pm - 2:15pm: Pieces of the Puzzle: Problems, Resources, and Your Role in Ending Domestic and Sexual Violence

1:15pm - 2:15pm: Tools for Surviving and Thriving in Changing Times

1:15pm - 3:30pm: Empathy Circles - The Art of Listening and the Power of Being 1:15pm - 3:30pm: Healthcare Reform - What's Next?

1:15pm - 3:30pm: Not In Our Town

1:15pm - 3:30pm: White Privilege & Cultural Competency
2:30pm: Second one-hour afternoon workshops
2:30pm - 3:30pm: How You Can Help Protect the Environment

2:30pm - 3:30pm: LGBTQ Berkshires: Creating Community by Connecting the Dots

2:30pm - 3:30pm: Why Do We Still Need Unions?
3:30-4pm: Closing with Rep. William "Smitty" Pignatelli and Singing with The Hoping Machine
---
Questions? Contact lead organizer Becky Meier at beckyjmeier@gmail.com or 518-781-4686. And please share this with everyone you know who might be interested and spread the word on Facebook via our event page.