The second of a two-part event focusing on the importance of Cyber security.
About this event
Technology in the workplace is forever changing with cyber security remaining increasingly important. The pandemic has meant more people have been working from home and transitioning into a hybrid way of working. It is critical that you keep your cyber security under control for the safety of your organisation.
At our first Cyber Security event in September, we discussed using technology and cyber security best practices to deliver greater business value and results.
Join us on 19th Oct for the second part and wrap-up from this conversation, where we will cover how to strategise and strengthen your pre-existing processes, when considering cyber resilience.
Tips and common trends will be covered. Combined with the exploration of how to fulfil contractual requirements when applying for contracting for public funding. Touching on cyber essentials plus, pen tests and ISO27001 certification processes.
There will also be foundation information being covered, as this is an event for both small and large organisations, alike.
Our Speakers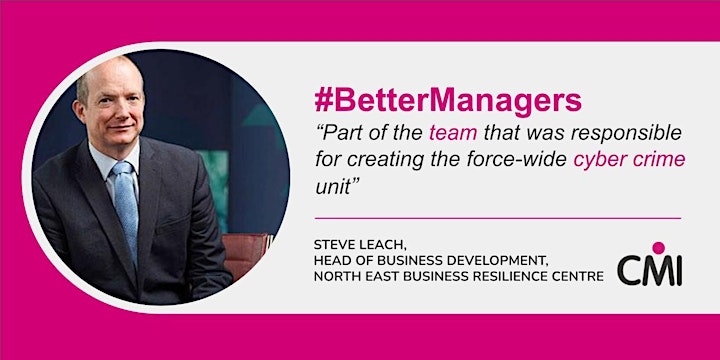 Steve Leach
Head of Business Development, North East Business Resilience Centre
Steve is a Detective Inspector with 26 years policing experience, the majority spent within CID, both at a Force and Regional level. Prior to joining the police he graduated university with an Electronic Systems Engineering degree. Within the police he has worked in serious and complex crime, including fraud and internet investigations, and he was part of the team that was responsible for creating the force-wide cyber crime unit.
Steve was part of the project team that helped set up the NEBRC and now works full-time within the centre as Head of Business Development.
The North East Business Resilience Centre (NEBRC) is a non-profit organisation working as part of the UK wide, Cyber Resilience network. The NEBRC built to support and help protect regional businesses from cyber crime and fraud. Established in 2019, we are funded by a variety of Private and Public Partners, including the Police, as well as a wide range of business investors and members across England.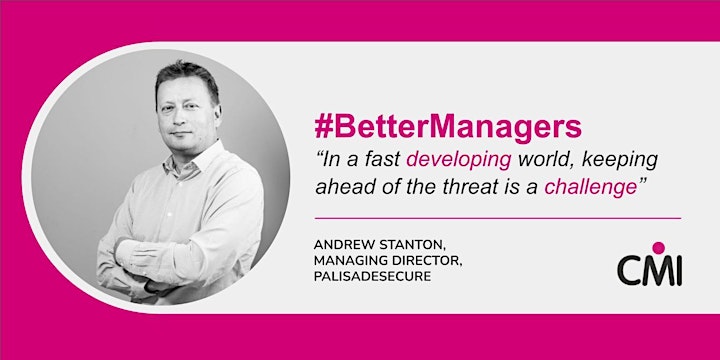 Andrew Stanton
Managing Director, PalisadeSecure
Speaker profile coming soon!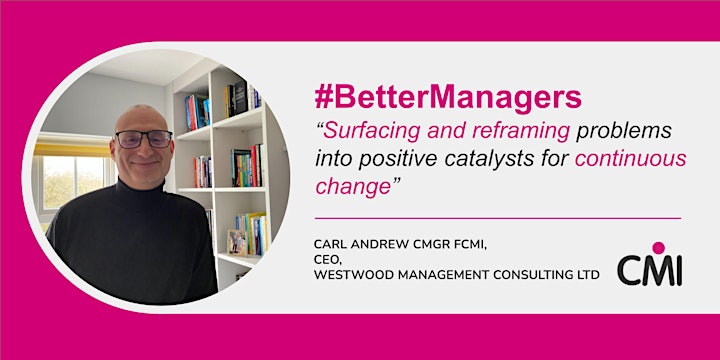 Carl Andrew CMgr FCMI
CEO, Westwood Management Consulting Ltd & Deputy Chair & Finance Lead, CMI North East, Yorkshire & Humberside
Carl is CEO and founder of Westwood Management Consulting, a new consulting venture which takes an innovative approach to problem solving.
As a professional interim, Carl has developed a wide-ranging portfolio of experience in various business sectors helping leaders engage with the change process in the pursuit of improved performance. Organisations include EDF Energy, Eon, GDF Suez, Northern Gas Networks, Wates Construction, Stanley Black and Decker, and the NHS.
Carl is passionate about developing and delivering excellence in leadership and management, and personal high performance driven by an infinite purpose and a consistent passion to be the best version of yourself. He believes in the possibilities of problems, reframing them into positive catalysts for continuous change and improvement.
Driven by self improvement Carl has a love of reading and listening to podcasts. His book recommendations include, The 5am Club, Robin Sharma, Think Like a Monk, Jay Shetty and the Power Hour, Adriene Herbert. Podcasts include, The High Performance Podcast, Feel Better Live More and The Calmer You.
Carl studied at Hull University where he gained an Honours Degree in Accountancy Finance and a Masters Degree in Management Systems. Most recently Carl was awarded a Level 5 Certificate in Professional Consulting.
Our Host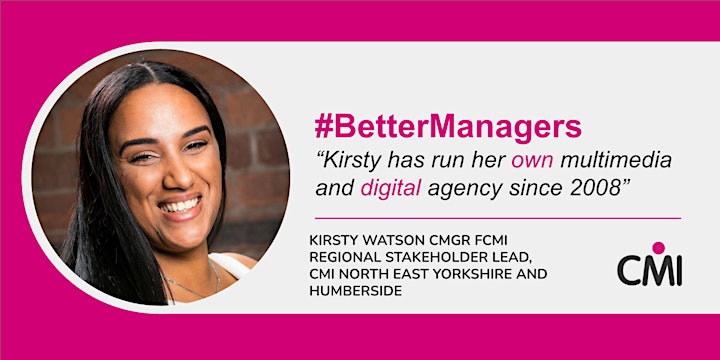 Kirsty Watson CMgr FCMI
Regional Stakeholder Lead, CMI North East, Yorkshire & Humberside
Kirsty has an MBA, a BA & BSc (Hons) in Interactive Multimedia from the University of Huddersfield and Social Psychology plus Philosophy from the Open University. A Charted Manager of the CMI, Kirsty is currently completing an PhD in Business and Management. With a focus on latent and necessity entrepreneurial skills within individuals in marginalised communities.
Kirsty has run her own multimedia and digital agency since 2008. She is also the founder and managing director of an apprenticeship training provider. Delivering Digital Marketing apprenticeships and training across the UK, since 2014.
Her passion lies in giving back to her community. As well as her core business, she makes time to deliver a community-focused service that supports confidence-building, delivers careers advice, and mentors individuals from marginalised groups to set up and run their own business. Throughout this, she focuses on generating local employment opportunities, promoting economic growth, and facilitating social inclusion. She is also a BAME ambassador at the University of Huddersfield.
For more information about the CMI North East Yorkshire & Humberside Regional Board you can visit the Board's webpage :
https://www.managers.org.uk/community/regional-networks/north-east-yorkshire-and-humberside/
Or you can connect via social media:
Twitter: @CMINEYH
LinkedIn: https://www.linkedin.com/groups/5174425/
In the meantime...
If you're a member of CMI, or subscribe to our content, you can find thousands of exclusive, practical development resources in ManagementDirect. Log in here and search for a topic to get started!
Not yet subscribed?
From free newsletters packed with the latest trends, insights and tips for managers and leaders, to the full suite of invaluable tools and benefits that come with being a CMI member, we've got something for everyone. Visit our website to find out more.