Description
Join the DMC and community leaders from around the state for a workshop focused on bringing What's Next, Alabama? to your community!
What's Next, Alabama? (WNAL) is a series of deliberative forums focused on issues of economic, community, and workforce development. This forum series gives communities a chance to come together and discuss their economic future--however they define it. There are three forums, each tailored to the local needs of the community, and each meant to give participants a chance to think deeply about what prosperity means to them.
The first forum asks, "Where are we now?" That is is to say, how have you seen your community change over the years? What works well in your community? What are the assets of your community? What are some challenges you perceive in your community?
The second forum asks, "Where do we want to go?" In this forum, the community will deliberate on what "the good life" means to them. What do you want to change about your community? What do you want to preserve? This is a time for "wishful thinking" amongst you and your neighbors. What are your hopes for your community, and what are some specific issues you'd like to address?
Building upon the first and second forums, the third forum asks, "How do we get there?" Of the issues and aspirations identified in the second forum, what are the priorities of the community? How can the community find common ground and move towards pragmatic action to address the issues it has identified? This forum will be focused on leveraging local talent to build capacity and take action.

This specific workshop is for those who are interested in bringing WNAL to your own community! Attendees will take away:
best practices for successfully "convening" a forum in your community,

information and resources for building interest with folks in your community,

tips and ideas for gathering a diverse group of participants,

an overview of the deliberative process and what a forum looks like, and the potential for What's Next, Alabama to create positive change in your community!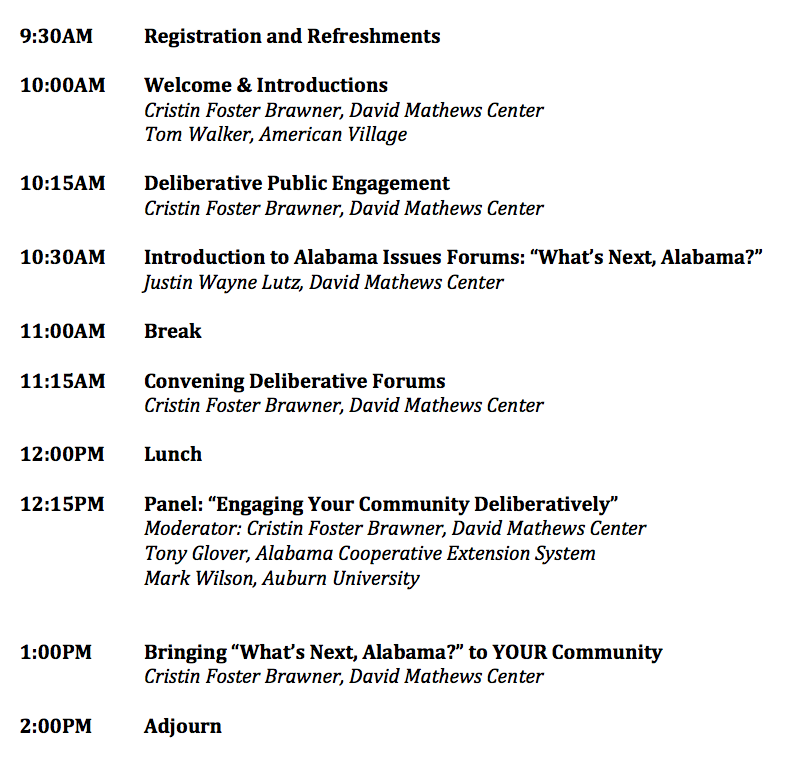 We value the work you do in your community everyday, and we would love to do anything we can to build upon the important conversations already underway as your community ask itself what comes next!
Join us as we ask, "What's Next, Alabama?"
Cheers!



Cristin Foster Brawner

David Mathews Center for Civic Life

Executive Director

Tony Glover

Alabama Cooperative Extension System

County Extension Coordinator, WNAL Cullman Convener

Justin Wayne Lutz

David Mathews Center for Civic Life

Program Director

Dr. Mark WIlson

Auburn University

Director of Civic Learning