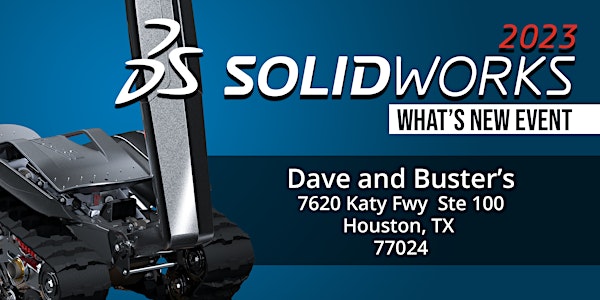 What's New in SOLIDWORKS 2023 – Houston, TX
Join the experts at GoEngineer for an engaging walkthrough of all the best feature updates that will improve your design experience.
When and where
Location
Dave and Buster's 7620 Katy Fwy Ste 100 Houston, TX 77024
About this event
SOLIDWORKS 2023
Our experts have explored the ins and outs of the latest SOLIDWORKS release and are ready to share the best of 2023 updates. These new features and enhancements will improve your everyday workflows in design, communication, data management, and validation. Includes hundreds of new features to help you and your teams work smarter, faster, and better together. While many of these enhancements focus on simplifying your design work, new benefits also come in the form of improvements to data management, simulation, Sub-D modeling, and more.
To streamline and accelerate your product development process from concept through manufactured products, SOLIDWORKS 2023 contains new, user-driven enhancements focused on:
Working Smarter. Reduce your workload when designing large assemblies and detailing drawings, and handle more complex electrical routing scenarios.
Working Faster. Work with bills of materials (BOMs) more efficiently, improve the performance for searching and saving assemblies, and design large assemblies faster.
Working Together. Help teams share and manage data more productively with a streamlined user interface, reduced latency, and improved upgrade performance in SOLIDWORKS PDM. Communicate changes to design data better with the ability to customize PDM notification templates.
Top Enhancements
The top enhancements for SOLIDWORKS® 2023 provide improvements to existing products and innovative new functionality:
SOLIDWORKS 2023 3D CAD Top 10
3DEXPERIENCE SOLIDWORKS Top 10
SOLIDWORKS Browser-based Roles Top 10
Collaborative Designer for SOLIDWORKS Top 10
SOLIDWORKS 2023 PDM Top 5
SOLIDWORKS 2023 Simulation Top 5
Performance
SOLIDWORKS® 2023 improves the performance of specific tools and workflows.
Fixes for Known Issues
SOLIDWORKS has fixed a large number of issues in SOLIDWORKS 2023 by development projects specifically selected to address quality and performance issues reported by customers.
AGENDA
3-5pm - SOLIDWORKS WHAT'S NEW PRESENTATION
Q&A with the product experts
5-7pm– HAPPY HOUR, FUN & NETWORKING WITH PEERS