What's New in Russia: 2013

Friday, March 29, 2013 from 10:00 AM to 11:30 AM (CDT)
Event Details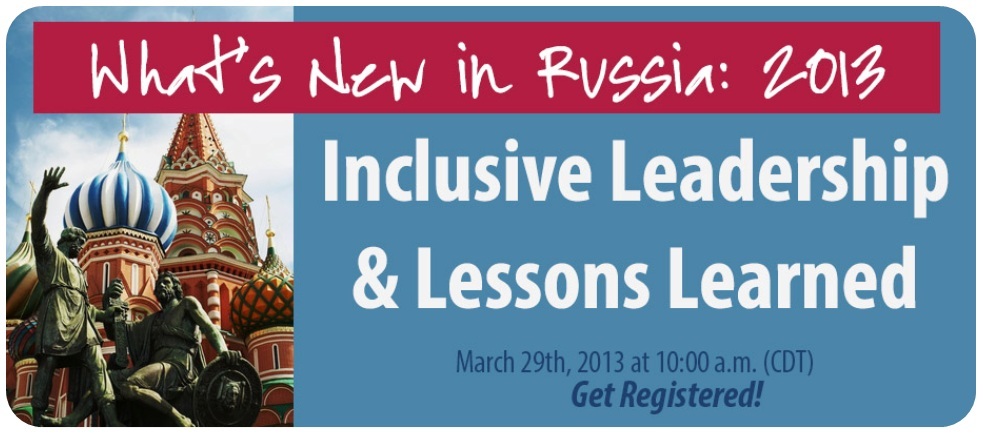 Doing business in Russia? Save time, avoid frustration, and stay current.
Join us as we share lessons learned on how to effectively do business with Russia, manage its diverse workforce, and what it takes to become an inclusive leader in the Russian context. Guest Speaker Tatyana Fertelmeyster is a nationally recognized expert on Russian culture and co-author for "Cultural Detective© Russia".  She is also the founder and principal of Connecting Differences. Attend this workshop to get the competitive edge.
Key learning objectives include:
Understanding your team; the Russian Value Lens

Doing business with Russia; a closer look at Russian laws, lawmakers, and the landscape of transparency 

Effective strategy for inclusive leadership in Russia; managing your Russian workforce
Language & Culture Worldwide is a global consulting firm that offers cultural competence and organizational effectiveness solutions for the culturally diverse group or organization. From senior corporate executives to international students to virtual teams, LCW's programs build skills and mindsets for succeeding in a world increasingly defined by a diversity of thought, approach, and values.
Connecting Differences works with organizations to ensure the success of Diversity and Inclusion strategies and to support intercultural effectiveness in global business. 
Mini-Workshop Format
Highly interactive mini-workshop in LCW's virtual classroom
1 hour workshop, 30 minutes of Q&A with LCW thought leaders 
Join the conversation, follow us:
Organizer
About LCW Mini-Workshops
The LCW mini-workshops provide an opportunity for participants to:
Learn more about language, culture, and how it impacts us at work. 
About LCW 
Language & Culture Worldwide was founded in 2000 by Monica Francois Marcel and Randall Stieghorst. As returned Peace Corps Volunteers, they understand both personally and professionally what it takes to connect, succeed and build relationships across cultures. Our mission is to provide training, consulting and translation services that inspire professionals to connect across cultures.
Learn More About LCW