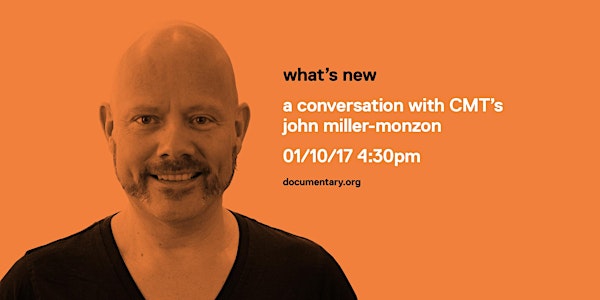 What's New: A Conversation with CMT's John Miller-Monzon, News and Document...
Event Information
Location
IDA Offices
3470 Wilshire Boulevard
Suite 980
Los Angeles, CA 90010
Description
Tuesday, January 10th, 4:30pm-5:30pm
Reception to follow

Location:
IDA Offices
3470 Wilshire Blvd, Suite 980
Los Angeles, CA 90010 (Map)

Free for IDA members and one guest on a first come, first served basis
Join us and John Miller-Monzon, CMT News and Documentary Director, for the next installment in our What's New series, in which prominent industry leaders in documentary present up-to-the-minute information about what's happening in the documentary landscape and discuss new opportunities for filmmakers.
In 2015, Country Music Television began telling authentic stories with unexpected points of view with their first original documentary, Urban Cowboy: The Rise And Fall Of Gilley's, premiering to more than 9 million viewers. That same year CMT continued to attract viewers by building their slate of original documentaries with Johnny Cash: American Rebel, which follows the life and artistry of the Man in Black, and Morgan Spurlock Presents Freedom! The Movie, a road trip doc that attempts to discover what freedom means to contemporary Americans.
This year CMT landed two premieres at SXSW with Jesse Moss' The Bandit, about '70s superstar Burt Reynolds and his best friend, roommate, and stunt-double Hal Needham, and Chicken People, which takes a charming and fascinating look at the colorful and highly competitive world of champion show chicken breeders. Currently, the network is in production with director Stephen Kijak on If I Leave Here Tomorrow: A Film About Lynyrd Skynyrd with Academy Award winning producer, John Battsek and Diane Becker. In this conversation, John will discuss the ongoing vision for documentary on CMT, and give insight into the type of stories that he is looking to develop for the network.
In conversation with John will be Simon Kilmurry, IDA's Executive Director. A great opportunity for Southern California filmmakers to engage with one of the most prominent leaders in documentary programming, this intimate session will also include ample opportunity for Q&A.
John Miller-Monzon
John Miller-Monzon is a veteran creative producer & development executive for film & tv who currently serves as the Director of News & Docs for Viacom's CMT network where he develops unscripted series and long-form documentaries.

Miller-Monzon's first notable non-fiction projects were two Emmy-nominated documentary miniseries, A DECADE UNDER THE INFLUENCE and THE BLUES: A MUSICAL JOURNEY. Additional credits include Oscar winner THE COVE, Indie Spirit Award winner CRAZY LOVE, Peabody Award winner BLACK MAGIC, Imagen Award winner VIVA BASEBALL!, and Emmy winner MISSION BLUE. Also PGA Award nominee A PLACE AT THE TABLE, the popular FAT, SICK & NEARLY DEAD, and current release BEST WORST THING THAT EVER COULD HAVE HAPPENED.

Miller-Monzon's recent credits for CMT include the acclaimed feature documentaries THE BANDIT and CHICKEN PEOPLE. Also the upcoming IF I LEAVE HERE TOMORROW: A FILM ABOUT LYNYRD SKYNYRD. He's a graduate of Columbia University's MFA program and a member of the Producers Guild of America.
Driving and Parking:
Wilshire/Normandie is the intersection of IDA offices. Our tower building on 3470 Wilshire is not visible off of the street. It is behind the 3460 building.
Paid visitor parking is located on Mariposa, south of Wilshire. Just after turning onto Mariposa, take an immediate right to enter to visitor parking area (next to the restaurant/club, Brass Monkey). Feel free to park in any spot NOT marked 'Reserved'.
Once you have parked, exit your vehicle and walk back toward the shops by where you pulled into the garage. Take a left once you get out of the garage to head toward our building. After several feet, you should see our building on the left. We are on the 9th floor, in the corner.
Public Transportation:
IDA offices are located at Wilshire and Normandie and are easily accessible by LA Metro buses and the Metro Purple Line (Wilshire/Normandie stop).
Special support provided by:
Members and Supporters of the IDA
Doc U
is the International Documentary Association's series of educational seminars and workshops for aspiring and experienced documentary filmmakers. Taught by artists and industry experts, participants receive vital information and insight on various topics relevant to the world of documentary filmmaking.
Date and time
Location
IDA Offices
3470 Wilshire Boulevard
Suite 980
Los Angeles, CA 90010