About this Event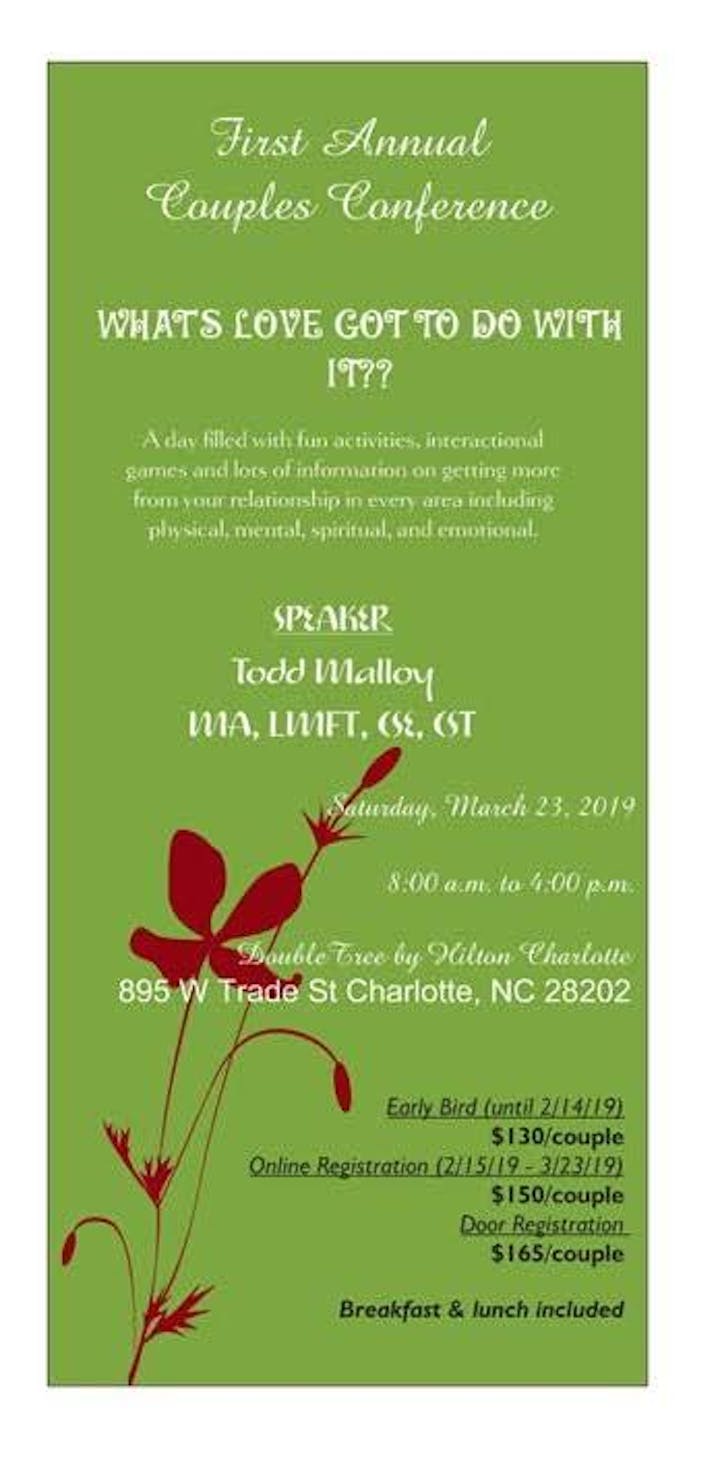 A day filled with fun activities, interactional games and lots of information on getting more from your relationship in every area including physical, mental, spiritual, and emotional.
ABOUT THE SPEAKER: Todd Malloy, MA, LMFT, CSE, CST
FOUNDER OF INNER PEACE COUNSELING IN CHARLOTTE, NC
A bold and innovative thinker who delivers solutions for the big issues of life in an inspiring way, Todd Malloy is a rare individual. As a marriage and family therapist, certified sexuality educator, lecturer, producer, and author, Todd Malloy tackles some of the most complex problems of our time.
EDUCATION & CREDENTIALS
Advanced Post Graduate Studies – University of Michigan
Master of Arts – Pfeiffer University
Bachelor of Science – University North Carolina at Charlotte
AASECT Certified Sexuality Educator
AASECT Certified Sex Therapist
Licensed Marriage and Family Therapist
AASECT Board of Directors
AAMFT Member
ACTIVITIES
Founder and Clinical Director - Inner Peace Counseling Center
Co-author - A Time to Rise.
Trailblazers Award Recipient - Pfeiffer University Producer & Host – Man Cave Conversations
Weekly Radio Guest Speaker, V101. 9 FM ~ Love and Consequence, The Janine Davis Show
Staff, Sexual Health Certificate Graduate Program – University of Michigan
MEDIA AVAILABILITY
With a wealth of expertise in mental health and wellness, Todd Malloy is available for expert commentary across a wide variety of categories, including:
• Relationship Matters
• Intimacy and Connection
• Infidelity
• Emotional Distress
• Sexual Dysfunction
• Sexual Concerns
• Sexuality Education
• Sexual Trauma
• Trauma and Abandonment
• Grief and Loss