What's in Your Product?

Sunday, February 3, 2013 from 1:00 PM to 4:00 PM (EST)
Event Details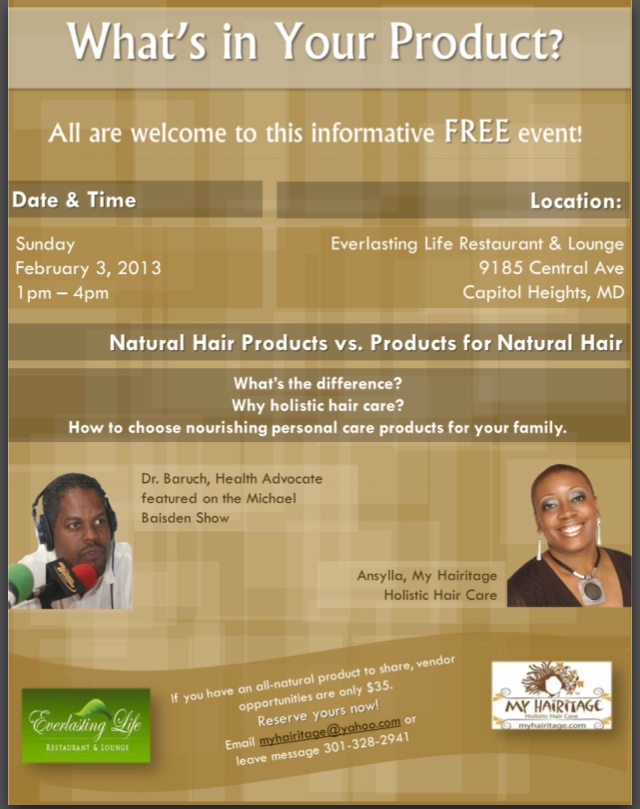 Our featured speaker is Dr. Baruch, CEO and Founder of Everlasting Life Restaurant & Lounge and Eat The Cure. He has been featured on the nationally syndicated Michael Baisden Show, reaching an audience of over 8 million daily.
Dr. Baruch is a widely sought after television and radio personality, with well over 25 years of experience as a health advocate and relationship expert. Often called on to lecture both nationally and abroad, Dr. Baruch's current client base spans the entire globe. His aim is to empower by introducing concepts that help to initiate personal change from the inside out.
Through entertaining, educational workshops and engaging, interactive lectures and seminars, Dr. Baruch teaches that in order to live well and attract positive relationships, one must address the multiple factors that take away from our health, such as poor diet, stress, lack of exercise and negative lifestyle choices. The countless testimonies he has received provide evidence that his methods and message are proven; if your relationship with yourself is not in order, it inhibits you from being able to obtain and maintain the external relationship you desire.
In 2012, Everlasting Life Restaurant & Lounge celebrated 17 years of being in business. Dr. Baruch's continued goal is to show people how they can get healthier through delicious, healthy cuisine, dispelling the myth that in order to eat well, one must sacrifice taste.
Putting his money where his mouth is, Dr. Baruch developed a revolutionary concept called Eat The Cure. Eat The Cure demonstrates how we can bring about a greater state of personal well being by taking a proactive approach to what we allow to enter our bodies. Thousands have experienced healing as a result of his teachings.
Dr. Baruch is committed to creating social change and received a Collective Empowerment Award in 2012 for his tireless efforts in helping others achieve success in the area of health and wellness.
A dynamic public speaker, published author, relationship counselor, and entrepreneur, Dr. Baruch is truly a master in his field.
Our host is Ansylla from My Hairitage Holistic Hair Care. She is a natural hair care professional and master loctician with over 13 years of experience. She is also a Certified Herb Specialist and completed a School of Natural Health Course. For the past 10 years, Ansylla has presented workshops and seminars in cities across the US. Since 2007, she has also consistently been featured at events in the UK, France and Canada. Her goal? To encourage "holistic" hair care. What goes on your hair and skin goes in your body. Choose wisely!

Be an INFORMED CONSUMER! For the well-being of your family, see beyond the marketing hype and know how to choose nourishing, quality products.
When & Where

Everlasting Life Restaurant & Lounge
9185 Central Ave
Capitol Heights, MD 20743


Sunday, February 3, 2013 from 1:00 PM to 4:00 PM (EST)
Add to my calendar