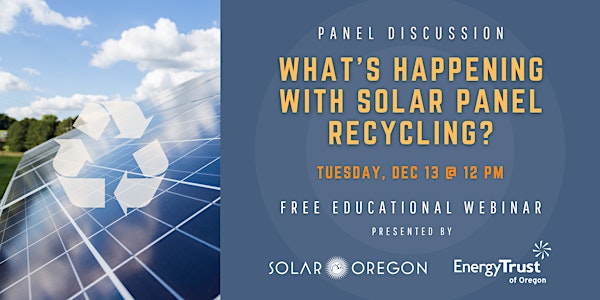 What's Happening with Solar Panel Recycling?
Join on December 13th to learn about the challenges and opportunities surrounding solar panel recycling in the US!
Refund Policy
Contact the organizer to request a refund.
About this event
Over the past decade, solar panel installations have grown exponentially. Because solar modules can last upwards of 25 years, the question of recycling has been pushed to the back burner. This is beginning to change, as the end-of-life for the first wave of solar panels approaches. In fact, the International Renewable Energy Association estimates there will be 80 million metric tons of PV waste by 2050 globally. That's a lot of waste to manage!
There are solutions, however, and our panelists have key insight into what they are. Come join us on December 13th to hear from:
Dustin Mulvaney - Professor of Environmental Studies at San Jose State University and author of Solar Power: Innovation, Sustainability, and Environmental Justice.
Robert Nicolson - Manager of PV Recycling at the Solar Energy Industries Association (SEIA).
Chris Regis - Owner of Green Century Electronic Recycling, a SEIA PV Recycling Partner.
This free educational event is made possible by generous support from the Energy Trust of Oregon. Thank you!