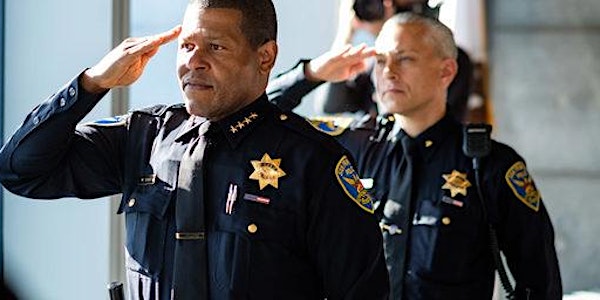 What's Going On with Policing in San Francisco?
There is much talk about the San Francisco Police Department these days - low staffing levels + longer response times. What's going on?
When and where
Date and time
Tuesday, March 21 · 5:30 - 7pm PDT
Location
Manny's 3092 16th Street San Francisco, CA 94103
Refund Policy
Contact the organizer to request a refund.
About this event
1 hour 30 minutes

Mobile eTicket
Public safety and the role of the police in San Francisco are top of mind for many these days. Years after the summer of 2020, when many took to the streets to demand accountability from and alternative to policing, San Francisco is facing a very different landscape.
The SFPD is down over 500 officers and has smaller and smaller recruiting classes. Response times are longer even as calls for service are fewer. New diversion programs have been instituted to direct calls regarding homelessness and mental illness on the streets to those other than the police.
There are many in the City that say they feel unsafe, that the City itself feels like an unsafe place.
Is that true?
Has San Francisco become less safe?
And what is truly going on within our police force? What are these vacancies? Why has it been difficult to recruit new officers? Why are response times so long? Why have traffic enforcement tickets dropped precipitously? What does the leadership of the SFPF believe is causing this sentiment that San Francisco feels less safe? What do they believe should be done to address the fentanyl overdoses plaguing the City.
All this and more will be discussed at Manny's with Chief of Police, Chief Scott, and Assistant Chief David Lazar.
As always no one is ever turned away for lack of funds and the purpose of this and all of our conversation is to try to learn and be in civil discourse with each other on the issues affecting us.
Manny's never turns away someone due to lack of funds. If you need a complimentary ticket, please email the title of the event and the word "grapefruit" to angelina@welcometomannys.com
Want to support community members? By purchasing a "Pay It Forward" ticket you will allow us to provide free tickets to those who may not be able to afford entry otherwise and ensure we can create a diverse socio-economic audience that represents San Francisco.
About Chief Bill Scott:
When William "Bill" Scott was sworn in as San Francisco's new police chief in January 2017, he vowed to build trust both within the department and outside it.
Scott had previously served for 27 years in the Los Angeles Police Department, where he was a deputy chief. He was selected to lead the SFPD after a nationwide search. Then-Mayor Edwin Lee said a major factor in his choice was Scott's experience in helping lead the Los Angeles department through transformational progress.
Scott grew up in Birmingham, Alabama, and attended the University of Alabama, where he earned a degree in Accounting. He is married with three children.
"I am honored to work in the City and County of San Francisco, where residents, community leaders and local stakeholders are actively engaged in the process to help make our Police Department the finest in the nation," said Chief Scott. "The members of SFPD are committed to safeguarding lives, preventing crime, enforcing our laws and providing safety with respect to everyone we serve."
About Assistant Chief David Lazar:
Assistant Chief David Lazar is a 4th generation San Franciscan and became a member of the San Francisco Police Department in 1991. He attended public school while growing up in the Sunset and Richmond Districts of the City, graduating from Downtown Senior High School in the Mission District. Assistant Chief Lazar was inspired at a young age to join the SFPD as his mother was a Police Dispatcher. He spent his teenage years as a Police Activities League Cadet.
Assistant Chief Lazar has extensive policing and command level experience. He has been assigned to eight of the ten district stations, working all over the City in patrol and in various capacities from officer through the rank of Captain, serving in leadership and management roles since 2001. After his work as a Sergeant in patrol and an Inspector in the Investigations Bureau, he promoted to Lieutenant and managed patrol shifts, was the Director of the Police Academy and started Operation Outreach, coordinating the Department's Response to Homelessness.
In 2008, Deputy Chief Lazar was promoted to Captain and had the opportunity to command ten separate assignments throughout the Department in the Field Operations, Investigations, Special Operations and Administration Bureaus including the Night Supervising Captain, Domestic Violence, Juvenile, Homicide, Robbery, the Gang Task Force, Ingleside Station, the Forensic Services Division, the Urban Area Security Initiative, the Training Division and Central Station.
Assistant Chief Lazar's project management experience led to the development and implementation of the Department's Auxiliary Law Enforcement Response Team.
Assistant Chief Lazar has two decades of tremendous experience planning, managing and leading policing for both small and large planned and unplanned events including 1st Amendment demonstrations, critical incidents and large-scale parades such as the Pride and Chinese New Year's Parade and major events such as the America's Cup in 2013 and Super Bowl City (50th NFL Super Bowl) in 2016.
Assistant Chief Lazar was promoted to the rank of Commander in February of 2017 and tasked with the responsibility of establishing the Department's first Community Engagement Division. In this role, he was designated as an Executive Sponsor for 60 of the 272 recommendations from the US Department of Justice Collaborative Review Initiative on Community Policing reform, developing the Department's Strategic Plan on Community Policing and managing various community engagement programs.
In 2018, Assistant Chief Lazar led the facilitation on opening the City's Healthy Streets Operations Center. "HSOC" which has been established to bring the City's partners together in a collaborative setting to address homelessness and street behavior in real time.
In 2019, Assistant Chief Lazar was promoted to Deputy Chief and oversaw the Investigations Bureau which included all of the Department's Criminal Investigators, the Crime Scene Investigations Unit, Crime Laboratory, and the Identification Bureau.
In 2021, Assistant Chief Lazar was selected to lead the Field Operations Bureau which included the 10 district police stations and the Department's Community Engagement Division.
In 2022, Assistant Chief Lazar was promoted to Assistant Chief and currently oversees Operations for the Department which includes the Field Operations, Special Operations, Investigations and Airport Bureaus. In addition, he oversees the Community Engagement Division.
He has been an Instructor at the Police Academy since 1998, teaching subjects on Community Policing, Professionalism, Leadership, 21st Century Policing and Criminal Law.
Assistant Chief Lazar holds a Bachelor of Arts degree in Project Management from Saint Mary's College and is a graduate of the Police Executive Research Forum's Senior Management Institute for Police Class 49, Boston. He has completed California POST's Supervisory Leadership Institute and Executive Development Course. He is a graduate of Harvard's Kennedy School of Government State and Local Executives Course, the Major Cities Police Chief's Police Executive Leadership Institute Class 8, and the International Collaboration on Policing Program with US Police Agencies in Scotland with Police Scotland.
Assistant Chief Lazar is so very grateful to serve in the City where he was raised and resides.