Description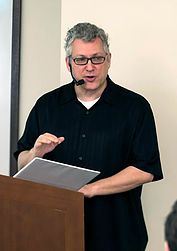 Join us Saturday January 27th from 10:00 am to 3:00pm at Scottsdale Community College for a jam-packed day of screenwriting with veteran screenwriter/producer Jeff Schimmel.

To start the year off the right, we're offering a full day session concentrating on both the craft and business of screenwriting.

MORNING SESSION: (10:00 - 12:00)

THINK YOU KNOW WHAT THE INDUSTRY WANTS?

Jeff has been a Film and TV Writer/Producer in L.A. for 30 years, providing his expertise to companies like: Warner Brothers, 20th Century Fox, Dreamworks, MGM/UA, HBO, Showtime, ABC, NBC, FOX, Comedy Central, MTV, and Lionsgate while working with and selling to Oscar winners such as Steven Spielberg, Martin Landau and Jamie Foxx.

Jeff will discuss the "State of the Industry" in 2018, including do's and don'ts of selecting projects to write and how to succeed or fail in getting an agent. He will introduce veteran Film and TV producers Warren Zide (American Pie, Final Destination, Jingle All The Way) and Josh Goldstein (18 Again, Fresh Prince Of Bel-Air, Jamie Foxx Show), plus he'll present L.A. literary manager Abbe Leviton, who will tell writers how to turn agents on or off. Attendees registering early will have a chance to ask their own questions.

LUNCH WILL BE PROVIDED

AFTERNOON SESSION: (1:00 - 3:00)

LET'S GET CREATIVE

The afternoon session will focus on the actual craft of screenwriting. We will do in-class writing exercises to get the creative juices flowing, get you thinking more deeply about your own projects, and most importantly, some awesome rewriting tips and techniques.

About Jeff Schimmel:

Jeff has appeared as a guest lecturer at L.A.'s famed Screenwriting Expo, is a popular speaker at prestigious universities and film schools, and is currently involved in writing/producing several projects in the scripted realm, while also developing unscripted reality TV projects for entities such as ITV Studios, Maverick/All3Media, and Anonymous Content. Jeff's radio talk show about screenwriting and the entertainment industry, Flip The Script, airs on DASH radio's Hot Button channel, and Jeff conducts a continuing series of screenwriting webinars.

To learn more visit Jeff's website:

http://www.maximumscreenwriting.com/bio

** Only those who RSVP by Jan 1st, 2018 will get to ask questions of Warren Zide, Josh Goldstein and Abbe Leviton, so don't miss out on your chance RSVP today.