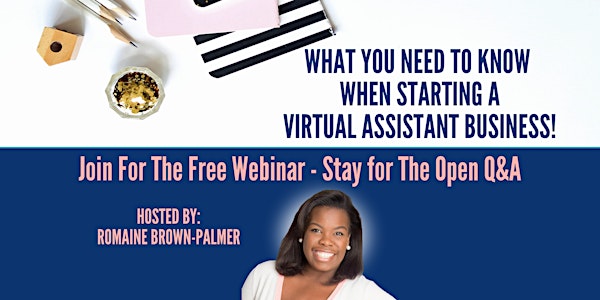 What You Need to Know about Starting a Virtual Assistant Business!
Live Webinar event sharing what you need to know to confidently start a virtual assistant business.
About this event
Are you an AMAZING administrator that is looking to launch your Virtual Assistant business with confidence, knowing you have all your bases covered, all your ducks in a row and all your T's crossed?
Maybe you have already launched your virtual support business, but you feel like you are so busy working in other people's business that you have not had the time to work on and focus on yours.
Have you been treating your virtual business like a hobby and would like to make a shift so that you can expand your business and increase your revenue?
Then join me for this free webinar! My name is Romaine Brown Palmer, founder and CEO of the Executive Administrative Group and Virtual Assistant Coach.
I am going to be sharing with you the answers to the TOP 4 questions I get asked by those looking into starting a the virtual support business:
How do I know if I will make a great Virtual Assistant?
How do I choose my niche?
How to I attract the type of clients I want to work with ?
How do I transition from Employee mindset to Entrepreneur mindset?
At the end of the session, you will have the opportunity ask me ANYTHING you want to know about running a successful virtual support firm. Even the not fun stuff that no one else wants to talk about.
I look forward to sharing it with you!
See You On The Call!
Learn More: https://www.romainebrownpalmer.com/virtualassistantcourse