What You Eat Matters: A Series on Health and Nutrition

Saturday, June 6, 2020 at 2:00 PM

-

Sunday, June 7, 2020 at 6:00 PM (MDT)
Event Details
What You Eat Matters: A Series on Health and Nutrition
Join us for a weekend nutrition series on the CU-Boulder campus and at Arts Hub in Lafayette.

Free Admission for Both Programs
Saturday, June 6th, 2pm-4:45pm at 180 Hale Science Building (CU-Boulder campus, 1350 Pleasant St.)

TOPIC: SUGAR AND YOUR HEALTH
This program will examine the negative health effects of sugar and how the sugar industry covered up this information. It will consist of:
--Screening of an award-winning documentary, Sugar Coated
--Panel discussion

Film description: Sugar Coated shows how sugar escaped scrutiny as a leading cause of obesity, diabetes and heart disease. It introduces a cast of alarmed experts, who collectively try to reverse this trend that threatens the health of the nation.
Sunday, June 7th, 2-6pm at Arts HUB (420 Courtney Way, Lafayette, CO)
TOPIC: HEALTH AND ATHLETIC BENEFITS OF A VEGAN DIET
This program will examine the impact of a vegan diet on athletic performance and recovery and on overall health. It will consist of:
--Screening of an acclaimed documentary, The Game Changers
--Panel discussion
--Vegan food and nutrition fair

Film description: Executive produced by James Cameron, Arnold Schwarzenegger and Jackie Chan, The Game Changers follows James Wilks — elite Special Forces trainer and winner of The Ultimate Fighter — when he discovers a group of world-renowned athletes and scientists who show him that most of what he'd been taught about protein was a lie. The Game Changers mixes real-time, groundbreaking science with cinematic stories of struggle and triumph. Wilks' journey exposes outdated myths about food that not only affect human performance, but the health of the entire global population.

Vegan food and nutrition fair: Sample vegan fare and learn as you make your way through our vegan food and nutrition fair.

Series Supporters and Festival Sponsors
The Lafayette Cultural Arts Commission has supported this event with an Arts in Community grant. Also, thank you to Growers Organic, International Film Series, Local Table Tours, Pack A Fork, ROOT Marketing & Public Relations, and Savory Spice Shop - Boulder for their support.
Directions and Parking
180 HALE SCIENCE BUILDING, CU-BOULDER (1350 PLEASANT ST., BOULDER)

Walking directions from University Avenue: At the intersection of University Avenue and Macky Avenue, turn onto Macky Avenue towards the campus. At the end of Macky Avenue, turn right onto Pleasant Street. Walk past Macky Auditorium on the left and Old Main on the right. The Hale Science Building is on your left.

Parking: Paid parking is available on University Avenue near Macky Auditorium and the Euclid parking garage. See below parking map for other parking possibilities.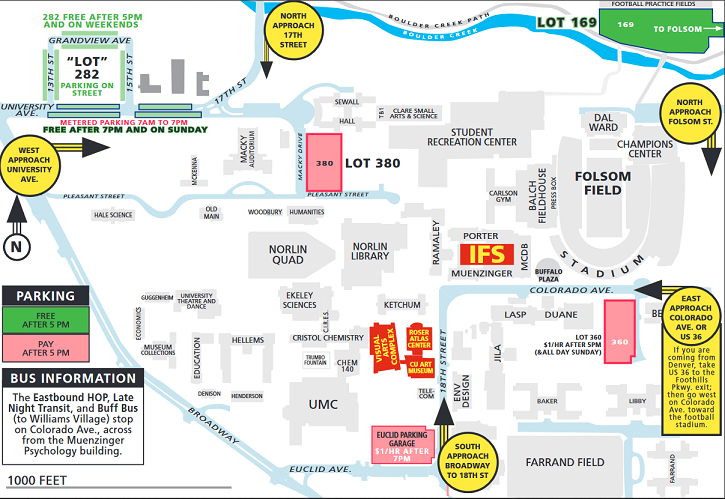 ARTS HUB (420 Courtney Way, Lafayette, CO)
Arts Hub is east of US-287 and south of South Boulder Road. Ample free parking is available in their parking lot and neighborhood streets.
Save This Event
When
Saturday, June 6, 2020 at 2:00 PM

-

Sunday, June 7, 2020 at 6:00 PM (MDT)
Add to my calendar
Organizer
Feast on reel food at Colorado's only food-related film festival, October 8-11, 2020.
The Flatirons Food Film Festival is an annual multi-day feast in Boulder that celebrates exceptional culinary cinema and enriches the experience with speakers, film-related culinary events like tastings, lectures, and exhibitions of art inspired by the films. In 2020, it will take place at the Boulder Public Library and Muenzinger Auditorium on the CU-Boulder campus in conjunction with the International Film Series