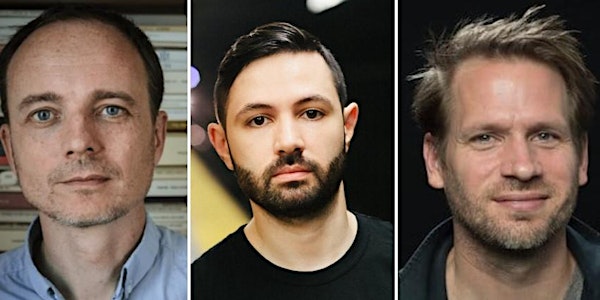 What There is Left To Say: Stéphane Bouquet, Alex Dimitrov, John Freeman
join poets Stéphane Bouquet, Alex Dimitrov, and John Freeman for a night of poetry readings of their latest work
By Albertine Books in French and English
Date and time
Monday, March 27 · 6:30 - 7:30pm EDT
Location
Albertine 972 5th Avenue New York, NY 10075
About this event
join poets Stéphane Bouquet, Alex Dimitrov, and John Freeman for a night of poetry readings of their respective work, Common Life (trans. by Lindsay Turner, Nightboat), Love and Other Poems (Copper Canyon) and Wind, Trees (Copper Canyon). This event will be moderated by Lindsay Turner.
At a moment at which the fabric of everyday social life is increasingly threatened across the globe, Bouquet, Dimitrov and Freeman's poetry invites us to join a two-way conversation with the world. On one hand, their poetry acknowledges the world's past and present existence by way of its natural and mineral elements, by way of encounters, sensations and a multitude of unspectacular events. And on the other hand, their poems orient us toward the future, helping us welcome it and question it. It is at this junction of different times that they, as poets, stand as focal points that absorb our world, give it a shape and invite us to ponder: what does it mean to inhabit the world together today?
In English. Free with RSVP.
About the organizer
Tucked inside the historic Payne Whitney mansion, Albertine is the only bookshop in New York devoted solely to books in French and English with more than 14,000 contemporary and classic titles from 30 French-speaking countries.
A project of the Cultural Services of the French Embassy, the Albertine bookshop brings to life the French government's commitment to French-American intellectual exchange. The space reflects its belief in the power of literature and the humanities to increase understanding and friendship across borders, and in the power of books as a common good for a better world.