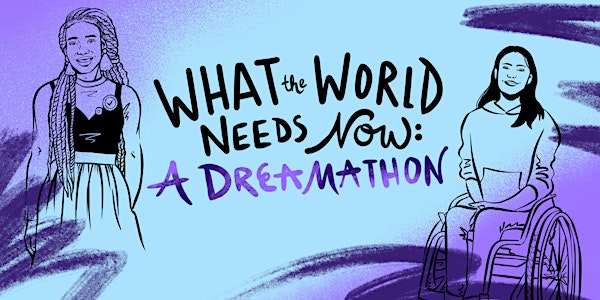 What The World Needs Now: A Dreamathon
Ready to join communities around WA to dream up better ways of dealing with COVID?
About this event
JOIN US!
What the World Needs Now is a community-led, arts-centered public health campaign that we want YOU to participate in.
On October 22nd and 23rd, this 8-week campaign will culminate with a two-day live-streaming event featuring participants in Seattle, Tacoma, Kent, Spokane and across WA state. We'll see some of what was created by community and have a hot lineup of artists, organizers, performers, policymakers, and public health advocates.
Register for the Dreamathon
Virtual dance party: Friday, Oct. 22, 7:30 - 9 p.m.
Community celebration: Saturday, Oct. 23, 2 - 4 p.m.
During registration, please select the dates you can attend. Prior to the event you will receive and email with links to the event and instructions.
Learn more about the campaign: https://bit.ly/3kUbjJN
#DreamathonWA #StaySafeTogether