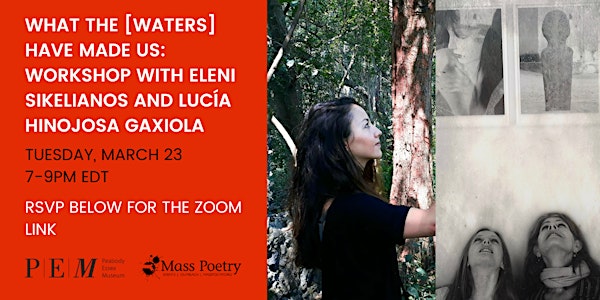 What the [Waters] Have Made Us with Eleni Sikelianos and Lucía Hinojosa
Join Mass Poetry for our workshop series on Poetry and Environmental Justice!
About this event
"We are what the seas/have made us," writes poet Lorine Niedecker. Where is the memory of water and what is its future? How can we think of ourselves as a body of water in the midst of a climate catastrophe? Where in water does knowing reside? In this workshop, we will engage in the poetics of fluidity, movement, impermanence and water's changing condition as entity and multiplicity. Water as voice and interspecies archive. Using Alexis Rockman's paintings and poets such as Niedecker and NourbeSe Philip as inspiration, we will create liquid explorations and manifestos, poetic experiments outside the page, and small-scale visual poems with watercolors, addressing our interconnection with human and non-human beings, as well as our relation to history, migration, ecological disasters, and to each other, as bodies of water. Even if you don't usually paint, please bring watercolors, a bowl of water, a glass (preferably clear) of water, pen, and paper to this workshop. If you don't have watercolors handy, some ink, coffee, tea, or wine will do.
Eleni Sikelianos is the author of nine books of poetry (including Make Yourself Happy and What I Knew) and two hybrid (anti)memoirs. She has received many awards for her poetry, nonfiction, and translations, including two National Endowment for the Arts awards, a Fulbright, and the National Poetry Series, and her work has been translated into many languages. Her lifelong devotion to ecopoetics, Animalia, and the intersections of human and non-human worlds can be felt in much of her work. Dedicated to the many ways poetry can manifest in communities (in public schools and prisons or in collaboration with other artists), she joined the Literary Art faculty at Brown University in 2017.
Lucía Hinojosa Gaxiola (Mexico City, 1987) is an interdisciplinary artist, writer, and editor whose time-based practice develops through ephemeral and conceptual gestures that result in a corpus of visual, sonic, and text-based works. She studied Visual & Critical Studies and completed the Independent Arts Program at SOMA in Mexico City. She has exhibited, performed and collaborated with Centro de la Imagen (Mexico City); Sala de Arte Público Siqueiros (Mexico City); Jack Kerouac School of Disembodied Poetics (Boulder, CO); The Brooklyn Rail (NYC); Poetry Project (NYC); Anthology Film Archives (NYC); among others. She co-founded the experimental editorial platform diSONARE, and recently co-founded RIZOMA, a series of poetry and performance workshops led by a group of artists for imprisoned women in Mexico. Her book "Elements of Language" (Open Sky / Cielo Abierto) is forthcoming.
About the Gallery Residencies: Mass Poetry and the Peabody Essex Museum collaborate to co-host a monthly series of creative writing workshops relating to PEM materials. Each two-hour generative writing workshop will be led by a different poet and will connect to a different PEM exhibition or collection. The workshops are virtual and free to the public, with participation capped at 30 people.