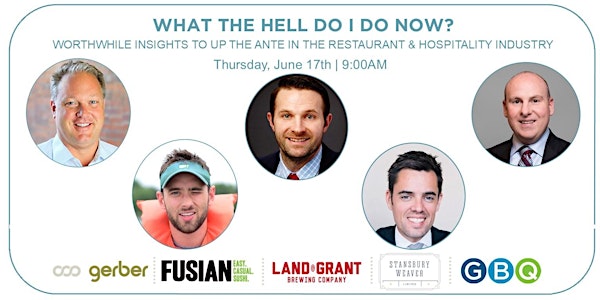 What the Hell Do I Do Now?
Worthwhile Insights to up the Ante in the Restaurant & Hospitality Industry
About this event
It's been a tough year and a half - we get it! Entrepreneurs in the Restaurant & Hospitality industry have been hit hard and have made some drastic changes to stay afloat.
You know where you've been, but what the hell are you going to do moving forward? Our panel of professionals will discuss how innovation and new technologies has changed the diner/consumer experience, navigating the current labor force shortage, and what tax implications may be coming down the pipeline that you should be aware of.
Who will be on our panel?
Randy Gerber - Founder & Advisor, Gerber, LLC
Stephan Harman - Co-Founder, FUSIAN
James Kosht - CFO, Land-Grant
Mark Stansbury - Co-Owner, Stansbury & Weaver
Kaz Unalan - Director, Tax & Business Advisory Services, GBQ
Randy Gerber
Founder & Advisor, Gerber, LLC
In the heart of Columbus, Ohio's entrepreneurial ecosystem - and not far from the stadium of his beloved Buckeyes - is the office of Randy Gerber. Randy is a successful business owner, a devoted family man, an OSU alumnus (and arguably their biggest fan), and a leader in figuring out how to simultaneously have a successful business and a robust personal life.
Born and raised in Buffalo, New York, Randy knew he was called to do something different. He moved away from his family and the wings at Barbell Bill Tavern (his favorite food to this day), to attend The Ohio State University where he graduated from the Fisher College of Business. Bypassing the "safety" of a corporate career, he founded his own business in 1991. Gerber, LLC is a professional services business focused solely on improving the business and overall happiness of first-generation entrepreneurs. His holistic approach integrates his clients' personal ideas and aspirations with their business, life and financial goals. His business has 16 employees and has served over 200 clients.
Randy is publishing his first book, "The Integrated Entrepreneur: Achieving Happiness in Relationships, Business & Life" a decade-long project his friends teased would never get done. But it will be worth the wait. It describes how first-generation entrepreneurs can integrate work demands with the many personal relationships in life throughout the five stages of success and two stages of temporary failure. Citing personal experience and real-world examples, Randy's book is a must-read for any entrepreneur seeking the clarity and direction to be a success in both business and life.
Randy has be an active member of the Entrepreneur's Organization's Columbus Chapter, a global peer to peer network for entrepreneurs, serving as a board member six times since 2000. He has shared his professional expertise at numerous professional speaking engagements around the country, including the Raymond James National Conference, EO, Vistage and Leadercast events; local events; and many webinars and podcasts.
Outside of the office, Randy enjoys having fun with his family and friends, and makes time to do both. He lives in Upper Arlington with his wife emily, their three children, and their spunky golden doodle, Eddie. He's an exciting golfer - but necessarily a good one - and he believes that laughter is the ultimate elixir. He's a firm believer in practical jokes and pledges to continue to stage them (and be a good sport when he's the recipient of them) for the rest of his life. He's the proud five-time winner of Scioto Country Club's "Big Splash" award for his notorious cannonballs. He enjoys cheering his favorite sports teams to a win with his friends, and appreciates a flavorful bourbon, a refreshing White Claw, and his hometown's famous Beef on Weck.
Stephan Harman
Co-Founder, FUSIAN
Stephan Harman co-founded FUSIAN in 2010 with brothers Josh and Zach Weprin. Harman is a Dayton, Ohio native and graduated from University of Dayton with a degree in Entrepreneurship + Marketing. While living in Aspen, Colordao following college, Harman conceptualized FUSIAN's unique fast casual, sushi brand while living off low "ski bum" wages amidst the 2008 financial crisis, returning to Ohio in 2010 to open FUSIAN. Harman serves as FUSIAN's Chief Concept Officer leading development in menu offering, restaurant design and construction, and marketing while also playing a pivotal operational role in leading the Columbus-based restaurant support team.
James Kosht
CFO & Controller, Land-Grant
My name is James Kosht & I am the Controller/CFO of Land Grant Brewing Company. I have 9+ Years of experience in complex accounting and finance functions. For 6 years of my career I worked at a Fortune 20 company in Cardinal Health in a variety of roles where I was responsible for 500M+ in revenue. After working in large scale Corporate America I left my post at Cardinal Health to pursue my true passion of Craft Beer. I have worked at Land-Grant Brewing for 3+ years in my role of Controller/CFO, where I am responsible for all things accounting and finance. We have nearly doubled in size every year and continue to grow. Most importantly was able to be a vital part of helping the company survive and come out ahead during the toughest year we have ever seen in 2020.
Mark Stansbury
Co-Owner, Stansbury & Weaver
Mark Stansbury represents businesses in formation, angel and venture financing, M&A transactions, and contract negotiations. In addition to his transactional practice, Mark serves as outside general counsel privately held businesses. He has a broad range of experience in different industries, but has a particular focus representing startups and technology companies.
Kaz Unalan, CPA, CEPA
Director, Tax & Business Advisory Services ,GBQ
Kaz began his career in public accounting with GBQ in 1999.
Over the years Kaz has had extensive experience in serving clients in the real estate, construction, manufacturing/distribution and restaurant industries. Kaz also has significant experience in providing tax compliance and consulting to high net worth individuals.
Kaz's focus at GBQ is to provide tax compliance and consulting for middle market, closely held businesses and to assist clients with their business planning, compliance and tax examination needs.
Kaz is also a Certified Exit Planning Advisor, which helps business owners transition ownership of their companies, while achieving all of their personal, business and financial goals. Kaz is part of GBQ's Transaction Advisory Services Group assisting clients with their tax planning, structuring and due diligence needs.
Kaz is a member of the Mirolo Foundation Audit Committee, past Board Member of Columbus Landmarks Foundation, past-Treasurer of the Young Buckeyes of Central Ohio Alumni Club, past-Treasurer for the Ohio League of Conservation Voters, member of NAIOP, and current board member of Habitat for Humanity Mid-Ohio.
In 2012, Kaz was recognized by Columbus Business First as one of Columbus' Forty Under Forty. Kaz is also a 2013 graduate of Leadership Columbus.