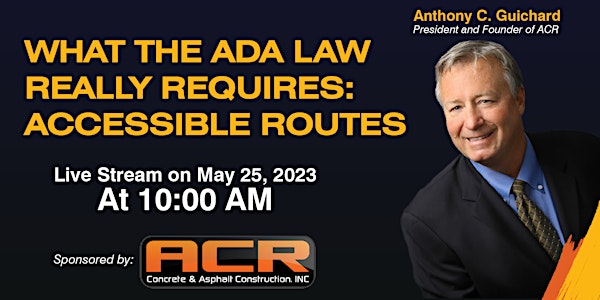 What the ADA law really requires - complete accessible route
Anthony C. Guichard | President and Founder of ACR
By Apartment Owners Association
Date and time
Starts on Thursday, May 25 · 10am PDT
About this event
In this AOA Live Stream, You will Discover
City Access
Site Arrival Access
Path of Travel
ACR Concrete & Asphalt Construction, Inc. & ACR Design & Build are family owned and operated construction businesses. We are a full-service General contracting company – From design, formal plans, construction management, and the construction – all done in house. With over 35 years of experience in all aspects of construction – from custom concrete driveways, ADA compliance construction to multi-million-dollar housing projects there isn't anything we haven't built [Well, except a bridge], regardless we have the licenses and the skills if ever required.
In the last 10 years we have chosen to be a bit more focused. We have taken all of our extensive construction experience with concrete, asphalt, California building codes and the federal ADA laws to become the forerunner in California to specialize in ADA compliance construction. We provide a full-service solution: the design with formal plans, building permits, engineering, CASp reports and site surveying to the construction. Not many construction companies offer the design & build aspect, and this is where we shine. When the designer is also the builder there are not the gaps of communication or misunderstandings that arise when you have an architect and a separate contractor. ACR utilizes our skills in the "as built" arena since many shopping centers, apartments, and public access properties were built before the ADA laws of 1991. We offer a complete solution to your ADA compliance issues whether it be reacting from an ADA lawsuit or being proactive and wanting your property to become ADA Compliant. Whether the ADA issue is the exterior or the interior ACR is your ADA Compliance Contractor.
Contact Info:
ACR Concrete & Asphalt Construction, Inc | ACR Design & Build
714-377-9569
hello@acrconcreteinc.com
About the organizer
Founded in 1982 by Daniel C. Faller, AOA has become one of the largest apartment associations in the United States, thanks to you, our loyal members.
Don't forget to click on FOLLOW to get alerts of newly scheduled seminars!