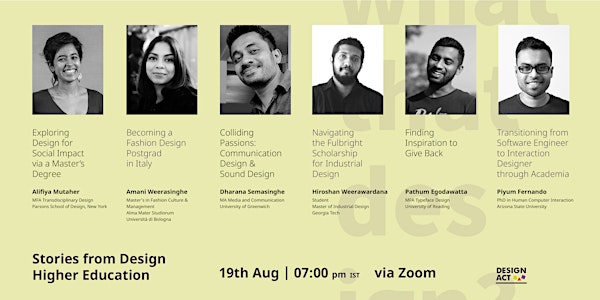 What That Design: Stories from Design Higher Ed
Community members share a broad spectrum of experience across design higher education
About this event
Have you ever considered post-grad education in design? Encountered any of these questions?
"What field should I choose? Can I study something new? Diploma, Masters, or Ph.D.?
Which country to select? What university or school should I apply to?
How can I pay for graduate studies?
What are my options after post-grad?
I already applied and failed, should I try again?"
Join us on August 19th at 7 pm as we share stories on how some of us answered these questions for ourselves, navigated the post-graduate design world, and why we followed the paths we did.
This rapid-fire style session is specially curated to showcase a bird's eye view on opportunities for further study across design disciplines - in DesignAct style!
Presenters:
Alifiya Mutaher, Exploring Design for Social Impact via a Master's Degree | MFA Transdisciplinary Design, Parsons School of Design - The New School, New York
Amani Weerasinghe, Becoming a Fashion Design Postgrad in Italy | Masters in Fashion Culture & Management, Alma Mater Studiorum – Università di Bologna
Dharana Semasinghe, Colliding Passions: Communication Design and Sound Design | MA Media and Communication, University of Greenwich
Hiroshan Weerawardana, Navigating the Fulbright Scholarship for Industrial Design | Student, Master of Industrial Design, Georgia Tech
Pathum Egodawatta, Finding Inspiration to Give Back | MFA Typeface Design, University of Reading
Piyum Fernando, Transitioning from Software Engineer to Interaction Designer through Academia | PhD in Human Computer Interaction, Arizona State University