Refund policy
Contact the organizer to request a refund.
Eventbrite's fee is nonrefundable.
Hosted by OC87 Recovery Diaries and led by Xandra O'Neill and Ruth Clark, join one or sign up for all four virtual mini writing retreats.
About this event
Every time we sit down to write, we sit down to tell a story. In these writing retreats, we will explore different ways of deciding what story to tell, and how to tell it.
Each retreat works as a standalone, and if you join us for all four, you will find that there are threads that weave them all together.
Each retreat is $25.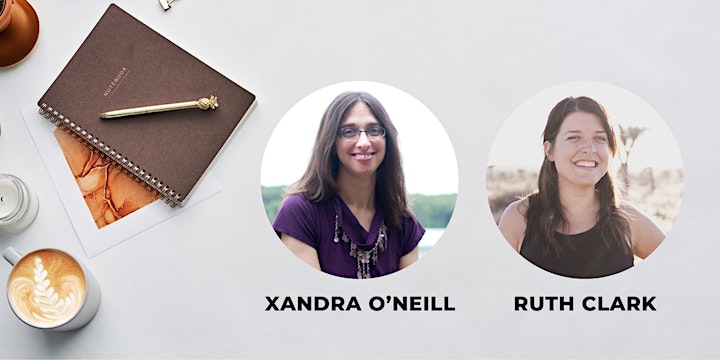 Xandra O'Neill is a writer, retreat leader, and owner of Sacred Becoming. She believes in the power of story to heal and grow connection, and she incorporates meditation, writing, and gratitude through the work that she shares in the world. She has always believed in the power of taking care of ourselves in order to best take care of others and the world, and she teaches practices of ritual and wellness in workshops, retreats, and in one-on-one work with her coaching clients.In addition to teaching, practicing, and immersing herself in writing and meditation, Xandra creates malas, gets to the ocean whenever she can, and spends time with her family just outside of Philadelphia.
Ruth Clark is a solo world traveler, writer, teacher, and communications extraordinaire. Her work focuses on travel, mental health, and authentic living. Her most recent essays have been featured in HelloGiggles, Modern Trekker, and Women's Agenda, as well as within her own business, Ruth Clark Creative. She currently calls New England home and finds joy in world travel, wandering the woods, hanging with her siblings, and social justice.

Past Experiences
"The entire experience was FANTASTIC and I felt so grateful to be there each moment. You created a safe space where we all connected quickly on the deepest level of our humanity, which is no easy task. I'm honestly getting goosebumps again just writing this."
"The amount of love and support I felt this week was overwhelming. I think the activities were brilliantly planned."
"Everything was so great I can't just check off one thing — the ancient Greeks prescribed watching plays for emotional issues. Maybe now the American cure for emotional imbalance will be retreats like these."
"Incredible. Inspiring. I LOVED it."
"I don't even know where to start, but this retreat soothed and filled my soul! I was able to connect with so many wonderful women (and Gabe [OC87 Recovery Diaries' Editor in Chief] of course!) and really focus on writing which I have so little time to do in day to day life. I loved the opportunity to present at the open mic and to hear everyone's stories. This event felt miraculous and so much needed in my life at this point in time. I walked away with extreme gratitude in my heart."
"I left with a little more courage in talking about my mental health and a little more confidence in my writing. Also I got some pretty amazing connections and friends and I was able to think about mental health and my own life in a different way, both good and bad."
"This weekend was transformative. In many senses I feel like I have found my 'tribe'. I never felt judged, I felt like I had the freedom to take some risks with my writing, and I met people who I hope to be friends with forever."
"I am taking away several new friendships, a renewed enthusiasm for writing and a feeling of rejuvenation in my life."
"It was exactly what I needed at this moment at my life. I'm excited to write more and see where it takes me."

These events are hosted by OC87 Recovery Diaries
OC87 Recovery Diaries is an interactive website that features stories of mental health, empowerment and change, created by and for those whose journeys of recovery speak to audiences from all walks of life.
This project hopes to touch as many lives as possible and bring light to the lived experiences of recovery from mental illness:
What matters, what helps, what's hard, what might be next?
Questions? Concerns? Thoughts? We're here for you.
Please feel free to reach out to us at gabe@oc87recoverydiaries.org and we'll get back to you.