Description

What She Said Live celebrates entrepreneurship and black girl magic in Atlanta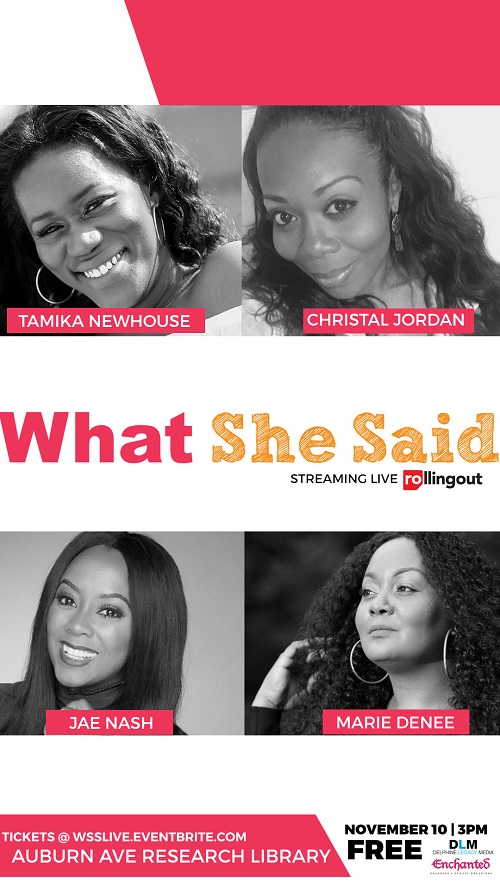 A web series, What She Said is a talk-show where women share their insights on love, sex, mental health, fitness, business, and more in candid, unscripted conversations. For the first time the conversation goes live on stage in Atlanta at the Auburn Avenue Research Library.
What She Said Live is an empowerment talk fused with tips on self-care, entrepreneurship, and how to shine in your black girl magic. The live show features some of today's leading best-selling authors, tastemakers, and influencers. This hilarious and candid conversation will inspire and empower the magic in you.
The highlighted segment of the event will feature a panel of entrepreneurial women who have all authored a book or own a business; Tamika Newhouse, founder, and CEO of Delphine Publications, Jae Nash radio personality and author, Marie Denee celebrity blogger, and Christal Jordan celebrity publicist and author. The panel will be moderated by Christal Jordan and streamed live online with Rolling Out Magazine.
The final hour will feature a social hour, book signings, red carpet fun, and more.
See past episodes here
Parking: Please see here for driving and parking instructions
Attire: Casually Chic
Vendor Opportunities: info@delphinelegacymedia.com